CHARLESTON, South Carolina — Former President George W. Bush on Monday night explained "what it takes to be president" while vouching for his brother's bona fides during his first public campaign appearance for Jeb Bush's White House bid.
"Our allies will know that when President Jeb Bush speaks he will follow through on his words," the former president said.
Related: George W. Bush confronts a changing GOP in South Carolina
George W's speech focused heavily on temperament and the characteristics needed in the Oval Office, especially when it comes to commanding the military, but did not take on any of his brother's rivals by name.
"We do not need someone in the Oval Office who mirrors and inflames our frustration," he said seeming to allude to Republican front-runner Donald Trump while using the 9/11 attacks to further set the stakes.
"The presidency is often defined by the unexpected," he said talking about his experience. "I've seen Jeb in action, he'll be a strong and steady hand."
The elder Bush has played a behind-closed-door role in campaign fundraisers for months and has appeared more recently in advertisements for both the campaign and the super PAC backing his brother's White House bid, but this was the first joint appearance for the two.
"Thanks to my brother for giving us something to do today, something really important," George W. Bush said while introducing his "big little brother."
Earlier in the day, the former first couple stopped at an American Legion Post in Columbia to greet veterans and a small group of supporters.
The former president also met privately this morning with South Carolina's Republican governor Nikki Haley who has yet to endorse a presidential candidate in 2016 and who's name frequently appears on the short-list for any eventual nominee's options for vice president.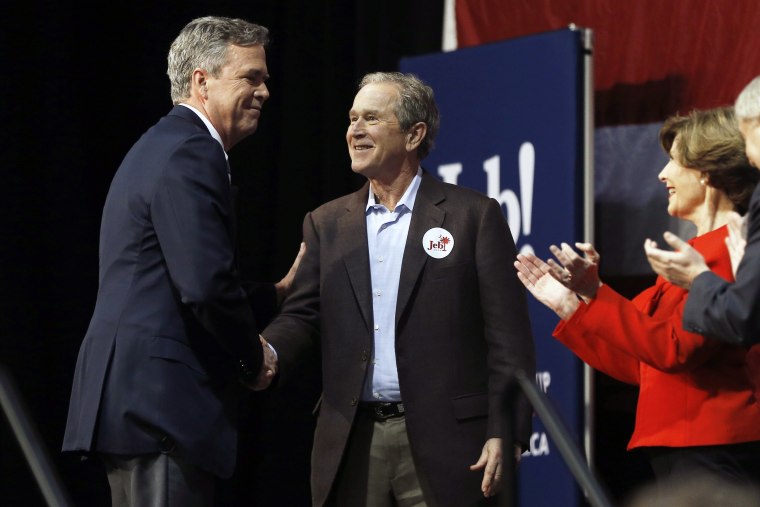 George W. Bush's — and other family members' — role in Jeb's campaign has been a prime target for Trump, who has repeatedly hit the former president on the September 11th terrorist attacks and continued his hits today just hours ahead of tonight's rally.
"Well excuse me the World Trade Center came down during the — you know, rein of George Bush — I mean it came down," Trump said Monday.
"If the ex-president is campaigning for his brother, I think he's probably open to great scrutiny," Trump added.
Meanwhile, Jeb Bush's counter-attacks on Trump are now central to his message — dismissing Trump's conservative credentials and accusing him of a lack of seriousness — something Bush says he's the only candidate willing to do so.
The former president's remarks weren't all serious, he joked about becoming both a tree farmer and an oil painter since leaving the White House — saying that farming gives him the chance to practice his 'stump' speech and the paintings are worth less than his signature.
George W. is the second prominent Bush to stump for Jeb after their mother, former first lady Barbara Bush hit the campaign trail in New Hampshire with some biting critiques of his rivals for the Republican nomination.
"I think voters should vote for the candidate who has the most opinionated mother," George W. Bush said of his mother.