Feminist icon Gloria Steinem has apologized for implying that younger women have chosen to support Sen. Bernie Sanders over Hillary Clinton in the Democratic primary because they want to meet men.
On the Friday edition of HBO's "Real Time with Bill Maher," the host pressed Steinem on the contemporary state of feminism. Steinem disagreed with the notion that younger women had become complacent about the Roe v. Wade decision, which held that a woman's right to have an abortion fell within constitutionally protected privacy rights.
"I find the young women very, very activist and they're way, way more feminist than we [were]. I mean, we were like 12 crazy ladies in the beginning. Now it's the majority," Steinem said. "But I do think that gratitude never radicalized anybody, you know. I did not say, 'Thank you for the vote.' I got mad on the basis of what was happening to me. And I think that that's true of young women too. So they're mad as hell because they're graduating in debt. And they're going to earn a million dollars less over their lifetime to pay it back. You know, they're mad about what's happening to them."
Maher subsequently asked the activist why so many younger women were not supporting Clinton in her race for the presidency. A recent NBC News/Wall Street Journal/Marist poll that surveyed New Hampshire Democratic primary voters found that 64 percent of women under 45 supported Sanders, a 29-point advantage over Clinton.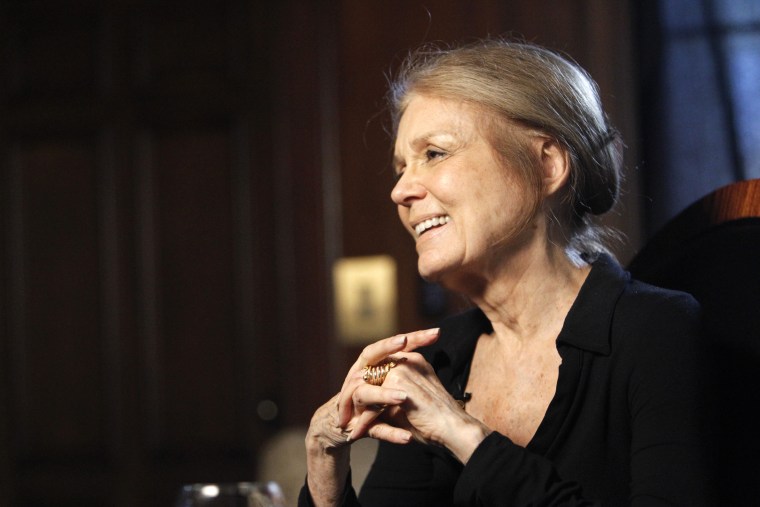 "Women get more radical as we get older," Steinem said. "Men tend to get more conservative because they gain power as they age, and women get more radical because they lose power as they age… When you're young, you're thinking, 'Where are the boys?' The boys are with Bernie."
After her comments were met with backlash, Steinem issued a statement via Facebook on Sunday.
"In a case of talk-show Interruptus, I misspoke on the Bill Maher show recently, and apologize for what's been misinterpreted as implying young women aren't serious in their politics. What I had just said on the same show was the opposite: young women are active, mad as hell about what's happening to them, graduating in debt, but averaging a million dollars less over their lifetimes to pay it back. Whether they gravitate to Bernie or Hillary, young women are activist and feminist in greater numbers than ever before."