Immigration — the singular issue that catapulted Donald Trump to a near uncontested power grab of the GOP presidential nomination — is almost universally the issue that Republican voters care the least about.
In exit polls from nearly every state so far this primary season, Republican voters ranked immigration as dead last when asked to choose the "most important" issues facing the country. Instead, the economy, jobs and government spending routinely topped as the most pressing concerns.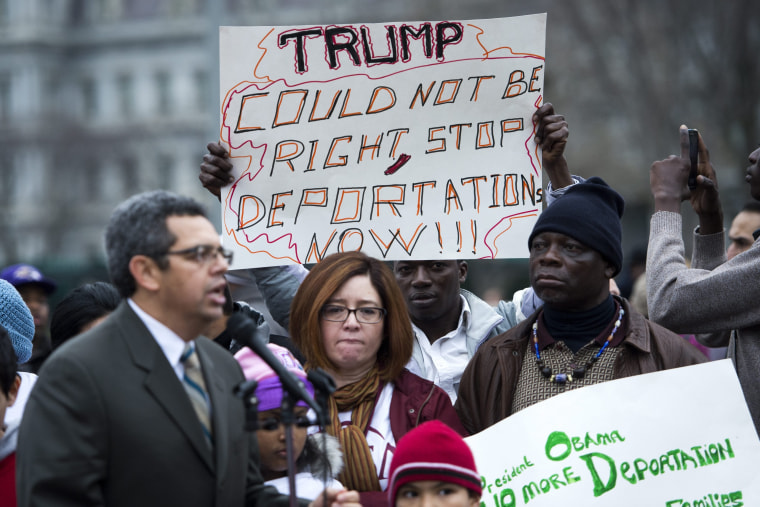 As for "amnesty" — a term so reviled by the right wing that candidates have contorted their words into Navy-grade knots just to avoid any association with the policy — the issue squares pretty down the middle for many Republican voters.
Republicans were asked about what's known as amnesty in just a handful of states, but in each, roughly half of voters said they supported offering undocumented immigrants a chance to apply for legal status in the U.S. In most all cases, even a sizable share of Trump supporters said they backed what is effectively amnesty.
Trump's early ascent in the race built on vilifying undocumented immigrants as the source of America's festering problems. His status at the top of polls appeared to be buoyed by each new discriminatory policy proposal — building a giant wall at the border, deporting all 11 million undocumented immigrants living in the U.S., even unprecedented degrees of expressly discriminatory actions toward Muslims.
And now Trump is well on his way to clinching enough delegates to secure the nomination. And yet, the issue at the heart of his candidacy — and one of the few areas where Trump actually has outlined a clear policy stance — doesn't appear to resonate with voters at a level that echoes the vitriol in his rhetoric.
The disconnect taps into the theme of style over substance dominating the GOP presidential field. Trump started from day one saying things that no other politician would be caught dead uttering. His rise in popularity gave a stiff middle finger to conventional politics, and when an issue became too controversial, Trump would respond by doubling down.
But instead of running with the talking points that keep Trump perennially in the headlines, voters are concerned about the issues that they tend to always worry about — indeed, it's the economy, stupid.
What's important to note is that the four issues that voters are asked to rank in exit polls — immigration, economy/jobs, terrorism and government spending — are invariably interconnected. For example, a voter could care about immigration primarily through an economic lens and raise concerns about cheap labor or displaced jobs. But by and large, the low rankings for immigration makes sense in that it doesn't impact the average American's day to day.
Nevada was single outlier where the last place rankings were not statistically significant — immigration and terrorism hovered as the two lower-tiered issues. But the state also that has the highest proportion of undocumented immigrants in the country.
The rankings are significant in providing a road map of voters' priorities that are expected from a potential presidential nominee. For an issue as politically toxic as immigration, would a new president want to expend their first-term political capital on an issue that ranks low on the priority list of voters?
This gets at the GOP fault lines over "amnesty." For all the public rancor over allowing undocumented immigrants to work legally in the U.S., the exit polls over the last few months reflect public opinion going back several years. The American public has been divided almost directly in half on how to address the 11 million undocumented immigrants currently estimated to be in the country.
And so, despite Trump's resounding Super Tuesday sweep, do voters universally support his policies? According to exit polls, not particularly. They seem pretty divided. Except for one very important issue.
In states across the Northeast and deep South, Republican voters in exit polls said they would support a temporary ban on allowing Muslims enter the United States. In New Hampshire, 65 percent of Republicans backed the ban. In Tennessee, it was 71 percent. Arkansas had a resounding 76 percent.
What's apparent out of the recent exit polls is that a controversial position, like banning an entire class of people based on their faith, is becoming increasingly the norm in this presidential election cycle.
On one hand, Trump is playing up his outsider status by truly thinking outside of the box. On the other hand, there's a reason no other candidate has dared to go this far.