With Donald Trump's path to the nomination looking wider by the day, a number of top Republicans are signaling their willingness to support his candidacy — even some who have fiercely criticized him in the past.
This softening opposition indicates that the GOP establishment is reaching the "acceptance stage" of the grieving process, even as Sen. Ted Cruz and his new running mate Carly Fiorina try to mount a last stand in Indiana.
The shift reflects the intensity of loathing for Cruz among elements of the party as much as it does their begrudging acceptance of Trump. The firebrand conservative has failed to secure significant support from his colleagues in Washington even after emerging as the leading Trump alternative in March.
Cruz did manage to gain an endorsement from Indiana Gov. Mike Pence on Friday. In announcing his decision, however, Pence lavished praise on Trump for channeling "the frustration of millions of working Americans," suggesting he was wary of criticizing the likely nominee.
Related: Protesters and Police Face Off Outside Trump Speech in California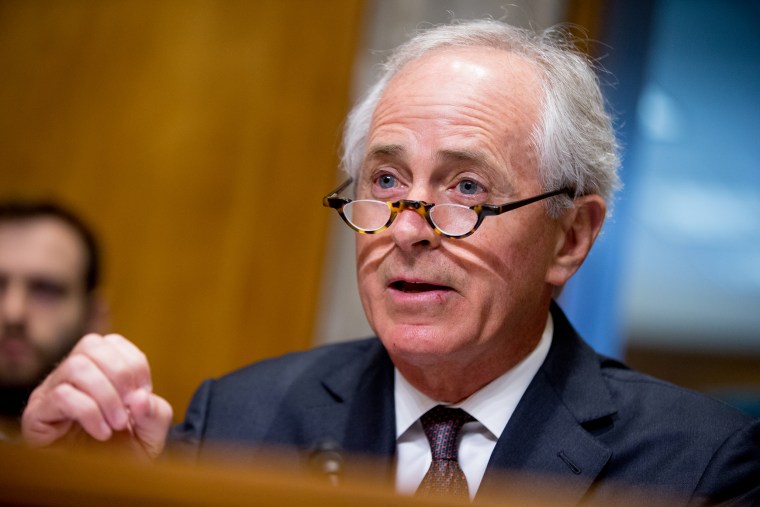 The most dramatic example of anti-Cruz sentiment came from former House Speaker John Boehner, who told an audience at Stanford University that Cruz was "Lucifer in the flesh" and that he would never vote for that "miserable son of a bitch" in a general election. He would, however, support Trump.
Former New Hampshire Sen. Judd Gregg also blasted Cruz as a "demagogue's demagogue" in an interview with WMUR and said he would vote for Trump in November but write in House Speaker Paul Ryan if Cruz won the nomination.
Nor is this problem limited to party elites — Kasich supporters drawn to his message of steady bipartisanship have stubbornly refused to unite behind Cruz to stop Trump even as their candidate sits fourth in the delegate count in a three person race.
Perhaps even more shocking than Boehner's brutal dismissal of Cruz was Tennessee Sen. Bob Corker's warm embrace of Trump the same day.
Corker is the chairman of the Senate Foreign Relations committee and often a key player in brokering bipartisan agreements, including the "Gang of Eight" immigration bill that Trump and Cruz have each vilified on the campaign trail.
"I just hope that we don't let demagogues prevail and that we finally deal with this issue and put it behind us," Corker said after the 2014 election, in which a number of Republican candidates won races while railing against "amnesty."
Not surprisingly, Corker has been a sharp critic of Trump at points in the race, most notably saying his proposed ban on Muslims entering the United States ran "completely counter to the values and principles of our great nation."
After Trump delivered an often contradictory foreign policy speech that was widely panned by experts, Corker issued a statement gushing over the remarks and told MSNBC's Andrea Mitchell he was excited Trump "challenged the foreign policy establishment here in Washington."
Related: Indiana Gov. Mike Pence Endorses Cruz While Condemning Trump
Trump's recent success in primaries appears to be putting some pressure on elected officials to get on board with his campaign as well. Congressman Bill Shuster of Pennsylvania endorsed Trump shortly after the candidate romped to victory in his state on Tuesday. Congressman Jeff Miller of Florida, where Trump eliminated Sen. Marco Rubio from the race in March with a dominant performance, backed Trump the same day.
For the #NeverTrump movement, which has organized itself around conservative leaders committed to opposing Trump even in a general election, anything that makes Trump seem like an inevitable and ordinary — if divisive — nominee undermines their cause.
"As our nominee, the key issue is support, not necessarily the word 'endorse,'" Rep. Chris Collins of New York, a Trump supporter, told reporters Wednesday.
Maintaining that unity becomes harder the closer Trump gets to the nomination and as the reality sinks in that polls show him approaching majority support among the party's voters.
One major player who indicated he could back Trump this week is Rubio. Just months ago, Rubio railed at campaign rallies against Trump as a "con artist" who, the senator warned, had turned naive conservatives into his marks for personal gain.
On Friday, though, Rubio said that Trump's"performance has improved significantly" and reiterated that he would support him in the general election.
Another former rival warming to Trump is Texas Gov. Rick Perry, who delivered one of the earliest, fiercest, and most comprehensive denunciations of the billionaire while running against him in 2015.
"He offers a barking carnival act that can be best described as Trumpism: A toxic mix of demagoguery and mean-spiritedness and nonsense that will lead the Republican Party to perdition if pursued," Perry said in a speech last July. "Let no one be mistaken — Donald Trump's candidacy is a cancer on conservatism, and it must be clearly diagnosed, excised and discarded."
"Trumpism" has overrun the GOP's body politic, but Perry has learned to live with the condition. This week, he was asked on "The View" whether he would support Trump if he secures the nomination.
"At the end of the day, I will," Perry admitted.
This story first appeared on MSNBC