With fewer than 80 days until election day, Republican kingmaker Sheldon Adelson still hasn't put any money toward Donald Trump's campaign for president, according to newly released filings from the Federal Election Commission.
The snub from Las Vegas casino magnate, who is one of the GOP's largest donors, is another example of the concerns some members of the Republican Party still have with their presidential nominee.
Adelson, whose top political priority is the security of Israel, attended the Republican National Convention in July. He was prepared to support Trump after the convention, but the candidate's tumultuous post-convention stretch revived concerns, according to a Republican with knowledge of Adelson's political activity.
Adelson was furious with Sen. Ted Cruz of Texas for not endorsing Trump in his convention speech — he told Cruz so immediately after Cruz walked off stage — but Trump's post-convention campaign has instilled little confidence in the high-dollar donor.
In the weeks following the convention, Trump publicly feuded with a Gold Star family, held off on endorsing House Speaker Paul Ryan in his Wisconsin primary and repeatedly attacked fellow Republicans instead of his Democratic opponent, Hillary Clinton.
Related: Hillary Clinton and Allies Outpace Team Trump in Fundraising
Adelson spent at least $100 million during the 2012 election, making him the biggest spender in that election. Four years later, the crowded Republican primary field vied for his support, but Adelson never heavily invested. It was reported that Adelson was also on the verge of backing Trump in May after the rest of the field dropped out, but an endorsement and financial support never materialized.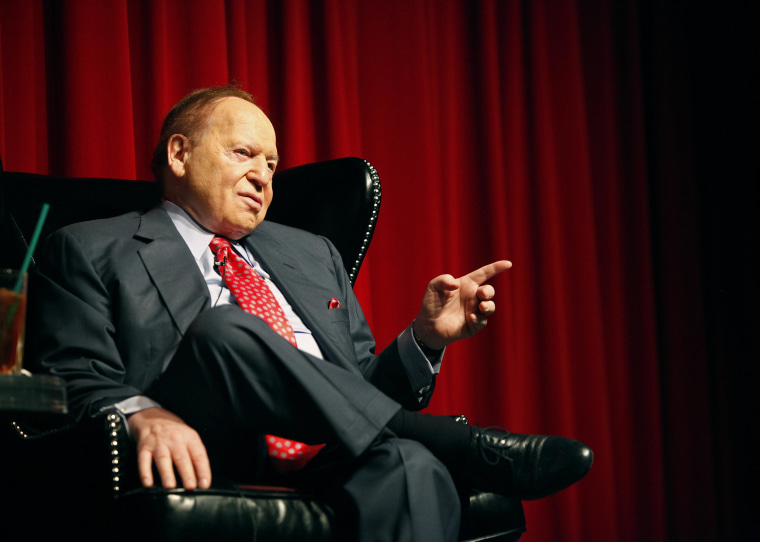 While Adelson's absence is significant, it's not unique. He is one of many major Republican donors to sit on the sidelines in this general election.
Charles and David Koch are focusing their political dollars on Senate races, as are Joe and Marlene Ricketts, the owners of the Chicago Cubs. New York hedge fund manager Paul Singer has stayed out of the race against Clinton, as well.
Furthermore, of the top 10 Republican donors in this election, every one either supported a candidate other than Trump or worked to defeat Trump in the primaries. They include Ricketts, Singer, investment banker Warren Stephens, Ken Griffith of Citadel Investing and Steven Cohen of the Cohen Foundation.
Of those top 10 donors, only two have joined team Trump. Richard and Elizabeth Uhlein, who gave more than $5 million to anti-Trump super PACs, are now donating and helping Trump raise money, while Robert Mercer, who gave more than $13 million to a pro-Cruz super PAC, gave $2 million to pro-Trump super PAC Make American Number 1.
The neglect by large donors is evident in the struggling pro-Trump super PACs. Nearly half a dozen exist, but none has yet achieved significant financial support, especially compared to their Democratic rival, Priorities USA, which has raised $100 million this cycle. The pro-Trump super PACs have raised only a fraction of that — less than 15 percent.
Related: Donors to Trump: Stay on Message
If Adelson were to financially boost Trump, it most likely would come in the form of a super PAC, an entity that isn't restrained by contribution limits. He would likely start his own, as he's been frustrated with the lack of coordination among the groups and the absence of a central super PAC to support the Republican nominee.
Time is tight if Adelson is to try to rescue Trump. Labor Day — the unofficial start of the general election season — approaches.