DES MOINES, Iowa — On a cold and snowy November night in Iowa, seven Republican presidential contenders showed unexpected warmth as they courted evangelical Christian voters with stories of their personal faith and struggles.
The format of the Presidential Family Forum – in the style of a "Thanksgiving dinner" with candidates seated around a table featuring decorative gourds— offered up heartfelt answers to open-ended questions, with no time limit.
The three-hour forum turned emotional as the candidates shared their stories. Ben Carson told the crowd how he relied on God to get him through his failed surgeries and when he lost a child. Rick Santorum teared up when he described his anger towards God at the death of his infant son. Fiorina, who's been seen by some critics as too cold in past debates, appeared to tear up as she talked about how her faith helped her through the death of her step-daughter.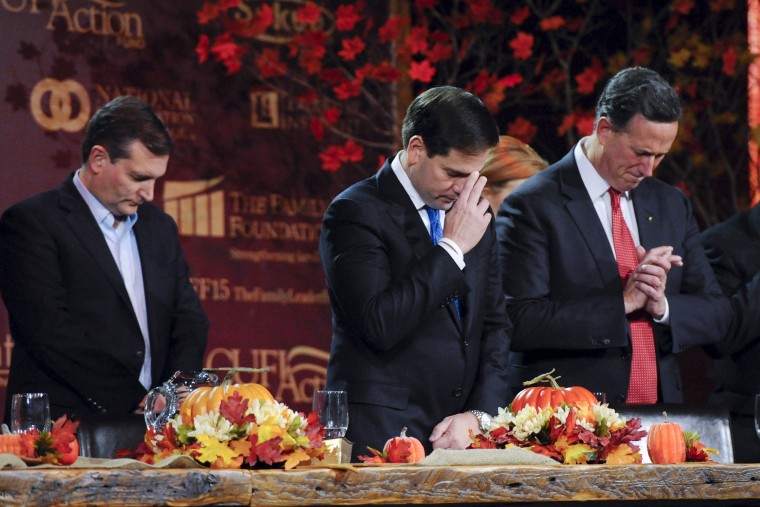 And for a slate of candidates who've spent much of the past six months trading sharper and sharper jabs, Friday night's group was notably amicable. Rand Paul at one point slapped Rick Santorum on the back in laughter.
"I have to complement you on the civility and decency you showed each other tonight," moderator Frank Luntz said.
But the "dinner" was not without its meat.
Protesters broke out at the start of the event, holding a banner asking: "Deportation—A Family Value?" When they were removed, three more protesters rose up in the crowd, this time with PETA.
Recent terror attacks also cast a pall over the forum. At least one third of the discussion centered on national security and foreign policy, with candidates offering both specifics and broad viewpoints on how to tackle ISIS.
Sen. Ted Cruz had the sharpest remarks of the night when he accused President Obama of "serving as an apologist for radical Islamic terrorism."
Asked to name the first person they would call upon hearing about a terrorist attack, Carson and Rubio both said the Department of Homeland Security; Fiorina and Mike Huckabee both said they'd fall to their knees and pray.
Luntz said the foreign policy focus was intentional — he wanted to give the candidates the chance "to articulate not just how they thought but why they thought it."
"We got the moral basis for foreign policy, which you never get in any typical debate," he said. "I wanted people to have the context and the genesis for their policy positions."
Some candidates had an opportunity to show a new side of themselves, but others seemed reluctant to connect. Sen. Marco Rubio stuck more to policy, delivering practiced answers on how to tackle ISIS and education policy but falling short of landing the emotional punch that some others achieved.
Luntz observed that while, though the forum gave candidates the chance to get into policy or "speak from the heart, Marco always speaks from the head."
The event may have solidified Cruz' strong hold over the evangelical electorate in Iowa.
He brought down the house at the close of the evening with an impassioned plea for conservative unity that may, come the Iowa caucuses in February, turn out to be prophetic.
"If conservatives come together and stand as one, it's game over," he said. "This primary is over if conservatives unite. And if conservatives stand together and unite, the general election is over."