In the final days of his life, former Utah Republican Senator Bob Bennett turned to his son and asked him, "Are there any Muslims in this hospital?"
The question caught his son, Jim Bennett, off-guard. It felt like a non-sequitur, and he thought it may have had something to do with his father's recent stroke.
But Jim said his father, even after the stroke, was "sharp as a tack."
"So I was standing there with him in the hospital and out of nowhere he asked me, 'Are there any Muslims in this hospital?'" Jim Bennett told NBC News Wednesday evening.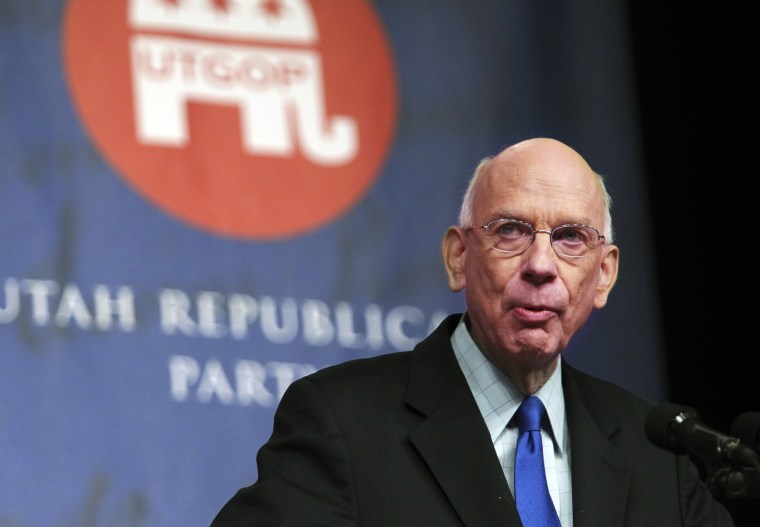 "I said, 'Yes, dad, I'm sure there are.'" Jim said of the conversation, which was first reported by the Daily Beast. "And he was very emotional and said, 'I want to go up to every single one of them and apologize, I want to go up to every single one of them and tell them how grateful I am that they are in this country and apologize on behalf of the Republican Party for Donald Trump.'"
Jim Bennett said that when he later spoke to his mother, Joyce Bennett, about the conversation, she told him that expressing a sense of inclusion for ostracized populations, especially Muslims, had become "something that he was doing quite a lot of in the last months of his life."
Joyce told her son that his father had approached people wearing hijabs in an airport to "let them know that he was grateful they were in the country and the country was better for them being here."
Bennett, a three-term Republican Senator who lost in Utah's 2010 Republican primary to two tea-party opponents, had become increasingly concerned with Trump's rhetoric in recent months, even after he had initially written off the billionaire businessman when he first jumped into the race.
"I think he got increasingly troubled as he saw the Republican Party becoming the party of Trump," Jim told NBC News. "I think Trump's rise was really the motivation for him to recognize the importance of expressing his desire for inclusion. He just felt it was his responsibly to push back."
Jim said that his father became interested in Islam after 9/11, citing a desire to be informed about the religion while making policy decisions in the wake of terrorist attacks.
"He spent a lot of time studying Islam and wanting to be informed enough to that he wouldn't be making decisions on the floor of the Senate ignorantly," Jim said.
Bennett also took issue with Trump's comments related to immigration, considering the former Senator's support for comprehensive immigration reform was a contributing factor in his 2010 defeat.
"He felt like immigration required a comprehensive solution," Jim said of his father, "And that didn't go over well with Utah delegates who just thought that building a big wall, in a Donald Trump fashion, was the only way to go."
Jim Bennett told the story about his father's comments about Muslims at both memorial services for his father, telling NBC News he "was so grateful to be able to see that demonstration of integrity when there were so many other things that could have been front of mind for him during that time."
"I was just very proud of him," Jim said. "It just demonstrated the integrity of my father wasn't just a public front, that even in personal moments of his last days, this was something that was of deep concern to him, and that he was thinking of other people before he was thinking of himself."