LOUISVILLE, Ky. -– As she continues to battle two candidates fueled by monster crowds and widespread enthusiasm, Hillary Clinton has committed to a campaign strategy that prioritizes the exact opposite.
While Bernie Sanders and Donald Trump consistently whip seas of fans into frenzies, Clinton often favors modest public appearances that rely heavily on policy and can seem almost intentionally boring.
Over the last year, in at least a dozen states, Clinton has dedicated hours and hours to events so small that members of the media often match or outnumber the attendees.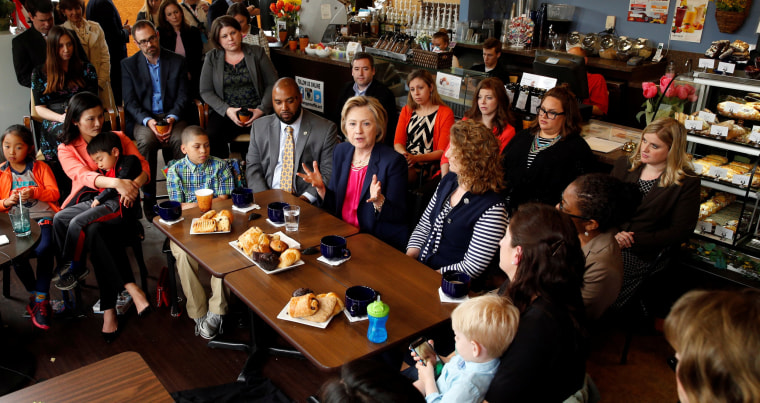 Her campaign is hopeful this uncommon campaign style will pay off in Tuesday's Kentucky primary, where she made a point of hosting low-key events with voters in the lead-up to today's contest.
In a primary election where Sanders and Trump continually draw thousands, Clinton has only matched her largest crowd – the campaign's Roosevelt Island launch rally crowd of 5,000 – once.
This is wholly intentional. Aides have characterized the tactic as one of the biggest "gambles" of the campaign and the closer she gets to clinching the Democratic nomination, the more vindicated they feel in taking this approach.
Smaller, more intimate events, aides argue, allow voters to see a different side of Clinton that doesn't always come across in more traditional campaign settings.
As Clinton has admitted herself, she is not as "natural" a politician as her husband or President Obama. Her strengths lie in serious policy discussion and one-on-one interactions with voters who have specific problems they want her to solve.
Aides say this format emphasizes that Clinton is more interested in listening to voters than talking at them. But this preference for muted events has also produced problematic optics for Clinton at times.
Sanders' speeches have attracted more than 25,000 people, per the campaign, and Trump's raucous rallies regularly bring out thousands as well.
"My best investment is my rallies," the presumptive Republican nominee recently told the AP. "The people go home, they tell their friends they loved it. It's been good."
The contrast is striking and could present a problem for Clinton in the general election. The only time she's rivaled her sizable launch event was at a New York rally with Gov. Andrew Cuomo and Mayor Bill de Blasio in March.
Clinton's events are typically small enough that she is sometimes surprised if there's an overflow space or a line of people still waiting to get in when she takes the stage.
Aides said they don't yet know when the campaign will hold its first large-scale, arena-style rally, but are confident that smaller events will remain a core part of the strategy through November.
A recent discussion on economic challenges facing young families in key Loudoun County, Virginia is a good example. The campaign expects to organize many more conversations like this in battleground states in the weeks and months to come.
The decision not to have gigantic rallies – or take the bait Sanders has presented in terms of trying to match attendance – has held steady for more than a year. That gamble, aides say, shows restraint amidst outside pressure to counterpunch Sanders more effectively.
But beyond the risk of not being able to fill a giant venue the way the Vermont senator has, the Clinton campaign believes big events don't necessarily translate to votes.
Take the New York primary, for example. In the week leading up to the vote, Sanders held three huge events in Manhattan, Brooklyn and the Bronx.
Clinton instead focused on retail stops and smaller rallies. On the night of Sanders' Washington Square Park mega-event, Clinton spoke to about 1,000 people at a public housing community center in the Bronx.
Ironically enough, Sanders did not win any of the boroughs in which he held his largest gatherings.
Still, the Clinton campaign continues to face questions over how to explain or account for the enthusiasm gap between the former secretary of state and her primary rival. This challenge could easily extend to the general if the Clinton campaign can't optically compete with the excitement generated at a Trump rally.
But substance-heavy events also allow Clinton to employ a strategy her aides say will be instrumental in the fall: focusing on issues instead of being forced to "get in the mud" with Trump.
Earlier this month, when Trump called Clinton a "nasty, mean enabler" and invoked her name repeatedly during his rallies, Clinton hosted a handful of cozy discussions focused on women's and children's issues like equal pay and early childhood education.
Though she continues to call out Trump during her rallies – where the capacity rarely exceeds 1,500 – Clinton has notably spent more time engaging voters in intimate, issue-oriented exchanges.
At a recent discussion on childcare in Lexington, for instance, Clinton did not mention Trump or Sanders once.
Her recent swings through Appalachia and Kentucky also harken back to the types of events she kicked off her campaign with in Iowa, which were similar to the listening tours she launched her 2000 Senate campaign with.
The approach this cycle is derived from a lesson learned in 2008, where aides felt she didn't have enough of these in-depth discussions..
They've also made for some of the most memorable moments between voters and Clinton on the trail. At a community roundtable in the heart of coal country, Clinton was confronted by a man who had recently lost his job at a coal company and was furious about her comments earlier this year on putting miners "out of business."
The exchange ended up being the biggest headline from Clinton's tour through the region and it took place in a tiny office lobby that was not open to the general public.
"I've had some extraordinary conversations – tough and honest," Clinton later said of her trip through West Virginia.
The man, Bo Copley, was not swayed by Clinton's apology and explanation. After their meeting, he told reporters that he "wasn't sure about Donald either." Four days later, however, Copley was met with thunderous and sustained applause when an introductory speaker recognized him at a Trump rally.
The campaign is well aware that these intimate, policy-laden events can occasionally backfire. But the candidate herself seems to enjoy showing off who she is at her core, according to many close friends and aides: a wonk.
At a recent hospital visit in Camden, New Jersey, Clinton turned a 5-minute photo op into a 35-minute discussion on health care initiatives. When a nurse practitioner praised her work at the State Department on clean cookstoves in developing countries, Clinton beamed.
"That just lights up my wonkish heart," she said.