COLUMBUS, Ohio — Hillary Clinton teed off on Donald Trump and hardened her stance on free trade agreements Sunday night, zeroing in on two issues that have dominated the contest ahead of Ohio's Democratic presidential primary contest Tuesday.
"Donald Trump is running a cynical campaign of hate and fear for one reason, to get votes," Clinton said at a dinner event hosted by the Ohio Democratic Party. "Donald Trump is not who we are."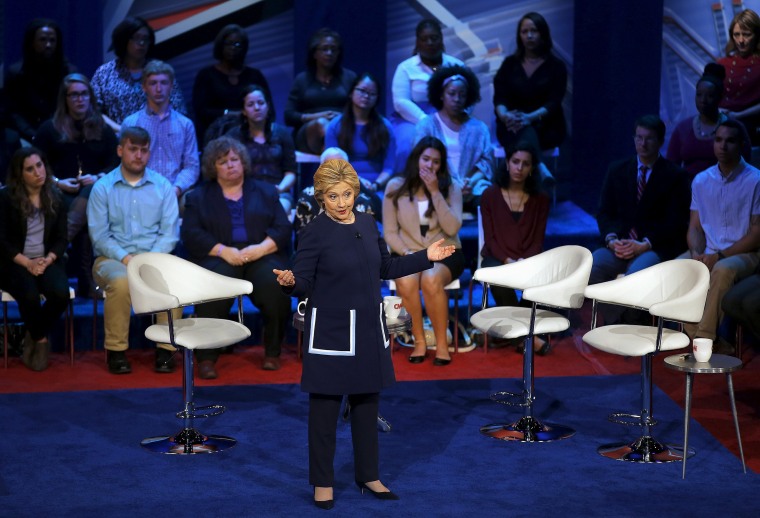 After a weekend marked by violence at Trump rallies across the Midwest, Clinton said the blame lays squarely with the candidate himself. "Trump encourages his supporters to beat up anybody who disagrees with him," she said.
And Clinton used her attacks on Trump to make an implicit contrast with Bernie Sanders, whose supporters have helped organize anti-Trump protests, including the one that shut down a rally in Chicago Friday night.
"We can criticize and protest Donald Trump all we want, but none of that matters if we don't also show up at the polls. If you want to shut him down, then let's vote him down," she said.
Later in the evening, at town hall hosted by CNN, Clinton said she would campaign against Trump in the general election by emphasizing the damage he would do to America's standing in the world.
"I'm having foreign leaders ask if they can endorse me to stop Donald Trump," Clinton said, though she declined to name names.
Sanders appeared at both the dinner and town hall but stuck almost entirely to his talking points. But when asked to name a Republican he gets along with, Sanders mentioned Oklahoma Sen. Jim Inhofe, one of the most conservative members of the Senate who is also its most strident climate change denier.
Inhofe and Sanders have known friendship, despite their ideological differences.
Meanwhile, at both events, Clinton stiffened her position on free trade agreements, an emotional issue in a state that has lost tens of thousands of manufacturing jobs.
"I will stop, dead in its tracks, any trade deal that hurts America or American workers," Clinton said at the dinner.
Clinton also spoke about the death penalty after taking an emotional question from from a former death row inmate who was released from prison after a court ruled he had been falsely convicted.
"This is such a profoundly difficult question," Clinton said, explaining that she opposes capital punishment in all but the most extreme circumstances.