PHILADELPHIA — Hillary Clinton and her running mate Tim Kaine rallied an amped up crowd outside at Penn Park on a chilly Saturday night in Philadelphia for their second stop on a brief day-long joint tour across Pennsylvania.
As the polls for the campaign remain stronger in the state, Clinton continued to focus heavily on rallying support for Democratic Senate candidate Katie McGinty, while aiming to tie her Republican opponent, incumbent Sen. Pat Toomey, to Donald Trump.
Clinton ran through Trump's controversial statements and asked: "How much does he have to hear or to see? If he doesn't have the courage to stand up against Donald Trump after all of this, then how will he stand up to special interests and powerful forces trying to have their way in Washington?"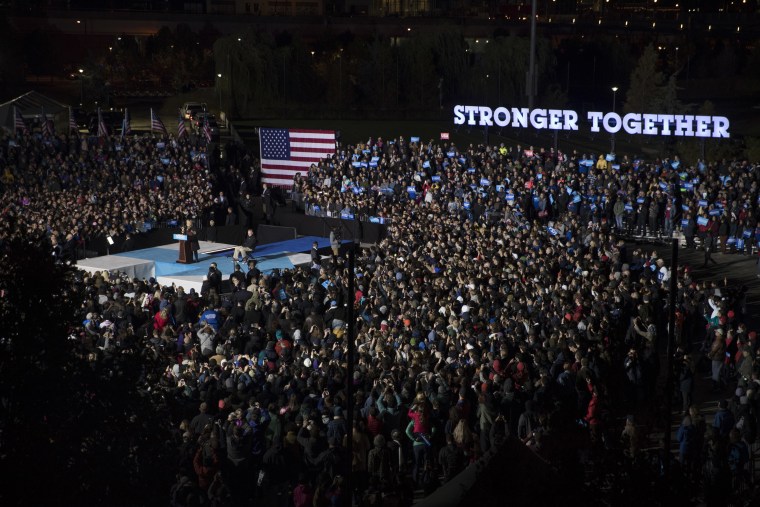 Kaine also praised McGinty, but did not make any charges against his Senate colleague Pat Toomey, as he has never gone negative against any of the current Republican senators or any Republicans running for Senate while on the campaign trail.
Clinton also told her crowd she was tired of Trump supporters "denigrating America."
"Come on, give me a break," she said. "This country has created more economic opportunity for anyone in history of the world. We just have to get it spun up again."
She alluded to the recently released hacked emails making headlines and Trump questioning their ultimate origin at the debate, asking, "Why would he believe the Russians instead of our own intelligence sources?"
After an event earlier in the day in Pittsburgh, this was Clinton and Kaine's second rally together since Labor Day.
The candidates stood under the shadow of downtown Philadelphia, in front of a crowd of 7,750 people present according to the U.S. Secret Service, and a gigantic blue light-up "Stronger Together" sign.
Tim Kaine returned to mocking Trump and imitating his voice, referring to the Republican nominee's claims about a "rigged" election as an "insult to the central pillars of Democratic traditions."
"That poor guy, it's so hard," Kaine teased Trump. "It's so hard to be Donald Trump and have everything rigged against you," mentioning Trump's complaints about The Apprentice and The Emmys, making fun of him by saying, "everything rigged against Donald Trump."
Kaine also yet again brought up the Republican presidential nominee's previous comments claiming that Clinton doesn't look presidential, bluntly telling the crowd, "I think she looks damn presidential."
When the Virginia senator mentioned the fact that he's never lost an election, he called himself a lucky "rabbit's foot," telling Clinton that they are going to win.
Even though they were campaigning in Pennsylvania, he also highlighted the campaign's expansion into traditionally red states, claiming they are "seeing support surging in places you wouldn't expect it ... like Arizona and Utah and Georgia."
While campaigning with Clinton across Pennsylvania on Saturday, Kaine was making an extra point to focus on the historic nature of Clinton's candidacy and potential win, adding that on election day, the public could "in an instant change the way little girls and little boys look at their future."