Hillary Clinton attempted to drive a giant wedge between Donald Trump and the Republican Party Thursday.
In a much-anticipated speech connecting Trump to the hyper nationalistic "alt-right" movement, Clinton attempted to ensure moderate Republicans never feel comfortable supporting their party's nominee.
"This is a moment of reckoning for every Republican dismayed that the Party of Lincoln has become the Party of Trump," she said in Reno, Nevada. "He's taking hate groups mainstream and helping a radical fringe take over one of America's two major political parties."
Trump's weakness in polls stems in large part from defections in his own party. Under new management, Trump has begun making direct appeals to African-Americans and softening his stance on immigration. The goal is bring moderate white Republicans in the suburbs, and especially women, into the fold.
With many voters still just tuning in to the presidential election, Clinton is hoping to cement an image of Trump as a "detached from reality" bigot — though she stopped short of calling him a racist -- that no decent person should vote for.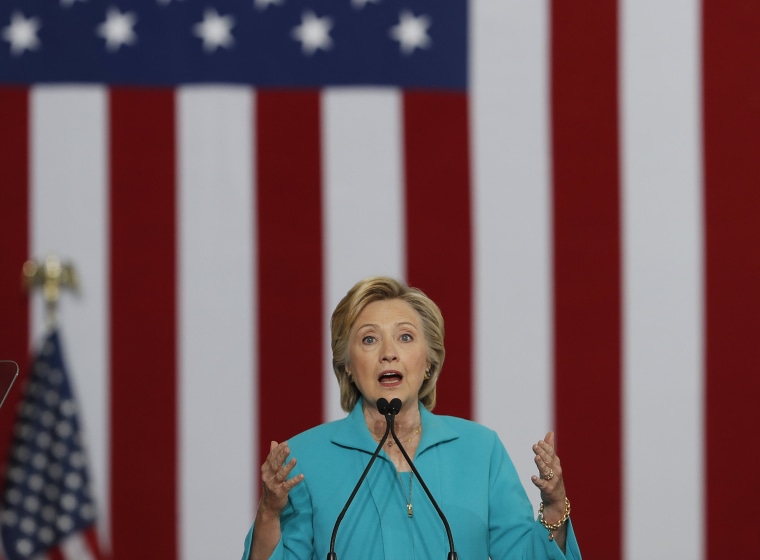 Earlier in the day, her campaign released an ad that featuring white supremacists, including members of the Ku Klux Klan, praising Trump.
"Don't be fooled," Clinton warned. "He may have some new people putting new words in his mouth, but we know where he stands."
The charge will likely do damage because Trump has had an almost impossible time finding prominent Republican leaders to publicly defend him from these kind of attacks.
Trump preemptively attacked Clinton's speech earlier in the day. "It's the oldest play in the Democratic playbook," he said at a rally in New Hampshire. "The news reports are that Hillary Clinton is going to try to accuse this campaign, and the millions of decent Americans who support this campaign, of being racists."
He called it a "one of the most brazen attempts at distraction in the history of politics."
Clinton's speech will likely help momentarily distract from revelations about the Clinton Foundation and the private email system she used as secretary of state that have put her on the defensive. And Democrats have been known to play up any whiff of racial discrimination for political gain in the past.
But Trump is different, Clinton said. "This adds up to something we've never seen before," she said.
Americans seem to agree. A new Quinnipiac national poll found that 59% of respondents said they think Trump talks in a way that appeals to bigotry (including 72% of people of color). Only 36% said he did not.
Drawing on her experience as a litigator, Clinton worked relentlessly through Trump's "long history of racial discrimination," from his refusal to rent apartments to African-Americans and Latinos as a landlord to his advocacy of birtherism and refusal to apologize to a Mexican-American judge he attacked.
Once again, Clinton went to to lengths to separate Trump from the GOP. She stuck up for Ted Cruz and Paul Ryan, who have been attacked Trump and his allies, invoked Reagan, and praised Bob Dole, John McCain, George W. Bush for defending minority rights and standing up for minority rights.
"We need that kind of leadership again," she said. "A fringe element has effectively taken over the Republican Party."
Her message got a boost Thursday from Jeb Bush, whom Trump and his allies attacked during the GOP primary for supporting immigration reform. Bush told WABC radio he didn't believe Trump was sincere about his new views on immigration.
"That's what politicians do in this country, that's what Trump is trying to do right now. I find it abhorrent," Bush said said.
Clinton's argument will likely ring true with other Republicans as well, especially after Trump brought on as his new CEO Steve Bannon, the head of Breitbart News.
Breitbart on Thursday downplayed its connections to the alt-right, an online movement of provocateurs, many of whom are white nationalists, who fight political correctness by being performatively offensive. But just last month, Bannon told Mother Jones magazine, "We're the platform for the alt-right."
One the movement's highest profile figures writes for Breitbart.
Clinton highlighted some particularly inflammatory Breitbart headlines, like, "Would You Rather Your Child Had Feminism or Cancer?" and "Hoist It High And Proud: The Confederate Flag Proclaims A Glorious Heritage."
"Just imagine – Donald Trump reading that and thinking: 'this is what I need more of in my campaign,' Clinton said, calling Bannon's elevation a "landmark achievement for the 'Alt-Right.'"
"So when a tweet gets under his skin and he wants to retaliate with a cruise missile, maybe cooler heads will be there to convince him not to. Maybe. But look at who he's put in charge of his campaign," Clinton said.
She also criticized Trump for his associations with Alex Jones, the broadcaster who has built a small media empire on conspiracy theories like that the Sandy Hook massacre was staged.
As much as he protests, Trump has not exactly gone out of his way to insulate himself from these kinds of attacks.
In a statement from the Trump campaign earlier in the day on Clinton's ad featuring the white supremacists, Pastor Mark Burns called on Clinton to "disavow" her campaign's "disgusting" "repulsive" "revolting" "sickening" "and completely beyond the pale" video.
It's much stronger language than Trump has used to disavow white supremacists themselves in the past, and Burns did not take the opportunity to reassure voters that the Trump disagrees with those featured in Clinton's video.
Republicans accused Clinton of playing guilt-by-association by tagging Trump with "alt-right" activists -- something one "alt-right" group echoed.
But Clinton said it's fair game.
"There's an old Mexican proverb that says, 'Tell me with whom you walk, and I will tell you who you are,'" she said. "We know who Trump is. A few words on a teleprompter won't change that."