The crowd was imploring him to stay, but Marco Rubio had a plane to catch.
It was late September, and the presidential candidate told an eager Davenport audience that he had to leave for Washington, D.C. But, he assured them, he would be back soon.
"I know there are questions unanswered, but the good news is, it's Iowa," Rubio said to the packed room of around 300 people. "So I'm going to be back more. And I look forward to coming back."
Iowa Republicans are publicly and privately baffled by how little Rubio has been to the first-in-the-nation caucus state compared to other candidates.
Though he kept his promise that night in Davenport by returning for a two-day swing one week later, Rubio's been just the ninth most frequent visitor to the Hawkeye state since 2012 among GOP candidates still in the race, according to the Des Moines Register Candidate Tracker.
When he has visited the state he has not strayed far from major metropolitan areas, and has notably spent a lot of time in suburbs of Des Moines such as Ankeny.
"I've seen other campaigns be much more active and much more aggressive," Polk County Republican Party chairman Will Rogers told NBC News. "After the debate, people realized he is presidential. But I just don't fully know or understand what the Rubio strategy is for Iowa."
Craig Robinson, editor of the conservative online outlet The Iowa Republican, said Rubio risks missing his moment here. "If you're tepid in your approach to Iowa, you're really hurting your ability because I think there is a lot of interest in Rubio."
But Robinson warned, "If it's an approach like it's been in the past few months, it's never going to happen."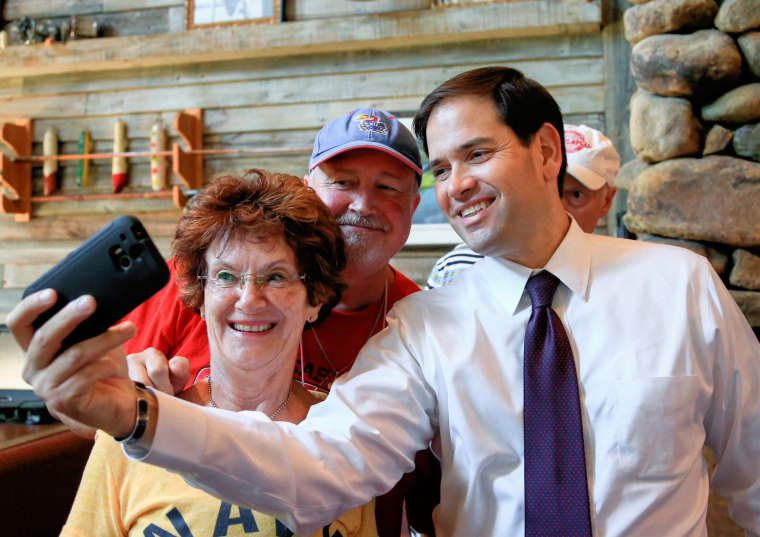 Rubio's campaign is promising a stepped-up pace.
"We want to be in Iowa more, we think we can do very well there, we think we can win in Iowa," Rubio spokesperson Alex Conant told NBC News. "And you're going to be seeing Marco there a lot over the next four months."
The Rubio campaign opened its headquarters in late August and didn't hire its Iowa state director, Clint Reed, until mid-September. Reed is an Iowa outsider from Arkansas with extensive political experience in the South.
Outside of a 48-hour swing in western Iowa in July, the candidate held his first major independent event outside of airport-friendly central Iowa just recently.
Several hundred attended each of Rubio's eastern Iowa stops over the last two weeks.
The campaign has at least three paid staffers on the ground in Iowa, though it says it won't release the exact count.
"After running a very lean operation over the summer, we are in the process of staffing up," said Conant of Iowa and other early primary states.
"We've always looked at this as a long, steady race," State Senator Jack Whitver, who is Rubio's Iowa State Chair and the most visible member of his campaign in the state, told NBC News. "I'm comfortable with the pace. We're going to ramp up the Iowa visits."
While the campaign will not commit to completing a "Full Grassley" by visiting all 99 counties in Iowa, the team did say they are working towards a goal to have campaign chairs in each county--something several Republican candidates have already done.
"It's growing everyday. We're putting together a pretty sizable network. We just don't feel the need to release it every time another person signs on board," said Whitver.
Rubio backers have spent the fourth most in Iowa television ads (behind Jindal, Jeb Bush, and Hillary Clinton) according to the latest data from NBC's ad-tracking partner SMG Delta, though all $700,000 were spent by his affiliated 501c4, Conservative Solutions Project.
But in a state where many argue that the best way to succeed on caucus night is to get the candidate in front of as many people as possible, some are still skeptical of whether Rubio will be able to make a splash.
"The key, the operative phrase, is still organize, organize organize," explained Eric Woolson, a former senior adviser to Governor Scott Walker in Iowa.
"Iowans have high expectations that candidates are going to come here and work hard…And if I'm living in Floyd County, I'm not going to be able to drive down to Ankeny to see somebody especially when I've got five other candidates who are going to drive by my county and see me," said Woolson.
"He has all the potential in the world, but to capitalize on that potential and to capitalize on everyone reevaluating where this race is today after Walker got out, he has to be here. He has to put in the time," Robinson added. "And if he does that, the sky's the limit."
Despite the criticism, Rubio is currently tied for fifth place with Texas Senator Ted Cruz and Louisiana Governor Bobby Jindal at 6 percent in Iowa, according to the most recent NBC/WSJ/Marist poll, showing growth from his September numbers.
Observers say that uptick is in part due to Rubio's strong performances in two televised GOP debates -- and the failed campaigns of two of his competitors.
"When you watch those debates, you see Marco with a command of the issues, a commanding presence, and someone that looks presidential on stage," Whitver said as he introduced the candidate in Cedar Falls. "As other candidates get out of the race you see voters start to consolidate around different candidates, and we have certainly seen that when Governor Walker got out of the race."
Only a few hours after Walker dropped out the race, his supporters splintered in a number of directions, but Rubio's campaign was quick to publicize its share of the lot.
Whitver also makes the case that Rubio's campaign is learning from the mistakes of Walker and former Texas Gov. Rick Perry.
"[Rubio's] spent a lot of time raising money, which is crucial as we found out with Governor Perry and Governor Walker," said Whitver. "We found out that that's the fuel that's going to drive it."
And it's still not yet clear if Rubio's slow-and-steady strategy is upsetting Iowa voters used to being able to kick each campaign's tires early and often.
Barbara and Earl Jacobson, an undecided local couple who attended Rubio's Cedar Falls event, said they weren't upset that it took until the fall season to see the candidate in person.
The pair said that Rubio was the only candidate they agreed they both liked, because of his debate performances, his "astute" take on Russia's actions in the Middle East, and his background and personality.
"I don't see how [Donald] Trump can say he's a clown," said Earl. "Sure, [Rubio's] got a good sense of humor, but he's got good sense more than anything else."