Jeb Bush, once eager to prove "I am my own man," is rapidly becoming a family man.
During last week's debate, Bush vigorously defended his brother against Donald Trump's attacks on the Iraq War, a 180 from just months ago when he struggled to distance himself from brother George W. Bush's record in Iraq.
"As it relates to my brother, there is one thing I know for sure: He kept us safe," Bush declared, prompting a huge round of applause from the audience.
Days later, at the Mackinac Republican Leadership Conference in Michigan, Bush again bear-hugged his family dynasty when declaring that the U.S. needs to improve its relationship with Israel and Canada.
"I know how to do this because, yes, I am a Bush. I happen to have seen two really good presidents develop relationships with other countries."
It's a significant reversal from the start of his campaign, when Bush took pains to distance himself from his father and brother while pundits wondered whether the Bush name and baggage would weigh him down.
Bush allies say it reflects a confidence that the candidate has successfully begun to establish his own identity, and so can embrace some of the advantages of being a Bush.
"Jeb and the campaign feel more comfortable that the Jeb identity is coming across and people are getting to know better where he stands, so the separation between Jeb and family is not as important as it once was," said Al Cardenas, a GOP lobbyist and longtime Bush family friend.
After three months of active campaigning, the rollout of a half-dozen unique policy proposals and innumerable television interviews, Bush's advisers believe Jeb has started to prove he's his own man. Bush has made a point of drawing a contrast with his brother and father on some key policy issues, particularly those important to conservatives, like government spending and judicial nominees.
Bush has said government spending during his brother's time in the White House could've been "more disciplined," and has called for a balanced budget amendment and presidential line-item veto power as reforms. He's also criticized past presidents — not by name, but the implication is clear — for picking Supreme Court nominees "that don't have a proven record," and ultimately prove to be insufficiently committed to conservative principles on the bench.
And on the trail, he has a common refrain: "I'm proud of my family…but I'm going to have to share who I am, my record."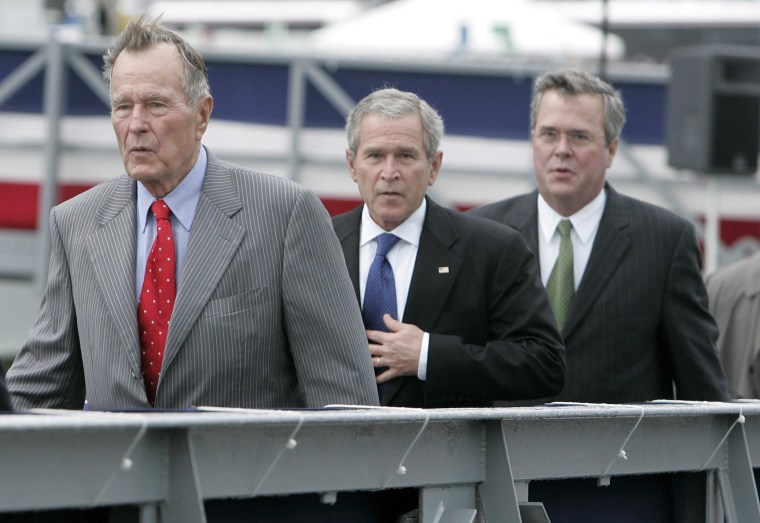 Finally embracing his family, too, helps Bush emphasize his more personable and passionate side. The self-described introvert has taken knocks from Trump for being "low-energy," and has worked on the campaign trail to show a lighter, more gregarious side.
On Monday, that lighter side was on display when Bush, like any affectionate younger brother, cracked a joke at his brother's expense in Iowa. Asked who his favorite president was, Bush offered to share one he thought was, "as my brother would say, 'misunderappreciated,'" a good-natured jab at his brother's infamous use of malapropisms.
And the Bush family, as a whole, may not be as unpopular as critics have made them out to be, said Craig Robinson, a former Iowa Republican Party political director.
"While there are definitely some things that conservatives have problems with the Bushes on, there's a lot of things they still appreciate," Robinson said.
Indeed, a CNN/ORC survey out in June suggested Americans — and Iowa Republicans, specifically — have a rosier view of George W. Bush in particular than many pundits predicted. The survey showed big brother Bush was seen more favorably than Democratic presidential frontrunner Hillary Clinton among adults nationwide; and a Bloomberg/Des Moines Register poll showed 57 percent of likely Iowa GOP caucus goers thought having his brother as an adviser would be good for a Jeb Bush presidency.
Robinson pointed to national security in particular as a potential advantage for Jeb gleaned by family ties, noting that most of the party's more seasoned national security experts worked in one of the Bush administrations, so the younger Bush would be "foolish" to overlook them.
And in a field of candidates with little concrete foreign policy experience, the combined knowledge and history of the Bush dynasty on foreign policy — despite the controversies that spanned both presidents — could give Jeb Bush a leg up over the rest of the field in the foreign policy debate.
Still, it's not clear that embracing his family legacy is any more a savvy strategic move for Bush than it is a necessary one, and Republican strategists warned the candidate still faces significant risks.
Matt Mackowiak, a Texas-based GOP strategist who worked on George W. Bush's re-election campaign in 2004, said highlighting his family ties may emphasize his establishment credentials, which could hurt him with conservatives in the primary.
"Reminding people of sort of the legacy aspect…makes Jeb seem like he's an insider, and makes him seem like he has all the advantages. That doesn't seem to be the kind of profile that the republican electorate is seeking right now," he said.
But Mackowiak noted that it would be difficult for Bush to escape that perception to begin with, and suggested the candidate might as well take the good with the bad.
"He gets the downside of Bush 43's record and legacy, he might as well also get the upside," he said.