When he suspended his campaign, Marco Rubio said he wasn't running for president but urged local GOP officials to let him keep his delegates.
A month later, Rubio is still third in the Republican hunt, ahead of John Kasich, with an impressive 10 percent of all delegates awarded so far. It's a potentially pivotal margin for an open convention.
It turns out, however, that Rubio won't get to keep them all.
The Florida senator's strategy is hitting some turbulence, NBC News has learned, because several state parties have determined Rubio does not get to hold onto all his delegates.
Only 34 of the 172 delegates Rubio won in the primaries will be immediately up for grabs on the first ballot in Cleveland. That development is opening up a fierce competition to win these lapsed Rubio delegates, which are located in Oklahoma, Minnesota and Louisiana.
"Our state rules say if someone is not on the ballot, they are free to vote for whomever they choose," said Oklahoma GOP chair Pam Pollard, "and I support that."
"We have 12 bound delegates for Rubio," she told NBC News, "so if he is not on the ballot — those 12 delegates are free to vote whatever way they want."
Delegates are liberated to switch teams, under Oklahoma law, when their candidate "is for any reason no longer a candidate."
Minnesota, where Rubio won his second largest haul with 17 delegates, applies a similar rule. The state party ruled that delegates may "vote for any candidate" if the one they support is not on the first ballot at the convention.
The icing on the cake for Rubio's rivals is that most of his lapsed delegates have not even been selected yet, making them easier to pick off.
Next month, Minnesota and Oklahoma choose delegates at state conventions. Oklahoma's application for delegates even includes an excerpt of the state law that authorizes them to switch their selection.
While Donald Trump is blasting the delegate system on the campaign trail, including criticizing the RNC for allocations made mostly by state parties, MSNBC has learned the Cruz campaign is continuing a laser focus on picking up delegates.
Cruz supporters are currently running for Rubio spots in Minnesota, and last weekend, Cruz won new delegates at local conventions in Oklahoma. During that effort, the Texas senator's allies filled a Rubio slot with Robert Carter, a minister from Grove, Oklahoma who backs Cruz.
Carter said if the GOP advises him the rules allow it, "I will pledge a vote for Cruz on the first ballot," and the senator's aides tell MSNBC they are finding a warm reception at the grassroots level.
"We are pleased at the response that the Rubio contingents at state conventions and congressional delegate selection events are showing our campaign," a senior Cruz adviser said.
Another Republican source close to the Cruz campaign said the team has been laying ground work to grow their delegate support from "day one." Now, they are organizing to fill Rubio slots or win over Rubio backers, arguing, "Ted could move the country more in the direction Marco wanted to go than Trump wants to go," the source told NBC News.
The lapsed Rubio delegates are especially crucial for Trump, based on his best path to the nomination, as they are part of a small pool of unbound delegates that, unlike most, are totally up for grabs on the first ballot.
If Trump finishes the primaries fairly close to the 1,237 majority, he would only need a few of those delegates to put him over the top. (Everything changes on subsequent ballots, when all delegates are unbound from their candidate preference.) So Trump's best bet is to win on the first ballot, when all his delegates are required to support him under the rules. A few of the extra unbound delegates could close the deal in that instance.
The Cruz Campaign has been steadily blunting that option for Trump, however, by gobbling up the bulk of unbound delegates to date. Cruz excelled at recent conventions in Colorado and North Dakota, which make up 45 percent of all the unbound delegates under state rules. (The other unbound delegates remain in places like Pennsylvania and Guam.)
If Cruz also locks down most of the 34 lapsed Rubio delegates, there will be very few left for Trump to woo if he doesn't achieve a majority in the remaining primaries.
The maneuvering reveals Cruz's two-step strategy for a convention: first, denying Trump the nomination on the first ballot by blocking him from unbound delegates; then consolidating the anti-Trump vote on later ballots.
It is the political equivalent of Owen Wilson's plea in the final scene of the 2005 film "Wedding Crashers." Wilson's character barges into a wedding, quiets the room, and tells his crush, "I'm not standing here asking you to marry me — I'm just asking you not to marry him!"
Cruz is not playing to win on the first ballot, he's asking the delegates to hold off on Trump.
Frank Donatelli, a Republican operative who worked for Reagan at the 1976 contested convention, says the strategy makes sense because "if Trump doesn't win on the first ballot, he's in trouble."
"If Trump is short and has to go into the uncommitted pool, these are the people you have to appeal to," he told MSNBC.
Donatelli, who endorsed Rubio, says the senator could have influence at the convention because of his delegates.
For his part, Rubio continues to stress that most of his delegates will back him on the first ballot.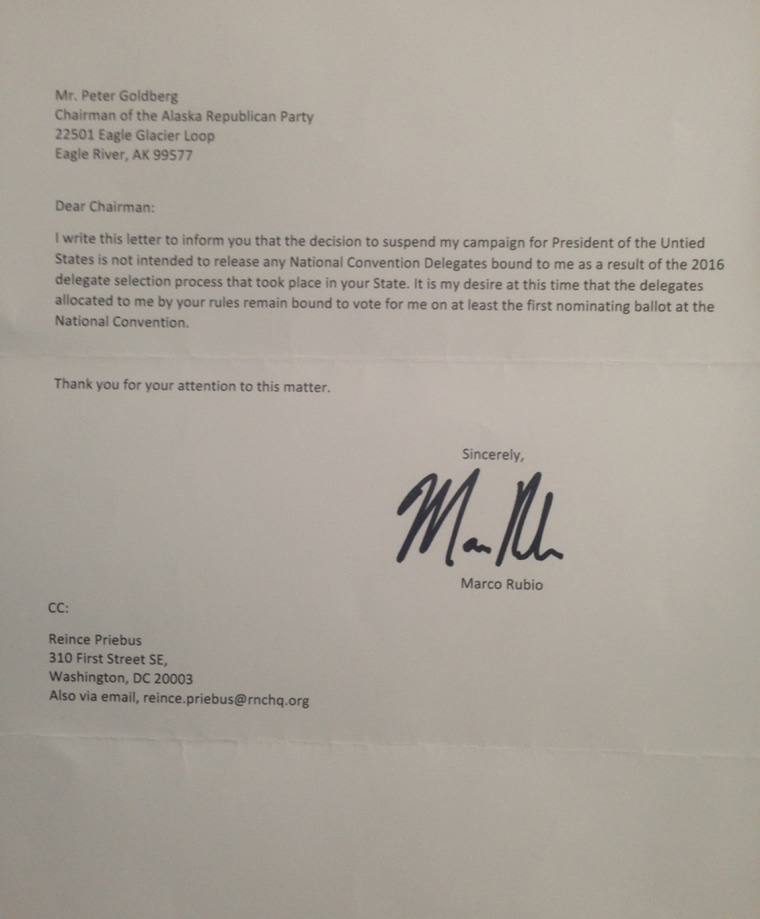 "I want to make sure that they're there on the first ballot," Rubio told conservative radio host Mark Levin on Tuesday.
Rubio did not suggest he had much sway over them on subsequent balloting, noting that after the first ballot, delegates "will be free to vote for another candidate, and I hope that they'll nominate a conservative."
"Every state has a different rule for how it interprets it so we just wanted to be clear that the suspension of the campaign in no way was intended to release delegates from their commitment to vote on the first ballot," Rubio said.
According to the MSNBC tally, Rubio's remaining 138 delegates will be unbound on the subsequent ballots, and local GOP officials have the same expectation.
In Georgia, where state law binds delegates on the first ballot unless a candidate completely "withdraws," Party Chairman John Padget echoed Rubio's analysis.
"He has the delegates for the first ballot at the convention," Padget said, "and then my delegation can vote whatever way they want on a second ballot."
Tennessee GOP chairman Ryan Haynes made a similar point.
"Our delegates will be bound for two rounds," Haynes said, "even if his campaign is suspended." The requirement is in a state law.
"In Virginia, all 16 delegates are bound on the first ballot, no matter the status of his campaign," Virginia GOP spokesman David D'Onofrio told NBC News. "Even if he stood up and said, 'All of my people should vote for x,' in Virginia, they are bound to him on the first ballot."
During that convention discussion, D'Onofrio also echoed a theme from his national GOP counterparts, who have been exasperated as Trump has blamed party rules for his own campaign's stumbles.
"We've got plenty of rules, but they've been known for a long time," D'Onofrio said, adding, "it's incumbent on everyone to know what the rules are."