Bernie Sanders has won eight of the last nine contests in the Democratic presidential race, leading some to ask whether Democratic voters are souring on Hillary Clinton.
According to a new NBC News tally, however, Clinton still leads the total popular vote by 14 points — 56 percent to 42 percent — a sizable edge that is sometimes lost in the focus on her long primary battle.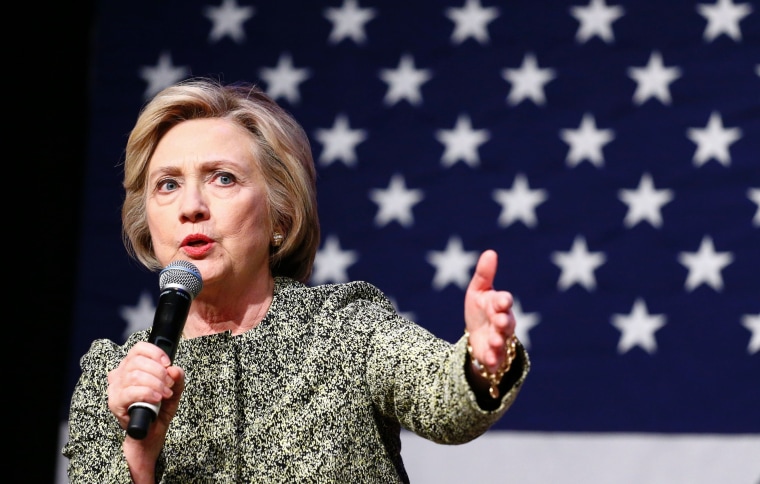 As Sanders pledges to fight until the convention, the Clinton Campaign is emphasizing her lead to offset potential worries over her recent string of losses.
Clinton is talking up her vote margin regularly. She told hosts of "The View" last week she has "two and a half million more votes" than Sanders, and recently reminded CBS anchor John Dickerson that she has won "more votes than Donald Trump." The Clinton Campaign is also circulating an animated graphic showing her lead over Trump and Sanders.
A Clinton campaign strategist tells NBC News the emphasis reflects her broad appeal.
"Hillary Clinton has a popular vote advantage over every other candidate, Democratic or Republican," says spokesman Jesse Ferguson, "because she has built a broad based coalition that competes and wins in all corners of the country, in red states and blue states, and across demographics."
A tally of turnout in 32 states supports the campaign's math.
Clinton has won about 9.36 million total votes (56 percent), compared to 6.97 million (42 percent) for Sanders.
But while Clinton's reference to besting Sanders is accurate, throwing in Trump is a stretch.
Contrasting his popular vote to Clinton's is a bit like comparing a tennis match to a 400-yard dash. Trump has been competing against a slew of opponents; Clinton is fighting one.
If anything, a comparison of the two parties' primaries is encouraging for Republicans, as they have drawn about 5.5 million more people to vote than Democrats.
While both parties use anachronistic delegate systems that do not automatically reflect the popular vote, Clinton's lead in pledged delegates roughly matches her share of the popular vote.
She has won 55 percent of delegates to date, according to a tally by NBC News' Mark Murray, just under her 56 percent share of the popular vote. Sanders has 45 percent of the pledged delegates and 41 percent of the popular vote.
DNC rules also give power over the nomination to unelected superdelegates, where Clinton has a large edge from endorsements. Add those in and her delegate lead jumps to 62 percent — eclipsing her popular vote share — and Sanders drops to 38 percent.
In other words, under the rules, Clinton's total delegate support is 10 percent higher than her actual support among voters, while Sanders' popular vote support is diminished through the delegate rules.
That kind of disparity is even more pronounced on the GOP side.
Donald Trump currently benefits from a 22 percent delegate bonus above his raw vote, according to an NBC News analysis published Monday, because the GOP awards so many extra delegates to the front-runner.
In the end, the most pivotal number for Clinton does not turn on the popular vote or the superdelegates' role — it is simply the outstanding number of delegates she needs to clinch the nomination. Clinton needs to win a third of the remaining delegates to win a majority — a more attainable path than any other candidate in either party.