Back on the campaign trail in New Hampshire for the first time this presidential season, Senator John McCain is on a new mission.
This time, he is trying to harness nostalgia from his own victories here in 2000 and 2008 as a playbook to help his close friend, Senator Lindsey Graham, a Republican representing South Carolina who is running for president but is far behind in the polls.
In an interview with NBC News Saturday, McCain and Graham talked about strategy and their views on the race.
McCain recalled that he had been written off. "Remember that this time in 1999, I was not on the charts. This time in 2007, my campaign was dead." McCain would go on to receive the party's nomination.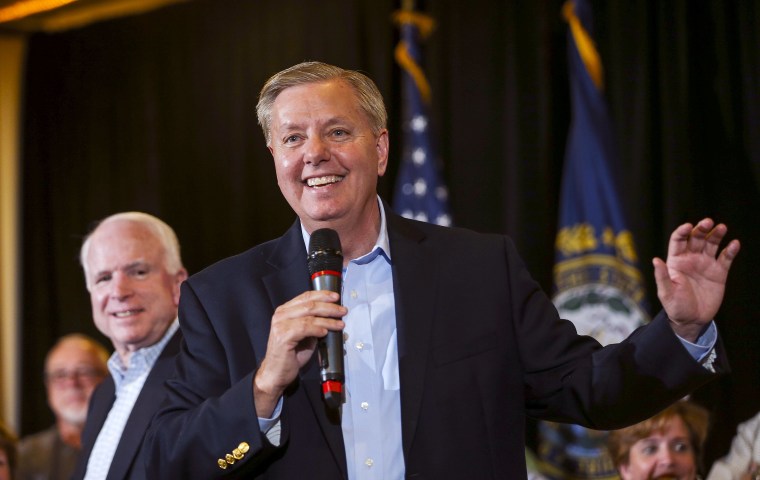 For Graham, McCain prescribes New Hampshire's beloved town hall format of campaigning to break out of the caboose.
"I take that there's hope for a guy like me," Graham said. "I was with John when he was fifth in a four-person race."
The advice is simple. "He's trying to tell me, 'Just be Lindsey.' Have a message that's bigger than the party, good for the country. Show up. Take every question. Be insulted — whatever it takes to get your message out."
Both McCain and Graham have been on the receiving end of Republican frontrunner Donald Trump's personalized fury. Trump questioned McCain's military service and publicly broadcast Graham's private cell phone number.
Trump will be center stage at Thursday's first Republican candidates debate in Cleveland, but Graham is expected to be on a separate, earlier panel for candidates who do not meet the qualifying criteria in polling averages.
Graham dubbed this panel, the "Happy Hour Debate." He is looking for a silver lining.
"You've got the Donald Trump debate. Everybody's going to be, 'How will he perform? What will he say?' Well, when I'm in the first debate, which is the 'Happy Hour Debate,' at five o'clock, start drinking. By nine o'clock, Donald may make sense to you, if you drink enough."
Kidding aside, Graham said the early debate provides him an opportunity to be heard. "I have a chance here in this early debate where there's not so much noise and gibberish," he said.
"The problem Mr. Trump's going to have is he's eventually got to tell us how to solve the problem," Graham said. "And his solution on immigration just is a bunch of gibberish. They're all going to walk back and we'll let some of them come back maybe. It's not much of a solution."
On Rand Paul
Beyond Trump, Graham singled out Republican rival Senator Rand Paul, a Republican from Kentucky, for particularly stinging criticism on foreign policy.
"The worst possible person to send into the arena on our side would be Rand Paul. He has been behind, leading from behind," Graham said. "We've made the case that Rand Paul's foreign policy views are weaker than President Obama, and he's sinking because of that."
On Hillary Clinton
Both McCain and Graham criticized Hillary Clinton. McCain said Clinton's use of a personal email server will likely remain a political liability.
"I think she's in very serious difficulty because I don't think the American people buy this whole scenario about her server," McCain said.
Graham focused on Clinton's ties to the Obama Administration's foreign policies. "It's going to be a tough sell to bring her out of retirement to fix Obama's problems when she was part of it," Graham said.
Joe Biden Running?
Vice President Joe Biden and his associates have been exploring a possible presidential campaign, The New York Times reported Saturday. McCain sees an opening for another Democratic challenger to Clinton.
Asked to assess the possibility of Vice President Joe Biden entering the Democratic field, McCain said, "I think that Joe has always wanted to be president of the United States.
McCain added, "I think that he sees this trust factor of Hillary Clinton in a steep decline. And I think that he's examining his options. And frankly, it's understandable that he would be."
'Giving a Monkey a Gun'
The longtime friends laughed often and ribbed one another during the interview.
Graham, who traded his flip phone for an iPhone after Trump broadcast his cell phone number to the world, took the new device out of his pocket and McCain quipped, "We're starting lessons."
Neither man would acknowledge an ability to text or use all the phone's features and Graham described his technology learning curve this way:
"Be like giving a monkey a gun, but I'm going to get there. I'm going to learn how to use this phone."
In between laughs, McCain who has been both nominee of his party and the candidate's friend, described his new role.
"I'm far better as a wingman," McCain said. "After all, I lost and he's going to win."