Sen. Lindsey Graham warned Saturday against allowing House Speaker John Boehner's resignation to result in a "meltdown of the Republican Party" that prevents the GOP from winning the White House.
"The first thing you do in medicine and politics is do no harm, so I hope that we'll look at winning the presidency in 2016, and realize that our actions in the House and the Senate could jeopardize that — or actually enhance our ability to win," the South Carolina senator told reporters after his remarks at the Values Voter Summit in Washington.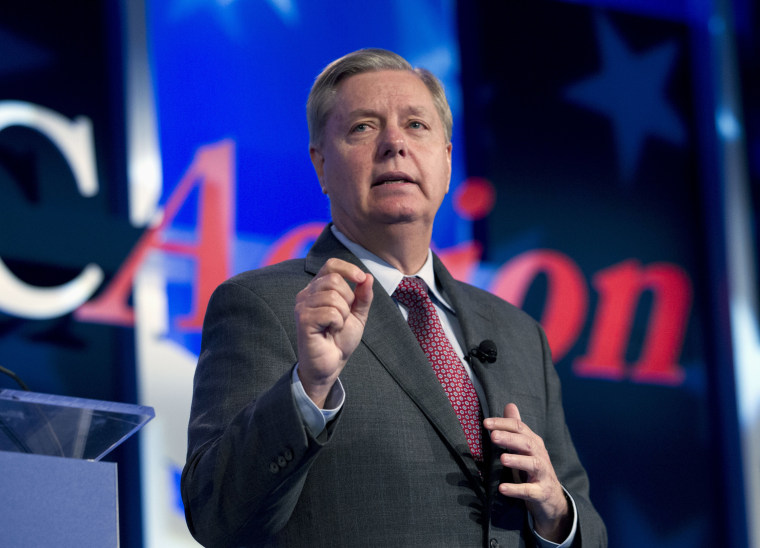 Related: Lindsey Graham Takes on GOP Rivals in New Hampshire
Graham, who's had low polling numbers in the GOP presidential race, said he likes Boehner and praised him for his 25-year career in Congress, which comes to a close on Oct. 30.
But Graham said he expects more from whoever becomes the next speaker: "I hope we can have a relationship … that will allow us not to shut down the government, keep the conservative agenda alive and focus on winning in 2016."
Graham also hinted at a standoff coming this winter over the budget, telling reporters that he won't vote for a budget that doesn't lift sequestration caps on defense spending. Still, he said, he expects the short-term government funding bill meant to avert a shutdown on Oct. 1 to pass when it comes up for a vote.
Related: Lindsey Graham to Donald Trump: 'Give me a Break'
Boehner shocked his colleagues and political watchers in Washington on Friday with his abrupt announcement he is resigning next month from the House.
After scoring a major victory in convincing Pope Francis to address Congress on Thursday, Boehner said the decision to leave is his way of potentially bringing an end to the "prolonged leadership turmoil" besetting the Capitol. His critics, however, say he hasn't been conservative enough, caved too often to Democrats and has failed to challenge President Barack Obama's agenda.
"I decided, today's the day I'm going to do this. As simple as that," Boehner said.