South Carolina senator and onetime GOP presidential candidate Lindsey Graham endorsed Jeb Bush Friday, backing the former Florida governor despite flagging poll numbers nationwide and in key primary states. With his endorsement came explanations as to why he didn't support other candidates, including Florida Sen. Marco Rubio, whom he says is not ready.
At a news conference in South Carolina Friday, Graham, who focused his short-lived presidential bid on national security, said he liked what he heard from Bush at the debate the previous night.
"Last night I heard from Jeb Bush the right answer," Graham said with Bush at his side. "He demonstrated somebody in my view who is ready on day one to be commander-in-chief."
Rubio, Graham said, is not ready on day one. "I like Marco," Graham said on MSNBC, adding that Rubio will be president one day but not in 2016. "At 44 I wasn't ready to be president."
In his endorsement, Graham also took a shot at frontrunning candidate Donald Trump who would ban all Muslims from entering the United States.
"I can't think of a worse idea of how to fight and win this war," Graham said, adding that Bush has the right "temperament" to be president.
"Last night (at the debate,) he said I will have their backs. I believe he will.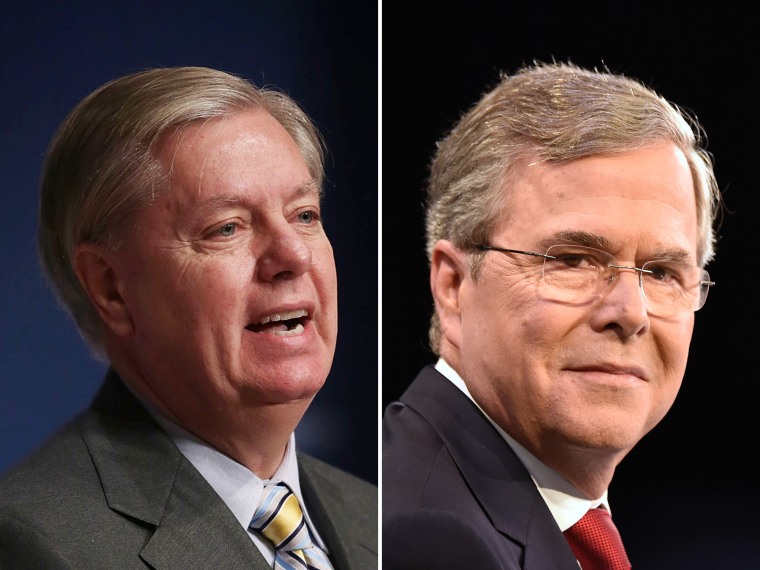 "His endorsement is very meaningful and along with it come a lot of friends and supporters of his," Bush said in an appearance on FOX News, which first broke the story of the nod.
Graham dropped out of the presidential contest on December 21 after failing to gain traction in the race. The hawkish senator had been one of the party's most consistent critics of Donald Trump, a mantle also taken up by Bush, who has derided the real estate mogul as an unserious candidate and a "jerk."
Graham's backing comes as the establishment wing of the party is desperately working to blunt the momentum of Donald Trump and Ted Cruz, the runaway leaders in the current field. The faltering Bush badly needs a boost in a primary state, and Bush's camp hopes that Graham's long tenure as a South Carolina lawmaker could prompt some voters to give him a second look.
On Friday morning, Bush praised Graham's foreign policy experience.
"Lindsey Graham is probably the most knowledgeable person on the Hill as it related to national security, military affairs and foreign policy," he said.