Republican Sen. Lindsey Graham tried to reassure foreign leaders that Donald Trump is nothing to worry about during a trip to the Middle East last week.
"Everybody asked me about Trump in terms of policy changes. I said he is an outlier, don't look at him," Graham told reporters Thursday about his overseas trip.
The most serious concerns the leaders raised with Graham were regarding Trump's proposal to temporarily ban all Muslims from entering the United States.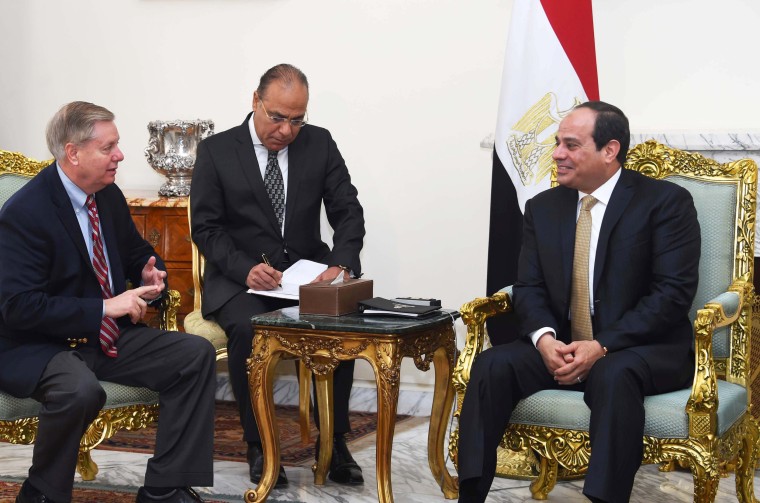 "We don't want to ban all Muslims….I cannot tell you how that one statement is unnerving," Graham said following the Congressional trip to Israel, Saudi Arabia, Turkey and Egypt.
The South Carolina senator said the leaders were "dumbfounded that somebody running for president of the United States would suggest that the United States ban everybody in their faith."
The officials also were uncomfortable about Trump's suggestion that the United States should allow Russian President Vladimir Putin to play a bigger role in combating ISIS in Syria.
"When you're working with Putin, you're working with Iran," Graham said.
Graham, who ran for president himself this cycle and then endorsed Jeb Bush and is now reluctantly backing Ted Cruz, has been a fierce critic of Trump. He tried to defend his party – and the country as a whole – against the frontrunner while overseas.
"I told them, just hang in there, this is the silly season and this will pass," Graham recounted telling the foreign officials, adding that none of them he met has lost trust in America due to Trump's controversial comments.
"But," Graham noted, "they're very much bewildered by the election process, like I am."