A man has been charged with assaulting a protester at Donald Trump's Fayetteville, North Carolina, rally Wednesday night.
John McGraw, 78, of Linden was arrested Thursday morning after assaulting Rakeem Jones, who had been protesting at the event. Jones was being escorted out by law enforcement when videos show McGraw punching him.
Jones told MSNBC that his right eye is "swollen and bruised" as a result of the punch.
"I was there, but it didn't seem real" until he saw videos of the incident Wednesday morning, he added.
An internal investigation of the Cumberland County Sheriff's Office is also underway, according to a press release, but further public comment cannot be made under NC law. McGraw is set to appear before court on April 6, 2016.
The show "Inside Edition" spoke to McGraw after he punched Jones.
"Yes, he deserved it," McGraw said in an interview. "The next time we see him, we might have to kill him. We don't know who he is. He might be with a terrorist organization."
Hope Hicks, a spokeswoman for Trump, told NBC News "we are not involved," in the incident.
Protests have become part of the bedrock at Trump rallies, and the candidate himself has at times fostered a toxic environment around them at his events.
His reactions range from yelling "get them out" to saying he loves protesters because it forces the press to show the crowd. At times, he has expressed this entire range of emotions in just a matter of minutes if there are multiple protests.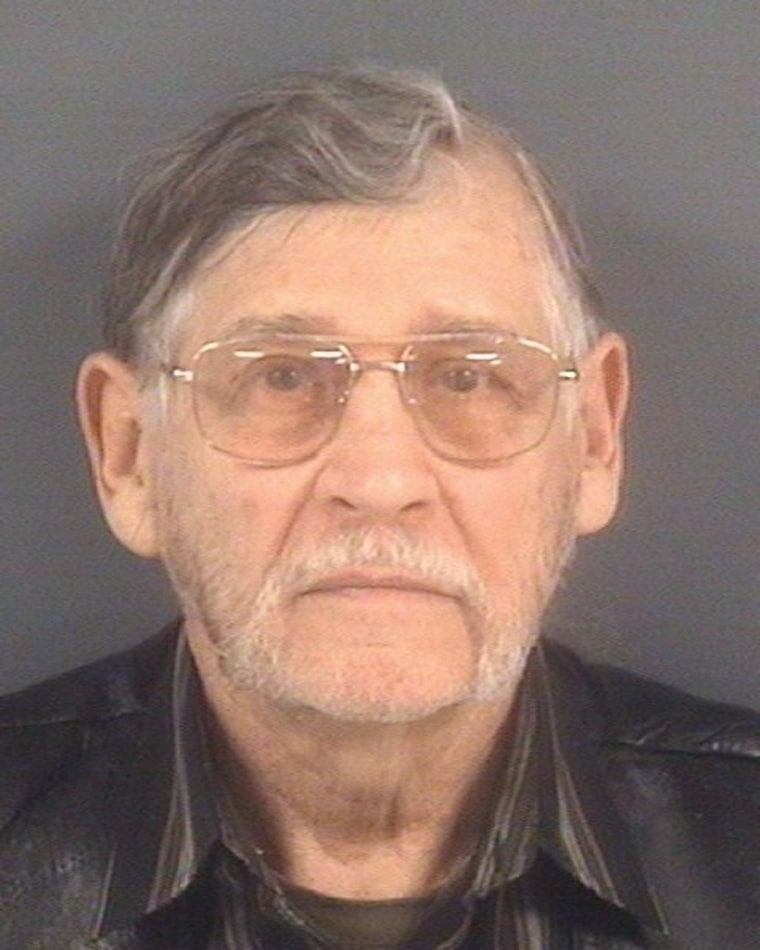 But some of his reactions have been less innocuous. At a Las Vegas rally just before the Nevada caucus, Trump responded to a protester's interruption by saying he wanted to punch the man in the face.
At another rally in Iowa, he promised to pay the legal fees of supporters who "knock the crap out" of protesters who may appear at the rally. The GOP frontrunner also often speaks about the "old days" when he says law enforcement was allowed to be tougher with interrupters.
The frequency of protests and sheer number of protesters has seen an uptick in recent months. In New Orleans on the eve of the Louisiana primary, a group of 20-25 protesters affiliated with the Black Lives Matter movement were aggressively escorted out of the event, along with multiple other protesters who spoke out at various points in the rally.
Democratic frontrunner Hillary Clinton responded to the incident Thursday, calling it "repugnant."
News about the protester assault comes as the Trump campaign is under fire for another altercation, this one between a Breitbart reporter and Trump campaign manager Corey Lewandowski. An audio recording of the incident, which allegedly happened after a press conference in Jupiter, Florida on Tuesday evening, records the reporter, Michelle Fields, and Ben Terris of the Washington Post reacting to a man grabbing Fields and pulling her down. According to Fields and Terris, that man was Lewandowski.
The Trump campaign, however, denies that this happened, instead attacking Field's credibility. "The accusation," Trump spokeswoman Hope Hicks wrote in an emailed statement, "is entirely false. As one of dozens of individuals present as Mr. Trump exited the press conference I did not witness any encounter. In addition to our staff, which had no knowledge of said situation, not a single camera or reporter of more than 100 in attendance captured the alleged incident. This individual has never met Corey, nor had the only reporter that supposedly identified him."
The statement goes on to say attack Fields personally, a sentiment echoed in multiple tweets by Lewandowski: "This person claims she does not want to be part of the news, and only report it, however if that was the case, any concerns, however unfounded they may be, should have been voiced directly first and not via Twitter, especially since no other outlet or reporter witnessed or questioned anything that transpired that evening. We leave to others whether this is part of a larger pattern of exaggerating incidents, but on multiple occasions she has become part of the news story as opposed to reporting it. Recall she also claimed to have been beaten by a New York City Police officer with a baton."