Former Maryland Gov. Martin O'Malley pulled himself out of contention to be the next chairman of the Democratic National Committee Wednesday, days after he said he was considering a bid.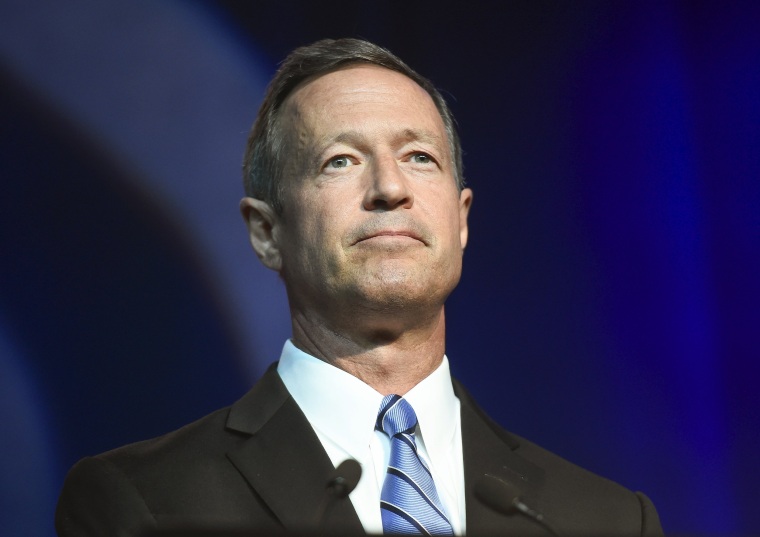 "While I'm grateful to the supportive friends who have urged me to consider running for DNC Chair, I will not be seeking our Party's Chairmanship. The DNC needs a Chair who can do the job fully and with total impartiality. The national interest must come first," O'Malley said in an email to supporters.
Related: Ilyse Hogue, Pro-Choice Group Head, is First Woman to Consider DNC Chair Bid
O'Malley, who ran unsuccessfully for president this year, spent the weekend reaching out to Democrats but concluded the timing was wrong for him as the party seems to be looking for a more diverse face from its progressive wing to lead a rebuilding effort after last week's surprise losses.
"In the days ahead, my family and I will continue to do everything in our power to fight for the Democratic Party, and for the more compassionate and inclusive country that we carry in our hearts," O'Malley added.
Meanwhile, Massachusetts Sen. Elizabeth Warren formally endorsed Rep. Keith Ellison as her pick to lead the party, joining a number of other party leaders, including Sen. Bernie Sanders and incoming Senate Minority Leader Chuck Schumer.
"Keith and I have had the chance to work together many times over the past several years. I've watched up close as he has pushed hard to try to hold Wall Street accountable through his work on House Financial Services, and he has consistently exercised bold leadership for the Congressional Progressive Caucus. I admire Keith's values, his grit, and his dedication to making this country work not just for some of our kids but for all of them. I'm proud to support his candidacy for Chair of the Democratic National Committee," Warren said in a statement.
Despite Ellison's numerous public endorsements, he's had a harder time gaining traction with the several hundred DNC members who will actually elect the next chair, according to multiple Democrats involved in the process.
Related: Rep. Keith Ellison Enters Race for DNC Chair With Strong Support
Many are concerned about another member of Congress heading the party after disappointing results with former Chairwoman Rep. Debbie Wasserman Schultz. They would prefer a chair who could devote themselves full time to the job.
And other Democrats are withholding judgement in an election that is still months away, saying the field of candidates is still not settled.
But Warren's imprimatur carries major symbolic weight. In addition to her popularity with the grassroots, Warren has worked methodically to cultivate power inside Washington. And more than any other leader, she's rushed to fill the void left by Hillary Clinton's defeat and chart a new path forward for the party.
In the past week alone, Warren gave a speech at the AFL-CIO, appeared on MSNBC with Rachel Maddow, addressed the Democracy Alliance, a group of major liberal donors, appeared at a meeting of the Congressional Progressive Caucus, and spoke at a conference organized by the Wall Street Journal.