CHESTER CO., PA -- Pennsylvania is taking its turn in the 2016 presidential spotlight this week and the campaigns are in an all-out push for votes in next Tuesday's crucial primary - votes that could determine who will be the next Republican presidential nominee.
And the most important of those ballots will be cast for 54 of the state's delegates to this summer's Republican convention, not one for the one of the three well-known candidates - Donald Trump, Sen. Ted Cruz and Gov. John Kasich - remaining in the GOP contest. Instead, voters must chose people whom they might not ever have heard of.
They aren't household names, although they may be known to some voters locally. Like the rank-and-file voters who will elect them, these candidates are regular people with regular jobs, they are party enthusiasts who want to go to the Party's big party in Cleveland this summer.
Most importantly, these delegates are independent, not bound to support any one candidate in Cleveland this summer.
In a race were every single delegate counts, these 54 delegates are an essential part of the race to secure the 1,237 votes needed to claim the nomination.
Pennsylvania has a unique system that is unlike any other in the country. Like most other states, delegates are awarded to the candidates based on the outcome of the statewide vote as well as the results in each Congressional district.
What's different in Pennsylvania is that when it comes to choosing their presidential preference in their Congressional district, voters don't vote for the candidate, instead they vote for three delegates they want to attend the Republican convention. Even more confusing is that these candidates for delegate appear on the ballot with no signifying characteristics - even lacking the most obvious and necessary one - presidential candidate affiliation.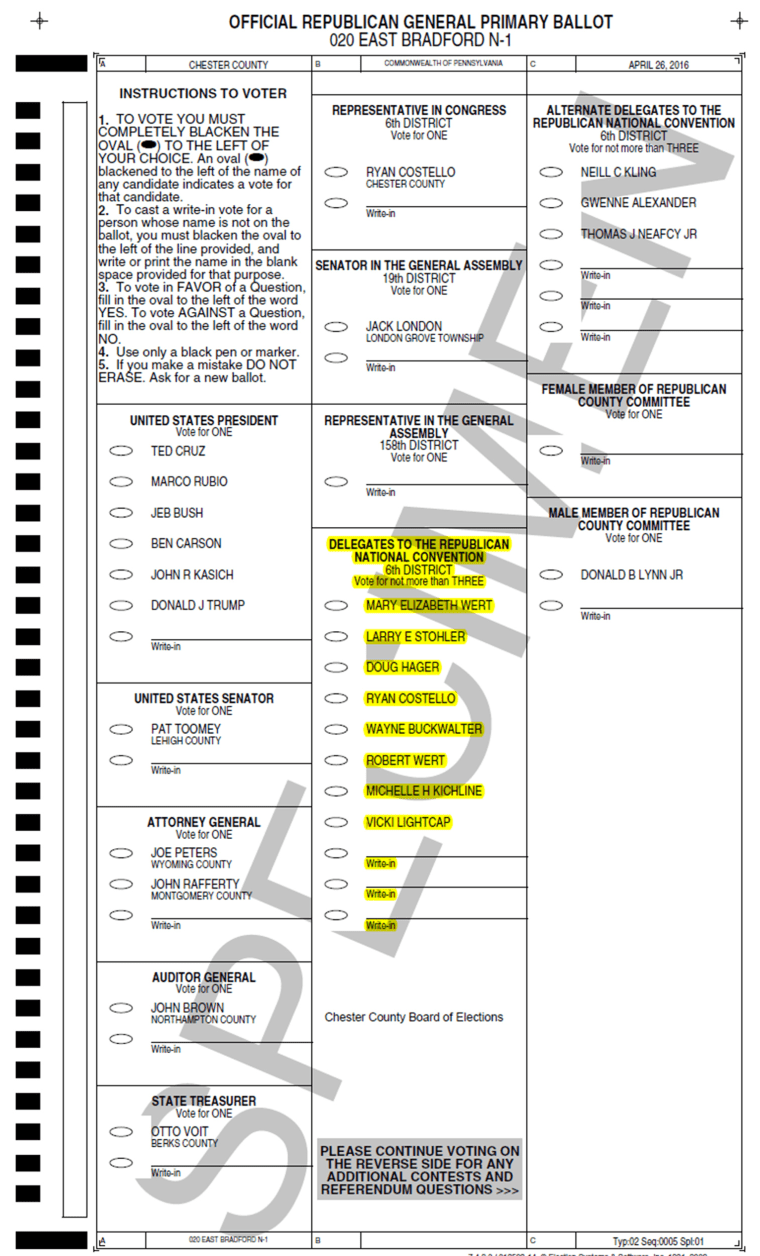 It's serious business for these unbound delegates, especially this year when the Republican nominee could be decided at the convention.
Since only three people are chosen from each of the 18 Congressional districts, candidates actually campaign to win his or her election because all but two districts have more than three candidates.
Take Pennsylvania's second Congressional district. It includes much of Philadelphia – not a Republican-dense part of the state. The incumbent member of Congress, Rep. Chaka Fattah, for example, is a Democrat and won with more than 89 percent of the vote. It has four candidates running for three slots.
One of the candidates for delegate is Calvin Tucker, a 63-year old former banking executive who now raises money for business startups in under served communities.
Tucker says that if he wins his election to be a delegate, at the convention he will vote for the candidate based on a number of criteria: he will take into account how the district and the state votes as well as who he thinks is the most electable in November.
Tucker wants to win. "I wanna win by two touchdowns," he told a friend at the Chester County Republican Party spring fundraiser Thursday night.
Even though he was endorsed by his local Republican Party, he's not taking any chances.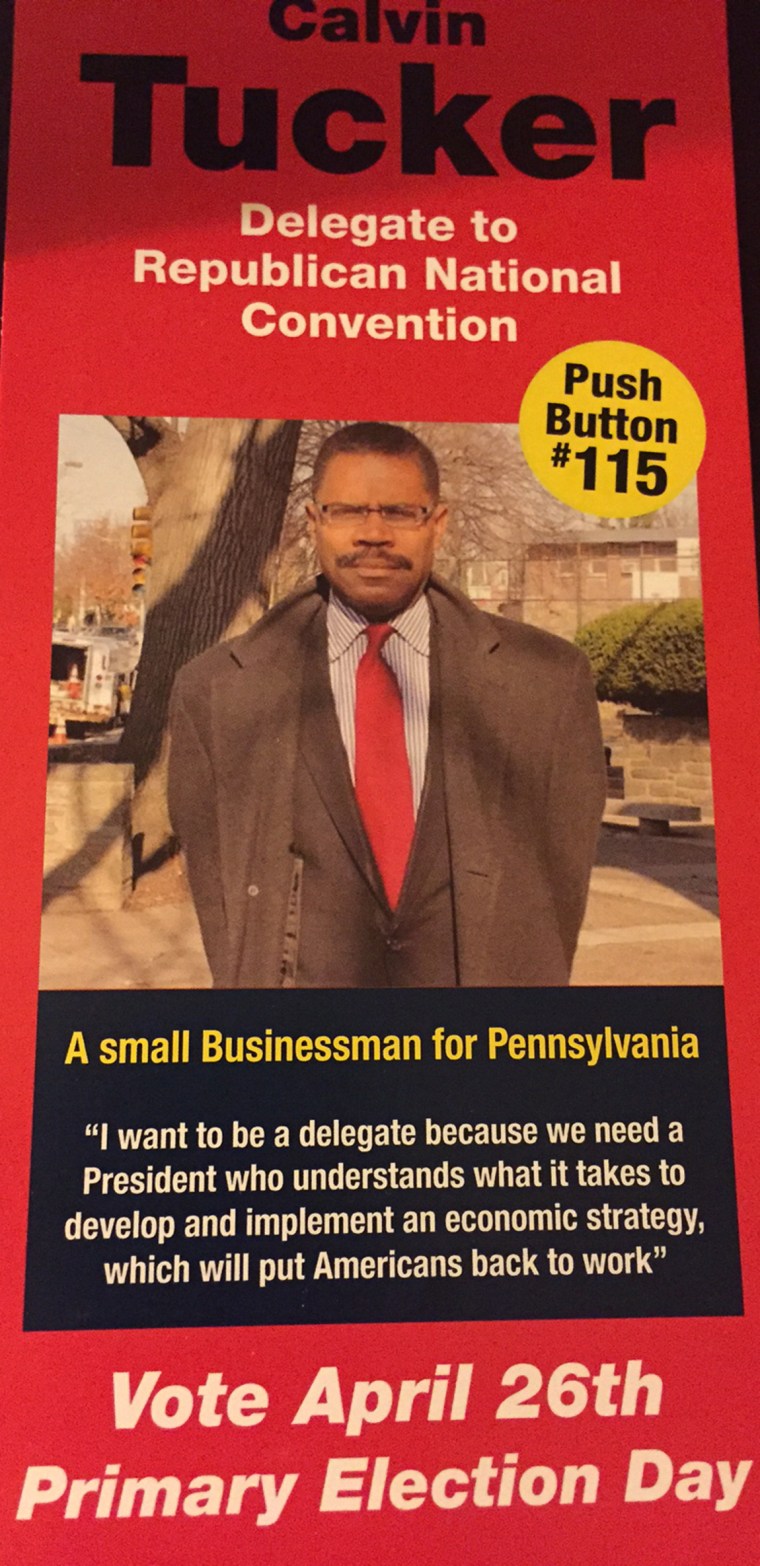 While he was endorsed by the local Republican Party, he has spent $2,500 of his own money running to be a delegate to the convention.
Tucker has sent out mailers to houses in his district – just like a presidential candidate does. He has attended at least 15 community meetings and Republican Party events to meet voters. He even teamed up with two other candidates to print a flier to hand out on election day to voters headed into the polls. It has their picture, their names and tells voters what button to hit to vote for them on the voting machine. It also has the Phillies 2016 schedule.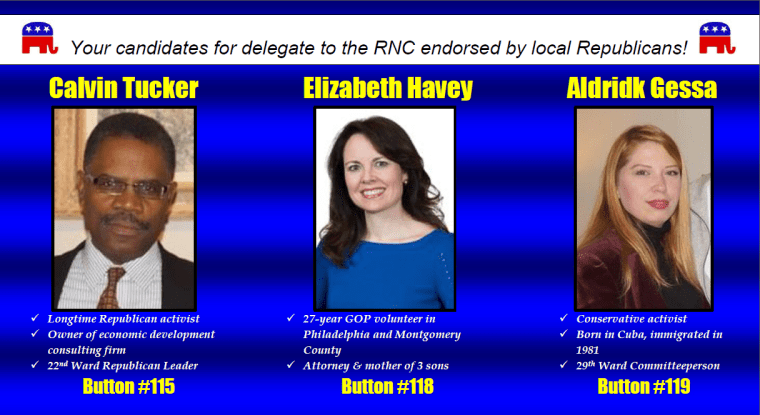 As much as Tucker is courting voters, the presidential candidates are courting him. He is interested in candidates' positions on policies to help socio-economically disadvantaged urban entrepreneurs. He has met with both Ohio Gov. John Kasich and Sen Ted Cruz, both of whom say to keep in touch and call if he has any concerns or questions. Tucker has also met with representatives with the Donald Trump campaign and a meeting with Trump is possible soon.
Over in the sixth Congressional district, eight candidates are running for three spots, including Doug Hager.
Hager's district includes four counties to the west of Philadelphia. In two of those counties, Chester and Montgomery, the Republican Party endorsed him. The other counties don't endorse, so he's not sure of his chances.
To win, he too has spent some of his own money, but he wouldn't reveal how much. Although he did say it was less than $5,000. Like Tucker in the second Congressional district, he also mailed campaign literature to the most likely voters.
His mailers reach 7,000 homes. He said he wanted to do more but ouldn't afford to reach all 40,000 homes.
Hager, who is retired, promises to support the candidate that his district supports on the first round at the Republican convention. If the balloting reaches a second round, he's going to take his personal preference and electability into consideration.
The good spirited 69-year old said this is his first time running for delegate. He did it because, he said, "it's something I dreamed of doing wince I was a teenager."
Hager picked a good year to run for delegates. Usually the nominee is decided long before Pennsylvania has its turn to vote in the primary. But now that the Republican race is still without a clear winner, Pennsylvania's primary is receiving outsized attention, especially because of it's unique system of voters electing unbound delegates.
The system is completely confusing, even for the mother and the brother of the former deputy secretary of state in Pennsylvania - one of the top officials who overseas elections.
Shannon Royer said his mom "swears there was never a process like this" -- that she never voted for delegates in previous presidential primaries. But Royer said he tells her that the Republican Party created this system two decades ago. He said the Republican Party changed the system because ballots confused people because they included candidates who were no longer in the race. So they changed the system for voters to vote for the delegates instead.
"It was confusing before," he said. "And it's confusing now."
Royer said his mother and brother, both Donald Trump supporters, called him to ask how they find out which delegates are Trump supporters. He did research for them and told them which delegates they should back.
On Election Day Tuesday, Tucker will visit as many polling places as he can to tell poll workers and Republican Party volunteers outside the polling place to recommend that they vote for him. He'll also be handing out his flyers as a way to direct voters who to support.
Chris Mulhall, a Republican Party committeeman in the seventh Congressional district said voters need to be informed. In addition to researching their favorite presidential candidate, they also have to research their neighbors who appear on the ballot.
Mulhall said he will work the polls on election day to answer any questions voters have on what it means to vote for delegates and which delegates to support.