Donald Trump's speech Wednesday attacking rival Hillary Clinton and the corresponding website LyingCrookedHillary.com was the brainchild of an unlikely adviser: son-in-law Jared Kushner.
Kushner, the publisher of the New York Observer and husband of Ivanka Trump, is rising within the presumptive GOP nominee's world in the wake of campaign manager Corey Lewandowksi's ouster, sources within Trump's circle told NBC News.
While families have long been part of politicians' "kitchen cabinets," sources say Trump's family is shaping the campaign's messaging, speeches, vice presidential search and even travel schedule -– despite having no political experience –- and that even the new campaign manager Paul Manafort must navigate family dynamics as he leads the presumptive Republican nominee into the general election.
"Honestly, Jared is a very successful real estate person, but I actually think he likes politics more than he likes real estate. And he is very good at politics," Trump said in Indiana after the state's win helped him overcome his GOP rivals.
While Kushner has had a role since the start of the campaign, notably helping to write Trump's first scripted speech at the American Israel Public Affairs Committee in March and joining his father-in-law on the campaign trail occasionally, sources inside Trump's circle say his role is growing.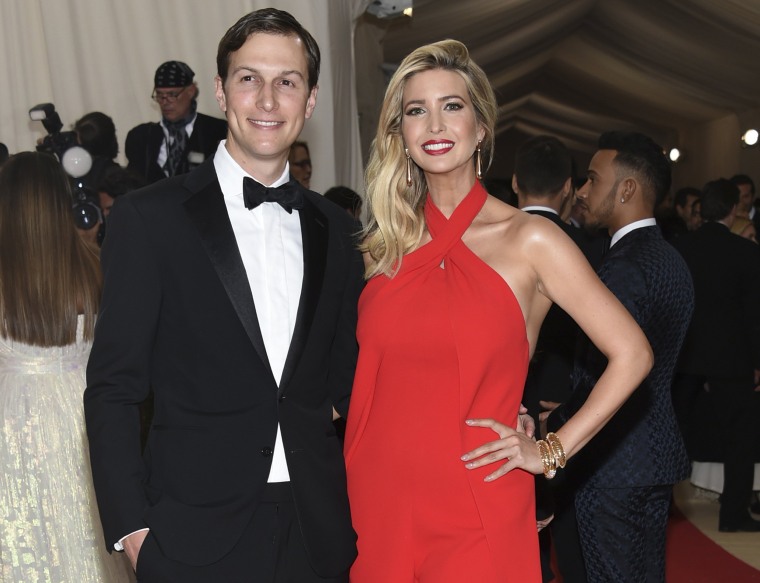 Here's what you need to know about Kushner.
He's a real-estate developer, too. Kushner is a co-owner of Kushner Companies, a development firm with significant holdings in New Jersey and New York. He spent a record-setting $1.8 building on an office building at 666 Fifth Avenue in 2007 before the market crashed. The deal ran into big trouble when the recession dragged rents down on a building that was already costing more money than it was making – the deal was later renegotiated to avoid foreclosure. Kushner is worth an estimated $200 million.
He comes from a Democratic family, with a messy past: his father and co-owner of Kushner Companies, Charles Kushner, was a force in Democratic politics and philanthropy. He was sentenced to prison after pleading guilty to 18 felonies including filing false tax returns and campaign finance reports, as well as retaliating against his own brother-in-law for testifying against him (he hired a prostitute to seduce his brother-in-law and had a videotape of the encounter sent to the man's wife, the elder Kushner's sister.)
Politics makes strange bedfellows. The prosecutor who sent the elder Kushner to prison is none other than New Jersey Gov. Chris Christie, who has endorsed Trump and taken on a role on the presumptive nominee's campaign.
In 2006, Kushner bought the New York Observer newspaper, which had famously called for then-Sen.-elect Hillary Clinton's resignation before she'd even taken office in 2001.
He's humble, polite and shy: Kushner stays out of the press and demurs when praised. "You're in your 20s, and you're a mogul already!" a CNBC anchor exclaimed of Kushner, who bought the Observer at 26 and 666 Fifth Avenue for $1.8 billion at 27. "You're using that term very loosely," Kushner demurred.
NBC News' Kelly O'Donnell contributed reporting.