With 73 days left until the November election, strategizing the daily movements of Donald Trump and Mike Pence — from their campaign stops to their fundraisers — would seem to be key for the GOP duo in their comeback bid to cut into Hillary Clinton's lead in the polls.
But after a week in which Trump questionably spent days in Austin, Texas, and Jackson, Mississippi, the schedules of the running mates are under scrutiny with new campaign manager Kellyanne Conway indicating that the newly installed brass would not have made the same decisions.
"We have inherited a schedule that we are taking better control of," Conway told MSNBC's Rachel Maddow on Wednesday.
Yet Pence's first month on the campaign trail — totaling more than 40 rallies and town halls — has not drastically differed from the road map laid down by Paul Ryan's vice presidential campaign in its first month on the road in 2012.
Pence has hit 10 of the same 11 states targeted by Ryan in his first month: Ohio, Pennsylvania, Iowa and North Carolina (5 stops each); Wisconsin (4 stops); Virginia and Nevada (3 stops each); Michigan and Colorado (2 stops each); and New Hampshire (1 stop).
Unlike Ryan, Pence has yet to hold any public events in Florida, but instead, has visited cities in Arizona, New Mexico and his home state of Indiana. Eight of his events were joint rallies alongside Trump.
Related: Mike Pence Remains A Steady Force Amid Trump's Chaotic Campaign
"In that sprint through those three months, (Ryan) was doing basically three things after the convention: Events in swing states, fundraising and then preparing for the VP debate — plus doing a ton of local media," said Michael Steel, Ryan's campaign press secretary in 2012.
Pence has followed that playbook with independent fundraisers and a focus on interviews with local media markets, but he has also distinctly worked to reach out to elected Republican officials when visiting their respective communities.
He has so far brought out 18 members of Congress and four governors to appear publicly at rallies alongside him. And he has reached out to other prominent names, such as Sens. John McCain and Kelly Ayotte.
Though Pence's selection to join the ticket was made, in part, to help shore up conservative support through the Midwest and Rust Belt states, Steel noted that there is little evidence to suggest a vice presidential candidate has swayed an election — or even a state — in the last 50 years.
Pence is currently balancing his time between Republican-controlled districts and more moderate, some even Democratic districts that are tactically vital to the campaign's November success. Those districts offer potential crossover voters, valuable donors and access to sizable media markets.
For example, in Wisconsin, Pence in his very first solo stop as a vice presidential candidate visited Waukesha, a solidly conservative area just outside of Milwaukee — the very suburbs that propelled Ted Cruz to a Wisconsin primary victory over Trump.
Related: Mike Pence Tamps Down 'Rigged' Election Concerns
It also happened to be the location of Paul Ryan's first campaign stop after Mitt Romney tapped him to join the GOP ticket in 2012.
Two weeks later, however, in Pence's return visit to Wisconsin, he made a dedicated stop into La Crosse, a Democratic corridor on the state's western edge. La Crosse County went in favor of President Barack Obama by 18 percent in the 2012 cycle.
"I was curious. It's a smaller community for him to go to. But there are a lot of colleges here and Democrats, so maybe this was a place to come?" Dean Ramsden, a Trump backer who attended the event, suggested to NBC News.
But a campaign official told NBC News that Trump is targeting the "working voters" in that region, calling them his "bread and butter." And in fact, the congressional district encompassing La Crosse was one of just two districts in the state to favor Trump over Cruz at the ballot box in the April primary, a sizable difference among a Republican voting block that, as a state, provided a 13-point victory.
But Pence has also focused time out West — hitting Arizona, Colorado and New Mexico.
"I think it's going to be a Trump campaign calculation on where," said Floyd Ciruli, a longtime Colorado pollster. "He's obviously got to win some states like Florida, Pennsylvania and Ohio, so does he need another 9 electoral votes? That's then where these states in the West become the most potentially in play."
In Arizona, Pence hit the two major media markets in one day with rallies in Tucson and Phoenix.
And in Colorado — although Denver's liberal core is not attractive on its face to the campaign — the Denver TV market has extensive reach beyond the city limits. Pence went to Colorado Springs for his second stop, which Ciruli called the "heartland of the Republican Party right now."
Back in the Rust Belt, Pence has paid a distinct amount of time to visiting an array of Ohio cities, including Moraine, which sits just outside of Dayton.
"It's a hardscrabble, blue-collar area that has seen some really tough times but has a lot of Trump support in that area," said Mark Weaver, an Ohio Republican political consultant.
In fact, Dayton, the state's sixth-largest city, handed home state Gov. John Kasich just a 5 percent win over Trump in this spring's Ohio primary. Comparatively, each of the five biggest cities gave Kasich at least a 14 percent margin of victory.
Pence also made an peculiar solo, round-trip journey to Lima, Ohio, from Indianapolis during his first week on the trail despite its status as just the 30th most-populated town in the Buckeye State.
But the city has its own independent local TV stations, and after Romney beat Obama nearly two votes to one in the city four years ago, the stop was an opportunity to secure the base in the key state while still early on in the campaigning process.
And crucially, Weaver noted, Pence has already made a stop into Cincinnati, the river town near the border of Indiana.
"If Donald Trump and Mike Pence don't win big in those exurb areas around Cincinnati, they cannot win Ohio," Weaver said while offering up the belief that Pence is "a good messenger" there.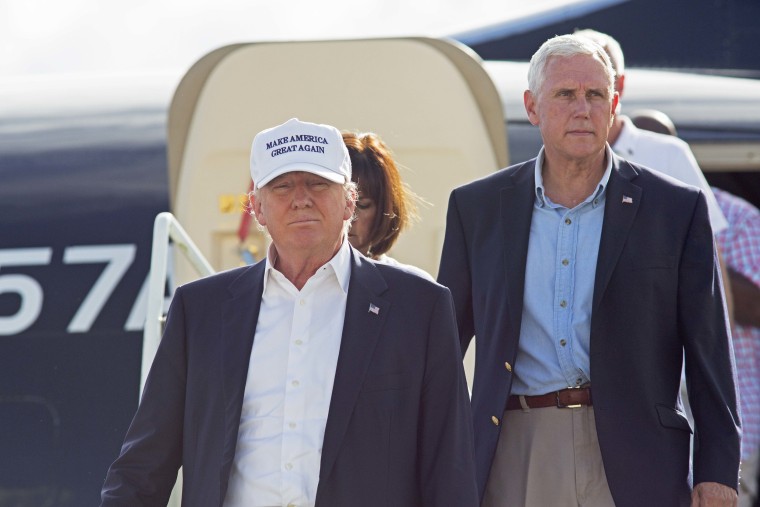 In Iowa, voter turnout in its fervently conservative land, like Sioux City, where Pence visited in early August, is key to the ticket solidifying its own Republican base, local party leaders say.
"It's the reddest part of the state, and it's where Republicans really need to make sure we drive turnout to win in the fall," said Cody Hoefert, co-chair of the Iowa Republican Party.
And when Pence rolled into Lancaster, Pennsylvania, on Aug. 9, he reminisced to the conservative crowd about his own childhood in the town of Columbus, Indiana.
"Lancaster is — my gosh, you know, I grew up with a cornfield in my backyard," Pence told the crowd in the agricultural-reliant city. "I know how sturdy, how important a family farm is to the vitality and the character of this nation."
"If Donald Trump and Mike Pence don't win big in those exurb areas around Cincinnati, they cannot win Ohio."
Pence has thus far concentrated his attention on just 13 states, but with deficits in places such as Wisconsin, Colorado and Virginia looking more difficult to crack, his attention could be increasingly more focused.
And in the remaining states up for grabs, a key aspect of Pence's use of time could be helping local campaign operations snag potential supporters' information at his campaign events and win over new volunteers.
It's worked before.
At a town hall in Henderson, Nevada, just outside of Las Vegas, a campaign volunteer told NBC News — with a box of flashcard-sized, filled-out contact cards behind her — that the Nevada operation had collected "hundreds and hundreds" as a result of Pence's stop.