SAN DIEGO, Calif. — Donald Trump's latest day of California campaigning was again rocked by protests both inside and outside of his two Friday rallies, which spanned 350 miles from Fresno in Central California to San Diego, not far from the Mexican border, and led to 35 arrests.
Many protesters objected to Trump's stances on immigration, but some were merely fed up with his incendiary rhetoric.
In Fresno, a group of protesters waving a sign that read "Love your neighbor" and chanting "love, not hate" were removed from the rally. In San Diego, just a few small groups cropped up early on in his speech, and were quickly escorted out.
But unlike a rally earlier this week in Albuquerque, where Trump's remarks were interrupted incessantly by protesters, only a few scattered, small groups popped up inside both of his events.
The real clashes unfolded outside of the arenas, where hundreds gathered in Fresno and a crowd of at least 1,000 formed outside of the San Diego rally.
Crowds in San Diego tried to rush a barricade. Police were seen using batons on one man who tried to climb a wall and reach police, and confrontations between Trump supporters and opponents ended in punches thrown.
By around 4:30 p.m., San Diego police declared the gathering unlawful and officers in riot gear moved in to try and disperse the crowd. Police fired irritant "pepper balls" and made arrests around two hours later, after the crowd had diminished significantly.
A total of 35 people were arrested during the protest, police said late Friday. There were no reports of injuries or property damage.
Protests have dogged Trump all week. During his Albuquerque rally, a group rushed past a barricade to the venue but were pushed back. Later, police used smoke bombs and pepper spray to disperse crowds and officers were pelted with rocks and other objects.
The violence has reignited concerns about whether his candidacy could bring unneeded controversy to the Republican Party as it battles with Democrats for control over the Senate and the White House this fall.
But on the stump on Friday, Trump seemed unaware of the turmoil unfolding outside, spending much of his meandering speech in San Diego railing against a lawsuit on Trump University — that had a hearing in court in San Diego on Friday — that he said was rigged against him.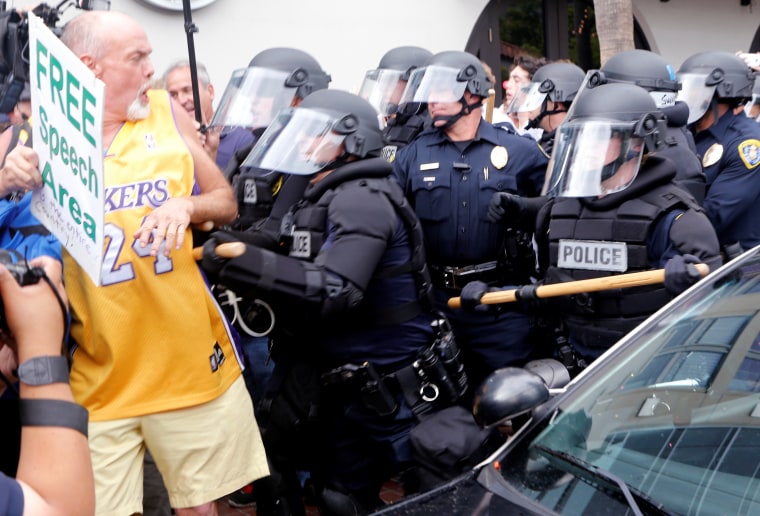 But he insisted he'd win it anyway: "If we have a trial we'll go all the way, watch how we win it."
Trump also went after presumptive Democratic nominee Hillary Clinton, pledging to the crowd "We're gonna take care of the African-Americans, who are really suffering in this country — and Hillary Clinton can't do a damn thing for them."
"She doesn't want to. She could care less," Trump said.
Trump also implicitly referred to Bill Clinton's affairs in dismissing his acknowledged criticism of one of his female managers, Barbara Reis. A recent New York Times piece recounted how he criticized her weight, telling her not to eat candy. He acknowledged he levied the criticism, but suggested it paled in comparison to Clinton.
"I said to Barbara Reis, maybe you shouldn't be eating that piece of candy. That's a little different than Bill Clinton I think," he said.
But he was far more aggressive with his Clinton attacks in Fresno, where he dismissed her as "not competent," questioned whether she "looks presidential," mocked her for "screaming into the microphone all the time" and accused her of "lying about me at every single corner" during a recent speech.
Perhaps the biggest news out of Trump's Fresno remarks, however, was what he said about the Democratic candidate that's all but precluded from securing the party's nomination: Vermont Sen. Bernie Sanders, who he said he'd "love" to debate but finally declined the possibility.''
"I want to debate him so badly. I'd love to debate Bernie," he said, but added that he proposed giving the proceeds from the debate to charity and that the networks "wanna keep the money to themselves."
Trump gave one more reason for opting out of a debate with Sanders: "If you're in first place, you don't want to really debate a guy who's in second place."