Texas Sen. Ted Cruz suspended his campaign for the Republican presidential nomination Tuesday after a devastating, double-digit loss to Donald Trump in the Indiana GOP primary. Cruz's presidential bid had long been considered a long-shot due to his extremely conservative views and his being on the outs with most his party's leadership. But as the long Republican campaign progressed, Cruz emerged as Trump's chief rival as one opponent after another dropped out. On Tuesday, it was Cruz's turn.
Cruz's strategy had relied upon receiving strong support from his natural base: the ideologically conservative, very religious voters who have long been at the heart of Republican Party politics. But results from NBC News Exit Polls from with 26 states with exit polls this year show that Cruz never won these groups in the decisive way required to beat Trump for the nomination.
Very conservative voters, who have made up one-third of Republicans voting in states so far, should have rallied to Cruz's cause. But they were tepid on the senator at best. Overall, Cruz won just 42 percent of their votes, a very weak result for a candidate who had staked so much on a rigid ideological platform. For his part, Trump—despite taking positions that deviated from the conservative line on issues like trade, foreign policy and taxes—stayed quite competitive with very conservative Republicans, winning 36 percent of their votes across all states.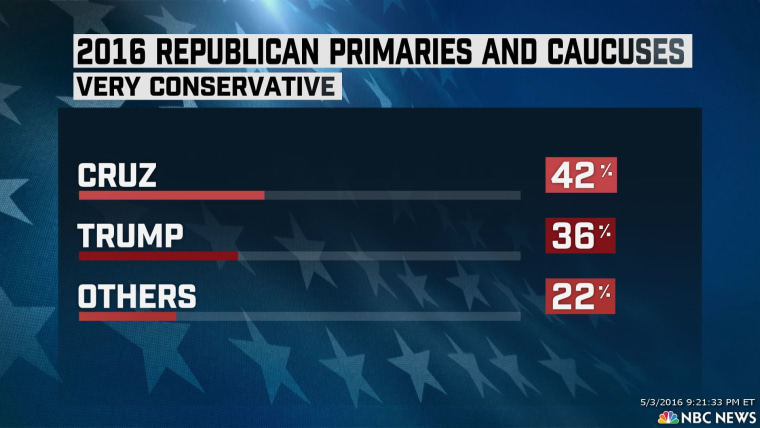 Another place of natural support for Cruz should have been white evangelicals, as the senator put moral values front-and-center in his campaign. A strong performance among this group could have powered Cruz to victory: they made up nearly half (48 percent) of Republicans voting in contests so far. Trump's uncouth language, multiple marriages and secular lifestyle would make him a poor fit for this group. But—shockingly—Cruz lost white evangelicals to Trump, 39 percent to 34 percent.