Long a key group in Republican politics, white evangelical Christians once again turned out in force in the 2016 GOP presidential primaries and caucuses. But a deep dive into data from NBC News Exit Polls fielded throughout the nation this year—and comparisons with exit polls conducted in 2008 and 2012—show that white evangelicals lacked a distinctive leader for their cause for the first time in three election cycles.
White evangelicals did not lack for numbers among Republican voters in 2016; exit polls show that this important bloc made up 48 percent of the GOP electorate. That number was exactly the same among 2012 GOP primary and caucus voters—and sharply up from 2008, when white evangelicals composed just slightly more than a third (37 percent) of the Republican primary and caucus vote.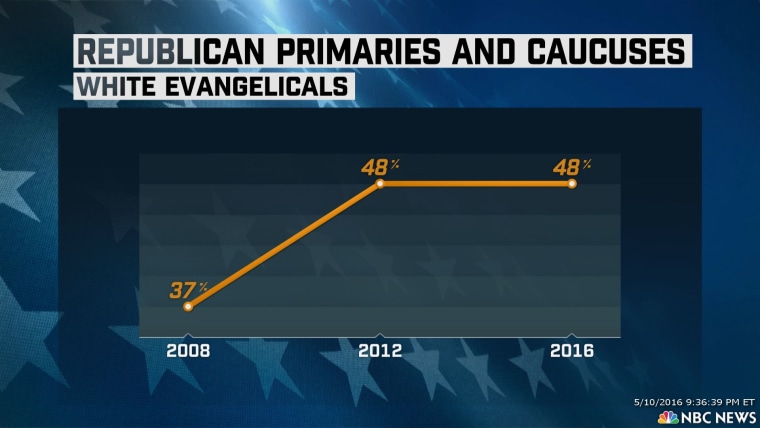 In both of the two previous GOP presidential contests, a socially conservative, deeply religious candidate quickly emerged as the clear choice of white born-again Christians. In 2008, former Arkansas Gov. Mike Huckabee, who began his career as a Baptist pastor, finished first among evangelicals. In 2012, the same role fell to Pennsylvania Sen. Rick Santorum, a Roman Catholic who campaigned hard as a "cultural warrior" and Christian conservative. Although neither candidate ultimately claimed the Republican nomination, they exerted unmistakable influence over their party's platform and ensured evangelicals a place at the GOP table.
But the story changed in the 2016 campaign, which began with a crowded GOP field featuring more than a dozen candidates, several of whom—including Huckabee and Santorum, each running again—made strong plays for the white evangelical vote. But born-again Republicans never coordinated on a single contender, and as the field winnowed, the group was left with no clear champion. Remarkably, in the end white evangelicals favored Donald Trump, a candidate who spoke little about social issues like abortion and gay rights, had boasted of his extra-marital affairs and is not an active member of any religious congregation. Only time will tell how this key group's influence on Republican politics—and the nation as a whole—will fare as a result.