In 20 primaries and caucuses held so far across the nation, the NBC News Exit Poll has tracked how support for the presidential candidates is breaking down by age among the two parties' voters. These results incorporate all surveys conducted so far—from the first-in-the-nation Iowa caucuses through Tuesday's contests in Florida, Illinois, Missouri, North Carolina and Ohio. They reveal two sharply different portraits of the extent to which generational differences explain Democratic and Republican votes.
On the GOP side, a slight but noteworthy age gap has opened up between front-runner Donald Trump and his closest rival for the nomination, Texas Sen. Ted Cruz. The two are virtually tied among Republicans under 30 years old: Each candidate has earned about three in 10 of their votes. But differences emerge as we move up the generational ladder. Among GOP voters aged 30 to 59, Trump led Cruz by 9 points, 37 percent to 28 percent. And Trump dominates among the oldest group of Republicans, 40 percent to 24 percent.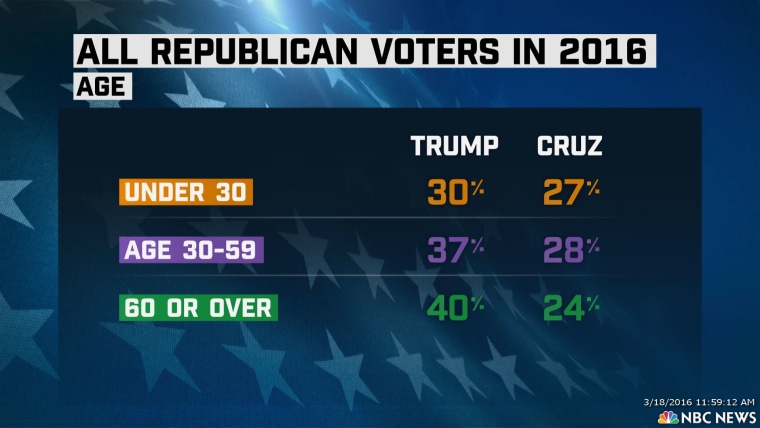 But these differences pale in comparison to a huge generational divide in Democratic support for Hillary Clinton and Bernie Sanders. Among the youngest group of Democrats—those under 30 years old—Sanders has beaten Clinton across the country by a huge margin, 70 percent to 29 percent. Among voters 60 and older, the gap is a mirror image of the young vote: Clinton has won these voters by an astounding 71 percent to 27 percent margin. In between these age groups, Clinton has amassed a 59 percent to 39 percent advantage among voters aged 30 to 59 years old.