Voters in the fourth contest of the 2016 Republican nomination process are angrier and older than in the prior primaries or caucuses.
They're also more likely to want an outsider in the White House. Nearly six in 10 GOP caucus-goers (59 percent) say they are angry at the federal government, according to the NBC News Entrance Poll. This is significantly higher than voter anger toward Washington in Iowa (42 percent), New Hampshire (39 percent) and South Carolina (40 percent) earlier this month.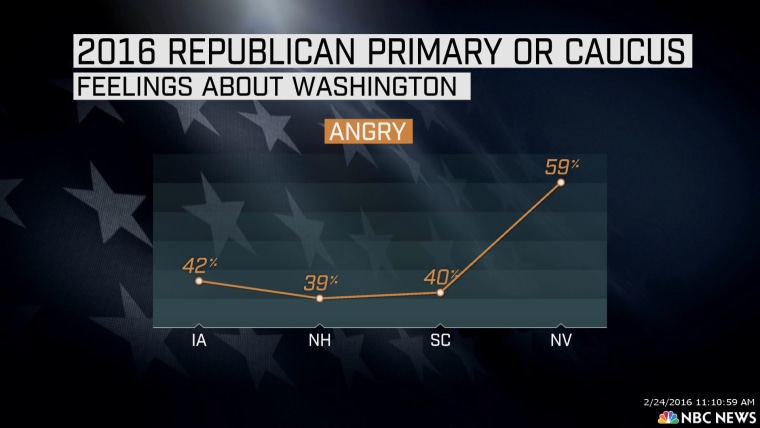 The NBC News Entrance Poll also found that six in 10 caucus-goers (61 percent) want the next president to be from outside the political establishment, compared to just 32 percent who prefer someone with political experience. In the prior three contests, voters were almost evenly divided between wanting an insider or outsider in the Oval Office.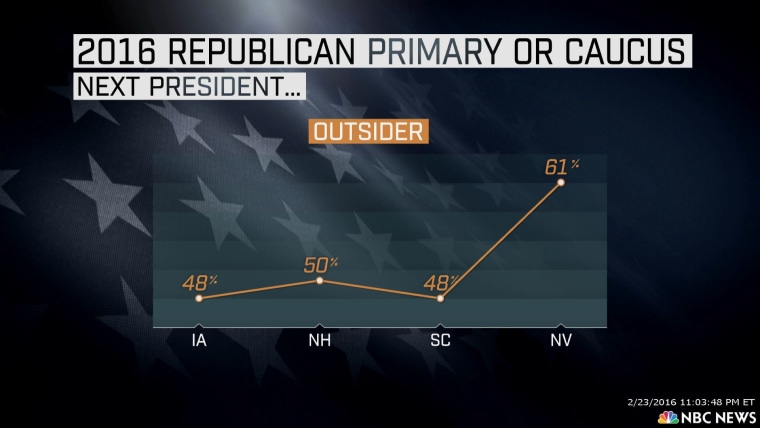 In past contests, Donald Trump did well among voters who want an outsider. Among voters who are angry with Washington, Ted Cruz narrowly edged out Trump among in Iowa (32 percent to 30 percent), while Trump bested Cruz with this group in New Hampshire (44 percent to 15 percent) and South Carolina (44 percent to 24 percent).
One-third (33 percent) of Nevada caucus-goers are age 65 and older, compared to just one in four in Iowa (27 percent) and South Carolina (27 percent) and one in five in New Hampshire (19 percent) earlier this month.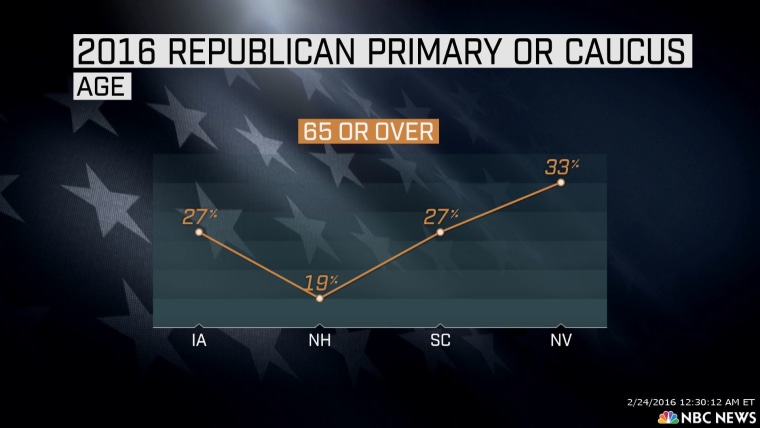 The older vote has been a little less consistent. In Iowa, Cruz (27 percent) barely edged out Trump (26 percent) and Marco Rubio (22 percent) among voters 65 and older. In New Hampshire, older voters went decisively for Trump (31 percent), with John Kasich (19 percent) placing a distance second.
Trump also took one-third (33 percent) of the older vote in South Carolina, with Rubio (25 percent) coming in second.