After suffering significant losses to Bernie Sanders last weekend in the Washington, Alaska, and Hawaii Democratic caucuses, Hillary Clinton finds herself in a closer race than she perhaps expected after rolling to a series of wins earlier this month.
While Clinton maintains a very large lead in the delegate contest, national support in our most recent NBC News|SurveyMonkey Weekly Election Tracking Poll shows a race that has dipped to only a 6-point difference between the candidates among registered Democrats and Democratic-leaners. This is the smallest gap since the beginning of the tracking poll in late December.
National support for Clinton now stands at 49 percent down from 53 percent last week. Sanders support is at 43 percent up slightly from 41 percent last week. These results are according to the latest data from the NBC News|SurveyMonkey Weekly Election Tracking Poll conducted online from March 21 through March 27 among a national sample of 6,521 adults, including 5,741 who say they are registered to vote.

The demographics of voters in the Western states with contests over the Easter weekend were much more favorable to Sanders than Clinton and demographics have been key predictors of the Democratic contest so far. Clinton's overall dip in this week's numbers can be analyzed through key demographics. The biggest shift in the race is that Sanders is winning men again. Last week's poll showed Clinton ahead with men 51 to 45, but this week shows Sanders with a 47 to 45 advantage here.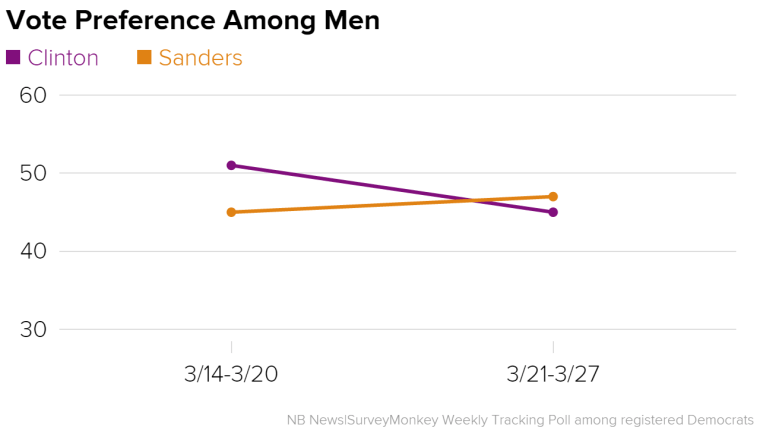 Race has also been a significant demographic indicator in the Democratic contest and Clinton lost support among all racial groups this week compared to last week's tracking poll. Among white voters, she got 45 percent support, a 3-point from drop last week. She also dropped 5 points among Hispanics from last week, 50 to 45, and 4 points among black voters from last week, 68 to 64.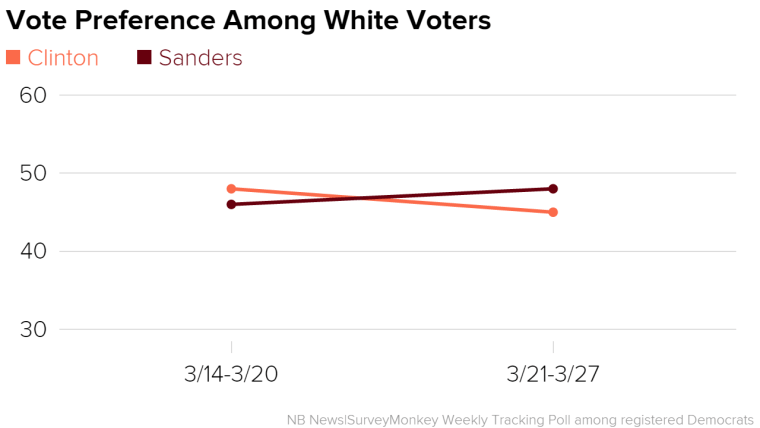 The question going forward for Sanders is whether he can make additional inroads in key demographic groups. This will be especially important as the contest moves to larger states in the April contests.
The NBC News|SurveyMonkey Weekly Election Tracking poll was conducted online March 21 through March 27, 2016 among a national sample of 6,521 adults aged 18 and over, including 5,741 who say they are registered to vote. Respondents for this non-probability survey were selected from the nearly three million people who take surveys on the SurveyMonkey platform each day. Results have an error estimate of plus or minus 1.7 percentage points. For full results and methodology for this weekly tracking poll, please click here.