Donald Trump's final push for the GOP nomination starts Tuesday in New York, where the front-runner is heavily favored over rivals Sen. Ted Cruz and Ohio Gov. John Kasich.
The burning question is not whether Trump wins New York — if he doesn't, it will be among the biggest polling surprises ever — but whether Cruz and Kasich can pick up enough delegates to derail his nomination before July's convention in Cleveland.
Since Trump's last victory in Arizona's March 22 primary, Cruz has won a competitive race in Wisconsin, as well as a series of sweeping victories in North Dakota, Colorado and Wyoming, which awarded their delegates through state conventions rather than primaries or caucuses.
The Texas senator has argued that his recent wins mark a "turning point" that will carry him to a victory in a contested convention. That remains to be seen: Trump's position still looks strong in national polls, where a new NBC News/SurveyMonkey poll put him at 46 percent support among Republicans versus 28 percent for Cruz and 19 percent for Kasich, suggesting Cruz's victories reflected a favorable stretch of states rather than GOP voters abandoning Trump.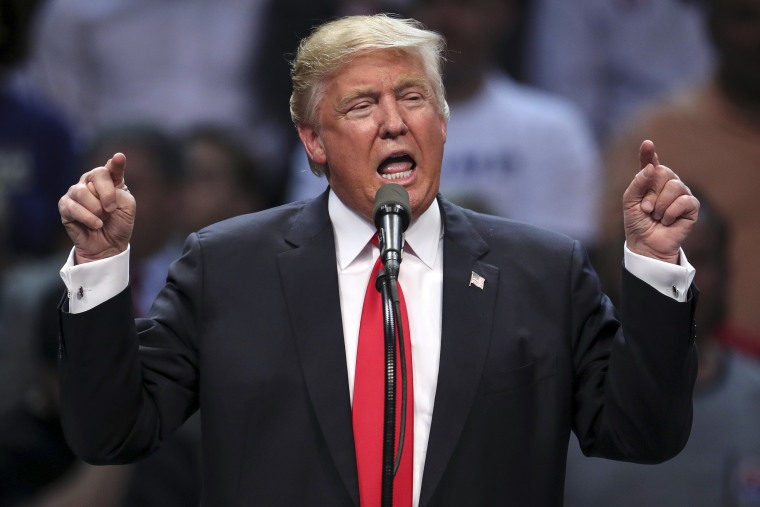 If nothing else, however, Cruz's success in the last month's delegate fights exposed a weak Trump organization, prompted a major staff shakeup, and provoked a furious response from the candidate himself, who complained of a "rigged election" in Staten Island this week.
The delegate losses illustrated Trump's precarious position in the race, despite his large lead. If he falls short of the 1,237 delegates needed to clinch the nomination, Cruz's superior organization now looks likely to outmaneuver him at a contested convention."I don't want to play that game," Trump said of a contested convention on Sunday. "I'm winning with the voters and we're winning big and I think we'll get to the 1,237."
Which brings us back to New York. In order to stay on pace for that goal, Trump needs to win his home state by a large margin, as well as win a series of friendly northern states like New Jersey, Connecticut, Pennsylvania, Delaware, Maryland, and Rhode Island that vote the next week. Overall, Trump needs to win 61 percent of all remaining delegates to hit 1,237 — a difficult but achievable task.
More than a dozen polls this month show Trump leading in New York with over 50 percent support, an important threshold that would allow him to pick up all 14 of the state's at-large delegates. Another 81 are chosen by Congressional district, with the winner getting all three in each district if they break 50 percent and the second-place finisher getting one if they fall short.
Whether Cruz and Kasich can peel off a significant number of delegates could depend on their ability to turn out supporters in heavily Democratic districts where even a handful of Republican votes could make a difference. This would explain why Cruz and Kasich have both visited the Bronx's 15th District, where only 285 Republicans voted in 2012's primary. Cruz and Kasich have also courted ultra-Orthodox Jewish voters in Brooklyn, who could prove an important constituency in several city races.
New York has a closed primary and its deadlines to register to vote are unusually early, which could also keep some independent Trump supporters from the polls. Two victims of this policy are Trump's own children, Ivanka and Eric Trump, who missed the October deadline to switch to the Republican Party.
Cruz has his own problems, however. The Texas senator has been haunted by his decision to assail Trump's "New York values" months ago while campaigning for Iowa votes. Cruz has tried to clarify that he was referring only to New York's "left-wing Democratic policies," but Trump has slammed Cruz over the line, which he says is disrespectful of the city's perseverance after the 9/11 terror attacks. Cruz received a frosty welcome when he spoke at a New York GOP gala on Thursday, and a Republican police officer in attendance told NBC News' Vaughn Hillyard that the senator "blew it" by using the phrase.
"You heard his statement on values, New York values, and I can't imagine any New Yorker voting for Cruz," Trump said on Sunday.