President-elect Donald Trump on Tuesday had a closed-door meeting with journalists at the New York Times, which ranged the gamut of issues embroiling his transition to the White House — and was live tweeted by the paper's reporters.
Like much of Trump's rapid ascent to becoming the leader of the free world, the meeting was an unprecedented break from political norms. And it comes after the incoming president spent the entire campaign season complaining about his coverage in the "mainstream media" and even initially canceling Tuesday's interview.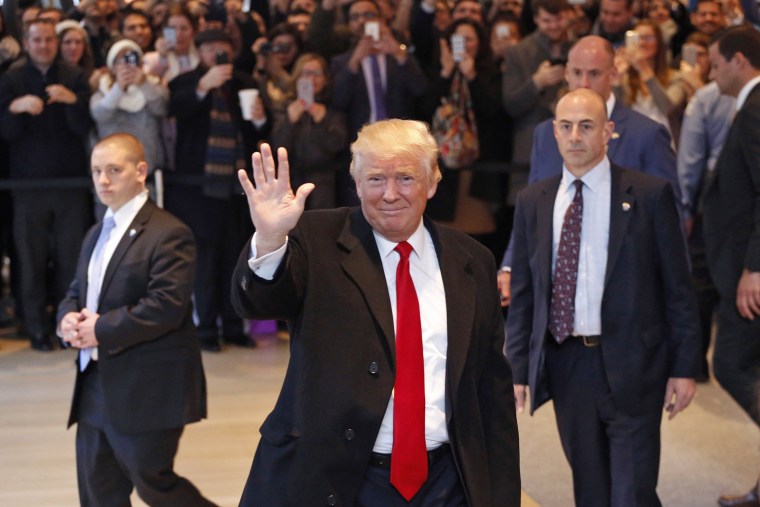 Here are the highlights of what he eventually had to share.
Trump rejects claims that Steve Bannon is "racist" or part of the "alt-right"
Trump defended appointing Steve Bannon, the former president of Breitbart News, to serve as his chief strategist and senior counselor in the White House.
Bannon has been under fire for leading a news site with a long history of espousing anti-Semitic, racist and misogynist stories that have been embraced by white nationalist groups. But Trump told the Times that he did not believe Bannon harbored those negative opinions himself.
"If I thought he was a racist or alt-right or any of the things, the terms we could use, I couldn't even think about hiring him," Trump said, according to tweet from a Times reporter who was in the room.
Trump elaborated that he felt Bannon was having difficulty dealing with the criticism lobbed against him.
"Breitbart is just a publication," Trump said, per Haberman.
He disavows white nationalist sympathizers
Trump gave his first full-throated response to reports that white nationalists convened together in Washington, D.C., over the weekend, quoting Nazi propaganda and cheering "hail victory!" in the president-elect's name.
Acknowledges meeting with British politician Nigel Farage and bringing up his business
Trump is now under intense scrutiny over whether his business dealings will be a major conflict of interest once he assumes office.
The latest example comes amid reports that the president-elect met with British politician Nigel Farage, head of the UK Independence Party, and brought up his business concerns. The Times reported on Monday that Trump brought up the issue of his two Scottish golf courses and his concerns that plans to build offshore wind farms would damage the resort's views of the skyline.
On Tuesday, Trump did not deny that conversation took place.
Trump brushes off other potential conflicts of interest
Trump opened a brand new luxury hotel in Washington, D.C., just days before the general election. He leveraged what effectively amounted to free advertising for the property by inviting the campaign press core to come cover the grand opening.
And now Trump admits the hotel is "probably a more valuable asset than it was before," according to a Times reporter's tweet. The Trump brand is now "hotter," he added.
Trump is downplaying his daily involvement in his business empire, stressing that his children are likely to take over management and operations. He admitted that it would likely be difficult to dissolve his business since it is centralized in real estate holdings. But he suggested that his company and duty to the country would not run into problems with the law.
"In theory, I could run my business perfectly and then run the country perfectly," Trump said, according to Times reporters. "There's never been a case like this."
He also indicated that he thinks people pushing for him to divest from his businesses are trying to break up his family.
"If it were up to some people, I would never, ever see my daughter Ivanka again," the Times quoted him as saying.
Says he can mend Israel/Palestine relations
Trump suggested that his son-in-law Jared Kushner could "make peace" between the Israelis and Palestinians.
Kushner, who is Jewish, has no experience in politics or international diplomacy. He is the publisher of the New York Observer and works in real estate development.
Still Trump has sought after the deeply unorthodox move of appointing a close family member to serve alongside him in the White House. It remains unclear what role Kushner will fill once Trump enters the Oval Office.
Asserts that he and Republican leadership are now tight
Tensions and infighting among Republican leaders were not uncommon during the campaign season, particularly as party elites scrambled to assemble an "anti-Trump" movement shortly before the conventions.
Trump now says those concerns are water under the bridge as he prepares to assume a White House and Congress that is united under a single party.
"Paul Ryan, right now, loves me. Mitch McConnell loves me," Trump said.
Claims he has been unfairly treated in Times coverage
Trump's visit to the New York Times building in Manhattan was part of a broad series of gatherings between the president elect and the media organizations that cover him. Just a day earlier Trump met with the executives and top anchors of major broadcast networks, NBC News included.
But premise behind Trump's meeting with the Times was tremendously fraught. Trump initially rescinded his offer to meet with the paper of record, letting those involved to find out the news via Twitter.
"I have great respect for the New York Times. I have tremendous respect," Trump said, according to a Times media reporter. "I think I've been treated very rough."
Throughout the campaign season Trump continually needled the Times and its coverage. He mocked and imitated a disabled reporter. He repeatedly condemned articles that reflected poorly on him, calling the paper of record "dishonest" and "failing."
Still, Trump admitted he was a fan of his hometown broadsheet — to an extent.
"I do read it," he said of the Times. "Unfortunately, I'd live about 20 years longer if I didn't."