When FBI Director James Comey told Congress that the FBI intends to review newly discovered emails in the investigation of Hillary Clinton, some observers speculated that the evidence could lead to federal charges against Clinton. According to former prosecutors and legal experts across the political spectrum, however, that is unlikely.
While experts caution that it is hard to weigh the impact of largely unknown evidence, they say both the history of the FBI inquiry and the nature of the new emails make it unlikely that federal authorities would reverse course to charge Clinton.
Old Email, New Email
"Given the fact that they reviewed 30,000 emails, most of which were from Hillary Clinton, it's hard to imagine there could be new emails that are from Hillary Clinton that could result in the prosecution of her," said Paul Butler, a former Justice Department attorney who has prosecuted politicians and federal officials for corruption.
Comey did not name the source of the new emails in his letter to Congress on Friday, but federal sources say the emails are linked to Clinton aide Huma Abedin, the estranged wife of Anthony Weiner, who is under investigation for allegedly messaging a minor.
Related: FBI Obtains Warrant for Newly Discovered Emails in Clinton Probe
It is possible that those emails could reveal new information about Clinton's conduct, but former investigators say that given the broad review the FBI completed, it is far more likely that the emails would provide information about Abedin.
In its original inquiry, the FBI said it reviewed Clinton's 30,000 work emails, as well as "several thousand" other emails. It said it interviewed Clinton, her aides, her information technology staff and "those involved" in turning over her emails.
"This seems to be more about Huma than Hillary," a former Republican federal prosecutor said.
"It doesn't seem that this is so inculpatory towards Hillary Clinton," the prosecutor said, proposing that even if Abedin's emails "show she's lying, OK — what's that got to do with Hillary Clinton?"
Because the FBI has already reviewed Abedin's work emails through other sources, some former investigators said the emails are unlikely to change the case."There's probably not a high likelihood that these are new," said Peter Zeidenberg, a former federal prosecutor in Washington, D.C.
Zeidenberg estimated that there is a "significant chance" that any new emails would not have classified information. But if they did, he said, that fact would be unlikely to change the FBI's publicly stated legal analysis in the case.
The FBI determined that even careless handling of classified information did not make Clinton guilty of a crime.
"Suppose there was 'Top Secret' information — I think it would be hugely embarrassing, politically damaging, but I still don't think it would change the analysis of what is being done intentionally," said Zeidenberg, who served in the Justice Department unit that prosecutes elected officials.
"I don't see how it will change the analysis about whether she's going to be charged with a criminal offense," Zeidenberg said. "I think there is about zero percent likelihood of that."
A High Burden of Proof
When the FBI inquiry ended, Comey said the legal standard required clear proof that Clinton either "intentionally" mishandled classified information or that she knowingly took classified information out of the appropriate government systems. The inquiry did not find such proof, he said.
Instead, Comey said the evidence did not meet the legal standard in past cases in which mishandling of classified material was prosecuted.
Those cases, Comey said, had one of three other types of misconduct: "clearly intentional and willful mishandling of classified information" (an intention to break the law), "indications of disloyalty to the United States" (such as leaking to enemies) or "efforts to obstruct justice" (such as lying to the FBI).
While experts say Abedin's email is unlikely to generate that kind of "smoking gun" evidence about Clinton, as a matter of process, it is prudent to look at any evidence that might be new.
"You would never want to forgo the opportunity to see if there is evidence that is potentially relevant and could change the outcome of the investigation," said Andy Devooght, a former federal prosecutor in Illinois.
Devooght also echoed the stringent legal test for charges.
Any new emails would face a high bar for supporting charges against Clinton — specifically, clear proof that she intentionally sought to mishandle classified information.
"The bottom line is that this new information would have to prove what they didn't have before — which is sufficient evidence to establish that she knew, beyond a reasonable doubt, that she was sending classified information," said Devooght, a former clerk to the late Chief Justice William Rehnquist.
Former FBI officials also say any routine effort to look at new evidence does not imply a "do-over" of the entire case.
When new information arises, "the FBI re-evaluates the new information," said Shawn Henry, a former assistant director of the FBI and expert on cybercrime.
"You don't go back and look at the entire investigation, but you evaluate the new information on its merit to see if it changes your conclusions," said Henry, who ran the FBI's Washington Field Office.
The FBI's current approach to the Clinton review, however, is anything but routine.
New Emails or Duplicate Emails?
Apart from the unusually public nature of the FBI's review, no one at the bureau apparently knows whether the emails are actually new evidence.
Comey's letter Friday stated that emails from the Weiner investigation "appear to be pertinent" and merit review to "assess their importance."
Federal officials also told Yahoo News, however, that the FBI has not reviewed any of the emails. The FBI only just obtained a warrant to look further into the emails late Sunday, according to law-enforcement sources.
That is significant, because it raises the possibility that there is no new evidence at all if the emails are copies of what the FBI already reviewed.
"They could all be duplicates of what they've already looked at," said Nick Akerman, who was an assistant special prosecutor in the Watergate investigation.
In that case, the evidence would essentially be old, and the only development would be that previously reviewed emails existed on another device.
That could be negative for Abedin, experts said, but the location of the emails alone would not change the legal analysis of Clinton's conduct.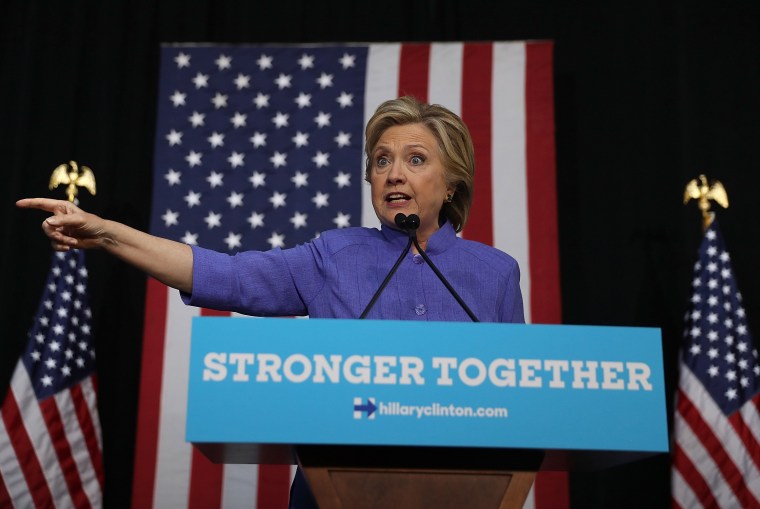 "There's going to be a lot of innuendo out of nothing," said Akerman, adding, "There is no crime here."
Other legal experts said that Comey's letter was premature and that a public announcement that an investigation is continuing should occur only if, first, the FBI has actually reviewed the new evidence and, second, it has deemed it important.
This "does not happen without substantial, credible evidence that the prior decision may have been in error," said Robert Cattanach, a former federal prosecutor and former counsel to the secretary of the Navy.
"Second looks themselves are not unheard of, but those typically occur without fanfare or even acknowledgement," Cattanach said, "unless and until real substance to contradict the bureau's earlier decision comes to light."
While the FBI says it is not reopening the case, Cattanach said Comey's letter essentially does that, but in "veiled terms."
For all the scrutiny of Comey's process, it is the outcome of the inquiry that interests most observers.
According to legal experts, new emails from a cooperating witness are, absent a very unusual development, unlikely to change the outcome that the FBI did not find the kind of criminal intent required to charge Clinton with mishandling classified information.