LAS VEGAS — The three Democratic presidential candidates made their case here Wednesday night in an early state that may prove critical in securing the nomination. Hillary Clinton, Bernie Sanders and Martin O'Malley delivered speeches at the "Battle Born Battleground" caucus dinner, hosted by the Nevada Democratic Party and Sen. Harry Reid.
In some of the strongest statements of the night, O'Malley, who spoke second, dedicated a significant portion of his speech to knocking Texas Sen. Ted Cruz. "I'd like to say that Donald Trump is the most outrageous and unqualified person ever to run for president. But really, that's not fair to Ted Cruz," said the former governor of Maryland, who is currently struggling with single digits in polls.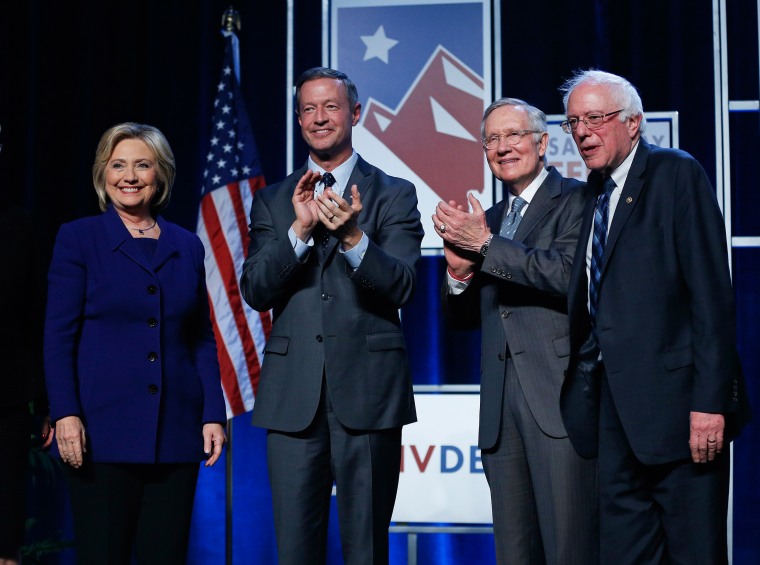 The comments were O'Malley's harshest criticism of Cruz to date, and he went on to call the Republican out for his positions on gun control. "Cruz actually says that the answer to gun violence is more guns," he said. "Senator, the answer to cancer is not more cancer, the answer to poverty is not more poverty, and the answer to gun violence isn't more guns."
Wednesday's dinner at the MGM was one of the largest Democratic get-togethers before the state's caucuses are held on Feb. 20. Reid, who introduced the candidates, spent most of his remarks praising President Barack Obama and the Democratic candidates "who embody progressive values." Reid, who has yet to endorse anyone, called Clinton a "friend to the state of Nevada for decades."
The former secretary of state is leading in early Nevada polls, but Sanders has deployed a formidable ground game in the state in recent months.
Throughout the night, Sanders supporters used ear-splitting vuvuzelas and air horns to compete with Clinton's hundreds of screaming fans. As in cattle calls past, Clinton devotees waved bright blue light sticks and appeared to be the most coordinated bunch in the room. O'Malley did not appear to have a dedicated section.
Clinton, who spoke first, started out by commending her Democratic opponents. "They have a lot of good ideas and we share a lot of the same values. And the differences between us pale compared to what we see on the other side," Clinton said.
She used most of her speech to knock Republicans — she called out Donald Trump and Marco Rubio by name on immigration — but also subtly hit her chief rival Sanders.
The Democratic front-runner implored voters to choose a candidate who would be strong on all the issues, "not just a few issues."
She also said she was "not only running for president but raising millions of dollars for our state parties to help you build the infrastructure you need to win. Because I know we are all in this together." Sanders has yet to raise any money for states parties, according to his latest finance numbers.
Sanders, who spoke last, subtly hit Clinton as well, without naming her. He cautioned that "establishment politics and establishment economics" would not lead to a Democratic victory, arguing that the only way Democrats win is if there's a large voter turnout.
The Vermont senator, his voice increasingly hoarse, told the crowd that he would not be running if he didn't think a political revolution wasn't possible. He argued that real change has never come from the top down, "it has always come from the bottom up."
Clinton was the only candidate to reference North Korea's purported nuclear test during her speech, using it as an example for why the next president should have extensive foreign policy experience.
"We face complex challenges around the world, as we just saw last night from North Korea," she said.
All three candidates organized events in Nevada tied to Wednesday's dinner. Clinton and Sanders both held rallies before, while O'Malley is scheduled to give a speech here Thursday morning.