After their first face-to-face meeting, President Barack Obama and President-elect Donald Trump pledged to work together following a rancorous election, with the sitting president saying he wants to make Trump and his family "feel welcome as we prepare to make this transition."
Obama and Trump met alone in the Oval Office for 90 minutes, and the president told reporters they had an "excellent" and "wide-ranging" conversation covering domestic and foreign policy issues. Trump said he looked forward to working with Obama in the future and would seek his counsel.
Photos: President-elect Trump Tours Washington
"Mr. President, it was a great honor being with you, and I look forward being with you many, many more times," Trump said with Obama sitting by his side.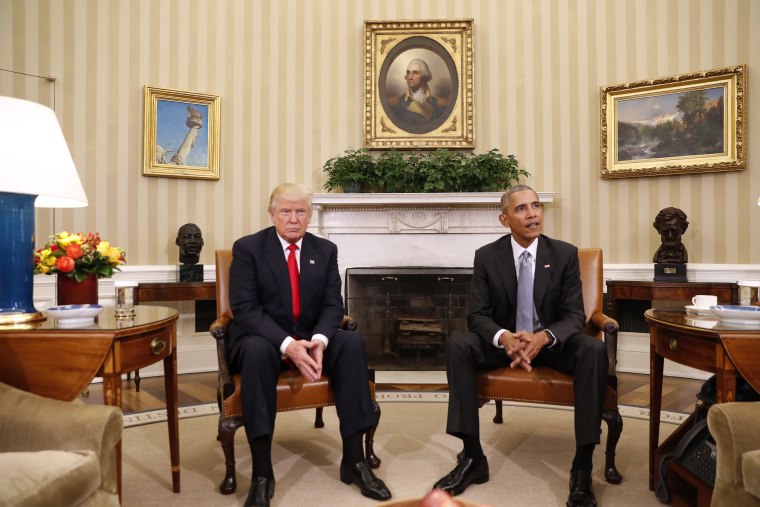 The private White House meeting had the potential to be awkward after the two men sniped at each other throughout the bitter presidential campaign. Trump, a businessman and central figure in the so-called "birther" movement, spent years railing against Obama and challenging the legitimacy of his 2008 election. Obama, who campaigned heartily for Democratic nominee Hillary Clinton, repeatedly slammed Trump as unfit for office.
Before their meeting, the two men had virtually no personal contact. They were in the same room at the 2011 White House Correspondents' Association dinner — the night Obama pilloried Trump in a scathing comedy routine.
In a post on Twitter Thursday evening, Trump said he and Obama had a "really good meeting, great chemistry."
Related: Trump Team Honing in on High-Level Appointments
Trump's campaign manager Kellyanne Conway said Trump described his meeting with the president as "very productive."
"He felt they both would've stayed even longer," she said, adding that Trump said Obama was "incredibly generous with time and insight" and that the two share "the goal of a peaceful transition.
As Obama huddled with Trump for their closed-door meeting, White House Chief of Staff Denis McDonough strolled along the South Lawn with Trump's son-in-law and confidant, Jared Kushner.
Trump's wife, Melania, was also at the White House to meet with first lady Michelle Obama.
"We had an excellent conversation with her as well," the president told reporters of Melania Trump.
Michelle Obama hosted Melania Trump in her private residence for tea, and they spoke about what it's like to raise children at 1600 Pennsylvania Avenue and be good parents, White House spokesman Josh Earnest later told reporters. The Trumps' youngest son, Barron, is 10.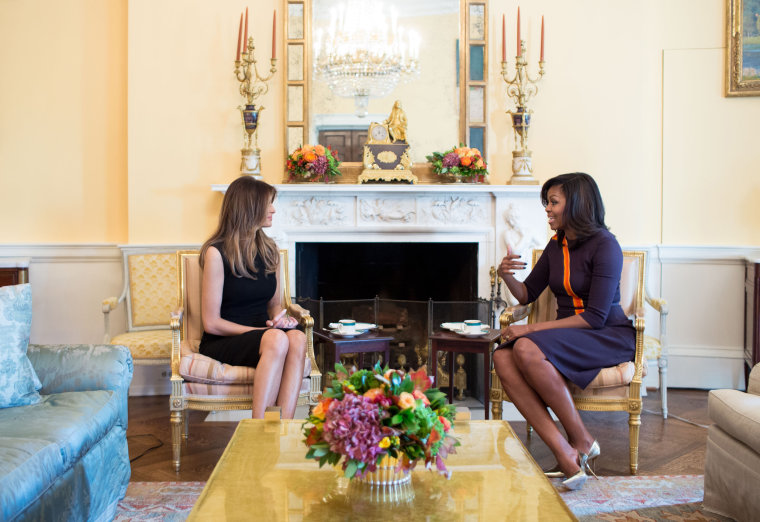 Michelle Obama and the incoming first lady also stepped out onto the Truman Balcony, located on the second floor, and had a tour with White House curator Bill Allman. They then walked to the Oval Office to meet with their husbands.
The White House visit seemed polite and respectful after blistering words were exchanged on the campaign trail between Obama and Trump.
Obama on Wednesday had congratulated the president-elect in a statement in the Rose Garden, committing to do his part in a cordial handover — just as President George W. Bush did for him eight years ago.
"It is not secret that the president-elect and I have some pretty significant differences," Obama said. "The peaceful transition of power is one of the hallmarks of our democracy."
Trump has threatened to undo much of Obama's policies and programs. At stake is the president's legacy on health care initiatives, immigration, a global climate change pact and a nuclear deal with Iran.
Earnest told reporters Thursday that Obama came away from the meeting with "renewed confidence" for a "smooth transition." They spoke about staffing and organizing the presidential residence, Earnest said, and ensuring the White House is "structured in a way to deal with multiple challenges and multiple crises at the same time."
Related: Can Trump Still Tweet at 3 A.M. as President?
He did not detail the policies the pair spoke about, but said the meeting was not about their "deep differences." They also didn't discuss the "birther movement."
"The two men did not re-litigate their differences in the Oval Office," Earnest said.
A White House official earlier told NBC News that the president wants to ensure a "seamless transition" and let Trump know that White House staff remains committed to a new administration.
Earlier, both Trump and Vice President-elect Mike Pence shook hands with House Speaker Paul Ryan and Senate Majority Leader Mitch McConnell at Capitol Hill as part of a meet-and-greet in Washington with Republican leaders.
Vice President Joe Biden was also expected to host Pence at the White House later Thursday afternoon.
Trump departed for Washington in his Trump-branded airliner out of New York's LaGuardia Airport, where water cannons sprayed the jet in a ceremonial sendoff.
His swearing in would take place Jan. 20 at the Capitol. But the next several weeks could prove tumultuous following a contentious election that has sparked street protests throughout the country. On Wednesday night, thousands in Chicago, New York and cities in California held signs and chanted, "Not my president," in reference to Trump.
Earnest said people have a constitutional right to voice their discontent after a highly divisive election.
"It's not surprising people are disappointed in the outcome," he added.