President Barack Obama told a crowd of Las Vegas supporters Sunday that they have a winning hand in Hillary Clinton, adding that the only way to lose the election is to "fold your hand and not vote."
At a campaign rally at Cheyenne High School in North Las Vegas, a relaxed and joking Obama encouraged supporters to call "cousin Pookie" and "Jesse" and inspire them to get out to vote.
"You've got an ace, and you've got a jack! But you got to make sure to turn over the card by voting," Obama said. "This game didn't start on November 8th. The game ends on November 8th!"
But the president later turned serious, lashing out at Republicans in Congress who he said "won't even get their own stuff passed, much less the stuff you want."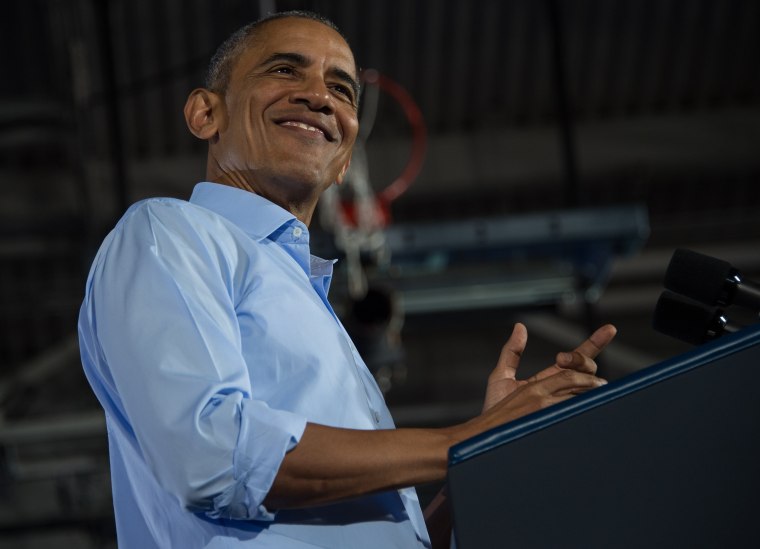 He urged voters to support Catherine Cortez Masto, who is running to succeed Harry Reid in the Senate. If elected, Cortez Masto would be the first Latina woman in the Senate.
Obama criticized Republicans who are walking back their support of their nominee, Donald Trump, taunting, "What took you so long?"
"Donald Trump did not start this. He just did what he always did, which is slap his name on it, take credit for it and promote it," Obama said. "That's what he does."
Ahead of the president's visit, the Las Vegas Review-Journal endorsed Trump for president. Trump's campaign manager, KellyAnne Conway, made the rounds of the Sunday talk shows, acknowledging on NBC's "Meet the Press" that her campaign is behind.
Conway said Trump is at his best when he sticks to the issues that matter to his voters the most.
At a rally Saturday, Trump outlined his priorities for his first 100 days as president, but not before threatening to sue the women who have accused him of sexual misconduct after the election.
Related: Trump Makes Subtle Push for Down-Ballot Republicans
Obama said the Trump campaign's rhetoric and insistence that the election is "rigged" show he's losing.
"Let's face it, Nevada is always close," Obama said. "Nevada always makes you a little nervous, because you don't know what's going to happen. But that's what makes it exciting!"
As election day draws near, both the president and First Lady Michelle Obama have vowed to continue their final push for the Clinton. Michelle Obama will make a joint campaign stop Tuesday with Clinton in Winston-Salem, N.C., to encourage early voters to head to the polls.