Just hours after vowing to stay in the race until there was a clear nominee, Dr. Ben Carson all but waved the white flag.
"I do not see a political path forward in light of last evening's Super Tuesday primary results," the retired pediatric neurosurgeon said in an email to supporters on Wednesday afternoon. Carson said he would skip a Republican presidential debate scheduled for Thursday in Detroit. Carson said he would discuss his plans at greater length Friday at the Conservative Political Action Conference in Washington.
Carson's acknowledgment of the political reality of his presidential bid —in which he's earned just eight delegates after the results of 15 Republican contests — comes after weeks of arguing until the final hours that despite the slim odds there was still a place for him in the 2016 race for the White House.
Carson brought to the race a serene and deeply religious demeanor with a rags-to-riches story so incredible it has its own made-for-TV movie; he was an outsider in the year everyone wanted one; a calm voice in a race marked by insinuations about a candidate's manhood; and a health care professional in a race that centered around repealing Obamacare.
Related: Ben Carson Withdraws from GOP Debate, Sees No 'Path Forward'
But as front-runner Donald Trump's bombast soared, the billionaire's success and big promises prevailed over Carson's more humble approach.
And while Carson's special combination of personality and life experiences put him on the map, it also may have hurt his ability to compete against his rivals.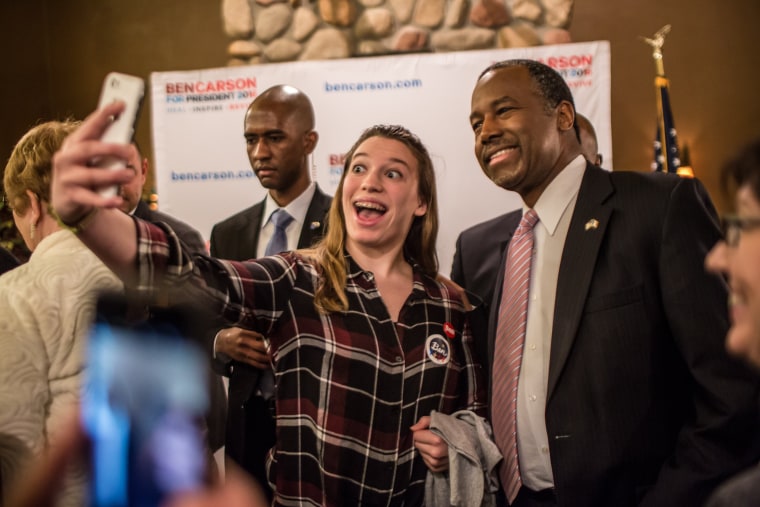 In November, Carson shot up in the polls after several strong debate performances and became the first candidate to temporarily best Trump in opinion surveys. But in the wake of the San Bernadino and Paris terror attacks, the race turned its focus sharply to national security and Carson faltered, struggling to answer even basic questions about American allies. His soft voice and refusal to answer a question he wasn't prepared for made the renowned former neurosurgeon look weak in the face of terror attacks.
Later, when Ted Cruz's campaign spread rumors that Carson was getting out of the race during the Iowa caucuses, a cautious Carson shied from blaming the Texas senator — only eventually and obliquely chastising Cruz when furious aides showed him proof of the Cruz's grassroots supporters efforts to woo his supporters at the last minute.
Related: Ben Carson Has No Plan to Win the Nomination
Time and time again, aides said America would see a feistier Carson in the debates, but that version of the candidate failed to appear. As the infighting grew, Carson didn't just stay out of the mud: he was largely left out.
"Please, will someone attack me?" he said in a CNN debate last week — now known to be his final — only to be ignored.
It's a conundrum that seemed to baffle the doctor.
"There's always the possibility that people will awaken and recognize that just what they were asking for is what I have presented for them," he said on "Morning Joe" on Tuesday. "You're looking for somebody of accomplishment. You know, you look at my life, you know, I don't think anybody could – could ask for more accomplishment than that."
But campaign aides insist that Carson won't be going quietly and will continue to carry on the "movement" he says his campaign started.
"This grassroots movement on behalf of 'We the People' will continue," Carson told supporters Wednesday.