President-elect Donald Trump and his adult children are facing more scrutiny for decisions that appear to engage in pay-for-play politics and potential conflicts of interest.
The latest controversy revolves around Opening Day, a recently formed Texas non-profit that lists two wealthy Texans, Tom Hicks Jr. and Gentry Beach, along with Eric Trump and Don Trump Jr. as its directors. Without naming its benefactors, organization paperwork says it is raising money for conservation charities by hosting a lavish event with "camouflage and cufflinks" attire in Washington, D.C. the day after the inauguration.
A flyer about the event, obtained by TMZ, said that donors who give $1 million were promised a photo-op with the incoming president as well as a hunting or fishing trip with one of the sons. In addition, Ray Washburne, one of Trump's fundraising chairs during the general election and head of Trump's transition team on Commerce, is a member of the events host committee.
After questions swirled about the event and his children's role in it, the Trump transition said Wednesday morning that his sons don't "plan on being involved" in the fundraiser. The Eventbrite page to register no longer mentions the Trump sons and top donors no longer get to schmooze with the president.
"The Opening Day event and details that have been reported are merely initial concepts that have not been approved or pursued by the Trump family," said Trump Press Secretary Hope Hicks in a statement Tuesday.
While Trump's sons have attempted to correct the matter by removing themselves from the event, Lisa Gilbert with Public Citizen, a government watchdog group, said that the circumstances are "inappropriate."
"The problem is that it continues to blur the line between Trumps' business dealings and monetary schemes and his new role in running the country," Gilbert said.
Related: Trump Pushes Back Announcement on Business Conflicts of Interest
Trump's official inauguration committee put no limits of financial donations and is accepting donations from corporations and lobbyists. In comparison, President Barack Obama came under fire for removing the self-imposed $50,000 cap for donations for his second inauguration although he still forbade contributions from lobbyists and corporations.
This is just the latest in a series of concerns about Trump's vast, international business dealings and the potential for conflicts of interest raised by his refusal to fully distance himself from them. His children, who are currently running his company, are also deeply involved in setting up the next administration.
His daughter Ivanka Trump sat in on a meeting with Japan's Prime Minister Shinzo Abe while her company was negotiating with a Japanese company, per media reports. She also sat in on a phone call with Argentine President Mauricio Macri while she was running Trump's business, which was trying to build a hotel in Buenos Aires.
The children had also tried to enrich their own foundation by selling their name and their access. Eric Trump sought to auction off a coffee meeting with Ivanka but after the New York Times reported that wealthy business people who wanted to get the ear of the president-elect, had bid up to $70,000 for the session, the event was cancelled. Ivanka's husband, Jared Kushner, is also a close adviser to Trump.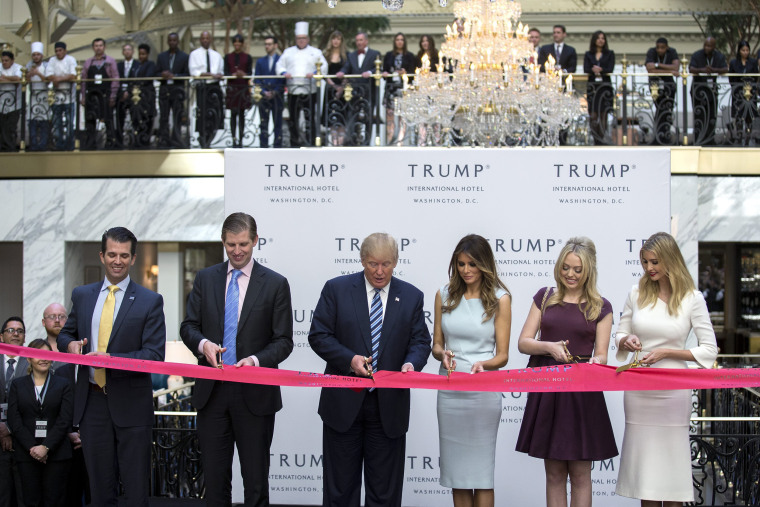 Those activities come with the backdrop of Trump determining how he will handle his businesses during his tenure in the White House. He is resistant to setting up a blind trust or completely divesting. He owns ventures in more than 100 countries, according to the Washington Post, and foreign diplomats and leaders are staying at his hotel and holding events there, perhaps to curry favor with the new leader.
Trump cancelled a scheduled news conference on December 15 to allow more time to figure out how his businesses would be handled. While no new date is scheduled, reporting out Wednesday says that Trump is considering a "discretionary trust," one in which he will be able to monitor his businesses and still financially benefit.
Trump campaigned on ridding influence peddling from Washington. He bragged through the primaries that he was self-funding his campaign, meaning he was beholden to nobody. After he started accepting contributions in the general election, Trump's main attack against his opponent, Hillary Clinton, was his claim that the Clinton Foundation sold access to her as secretary of State. His followers chanted – and still do – at rallies, "Lock her up." And in the final weeks, Trump vowed to "drain the swamp."
"Hillary Clinton's only allegiance is to herself, her donors and her special interests," Trump said on the campaign trail.
But critics say Trump is feeding the swamp. Amb. Norman Eisen, a former ethics attorney for President Barack Obama, said that current conduct will be playing "right on the line" of legality come January 20, Inauguration Day.
"He said he was going to drain the swamp but he's filling it with alligators … and money," Eisen said.