Donald Trump's newly-named running mate, Indiana Gov. Mike Pence, has shored up discrepancies over his contrasting stances with Trump on several key policies, including past U.S. trade deals, the Muslim ban and the proposal to build a wall on the U.S.-Mexico border.
"You know, you shut the door, you tell the boss exactly what you think," Pence said on Fox News when asked by host Sean Hannity how he'd work through disagreements with Trump.
"But when the door opens, the job of the vice president is to stand right next to the president and implement the policy that he's decided. And I'm prepared to do that."
After Trump proposed in December his ban on Muslims entering the United States, Pence called the idea "offensive and unconstitutional."
But on Friday, Pence, lacking nuance, asserted: "I am very supportive of Donald Trump's call to temporarily suspend immigration from countries where terrorists influence and impact represents a threat to the United States."
Pence did not detail which countries have "terrorist influence."
RELATED: Key Areas Where Pence and Trump Disagreed
The Indiana governor also suggested he would loosen up on his past backing of U.S. trade deals, particularly the Trans-Pacific Partnership and the North American Free Trade Agreement.
"I think when we elect one of the best negotiators in the world as president of the United States, I'm open to renegotiating these trade agreements," Pence said in the interview.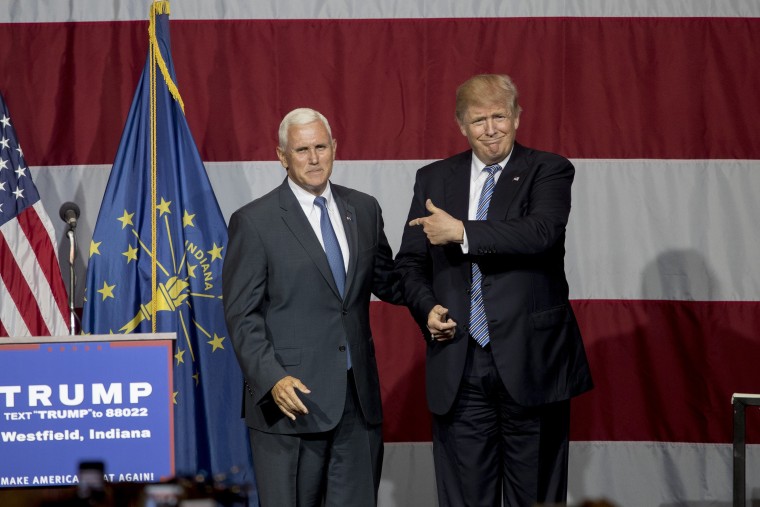 Over the last week in the run-up to Trump's Friday tweet announcing his pick, Pence had dodged answering reporters' questions in Indiana over his conflicting stances, including whether he endorsed Trump's proposal to build a wall on the U.S.-Mexico border.
On Friday, he left seemingly zero space between his views on immigration and those of Trump, telling Hannity a wall must "absolutely" be built and that Mexico would "absolutely" pay for it.
"I believe we need to focus first and foremost -- as Donald Trump has done with such force and such passion — on border integrity and building the wall," Pence said.
He also rejected "amnesty," suggesting undocumented immigrants should leave the country.
RELATED: Pence May Quell Anti-Abortion Movement's Fears
One difference with Trump that Pence refused to yield on during the interview was his vote in October 2002 that authorized the use of military force in Iraq, saying the vote is a decision for "historians to debate." However, the vote runs up against Trump's adamancy over the last year that he long opposed U.S. military intervention in Iraq – though the presumptive nominee's claims of early opposition have been challenged and scrutinized.
On the Iraq war vote, Pence suggested that "reasonable people can differ on whether or not we should have gone into Iraq."
Pence noted that he agreed with Trump, however, that the exit of U.S. troops from Iraq was ill conceived. He assessed on Friday that ISIS was "conjured up in the vacuum that was created when this administration, under Barack Obama and Hillary Clinton, precipitously withdrew form Iraq."
Pence called the attempted coup in Turkey further "evidence" of the "failed leadership of Hillary Clinton as secretary of state."
Trump and Pence will appear together for the first time as an official ticket on Saturday in New York City after a 24-hour period in which Pence faced shouted questions from city sidewalks over Trump's reported hesitancy to ultimately pick him.
Pence, in the Fox News interview, spoke highly of one of Trump's other VP finalists, Newt Gingrich, calling him "a hero to me to this day."