Police broke up protests following a Donald Trump rally Wednesday for the second time in as many days, although the demonstrations in southern California did not display the same violence that was seen in Albuquerque the night before.
Eleven people were arrested for failing to disperse or vandalism, Anaheim police said. Police with helmets and batons on foot and others riding horses pushed crowds away from the convention center where Trump spoke.
The crowd chanted "F--- Donald Trump!" One person was seen throwing a large rock at police. Hotels along Convention Way were locked down because of crowds, police said. There were no reports of injuries to police or others, Anaheim police Det. Laura Lomeli said.
Trump events have been the frequent target of protesters opposed to the presumptive GOP nominee's rhetoric on immigration and his comments the Mexico was sending criminals and "rapists"into the U.S.
There was also a confrontation between anti-Trump protesters and another group outside of the rally, with a man with a megaphone egging on protesters by suggesting they were ineligible to vote in the U.S. "This land was our land before you!" a protester responded.
Related: Paul Ryan Says 'I Haven't Made a Decision' on Trump Endorsement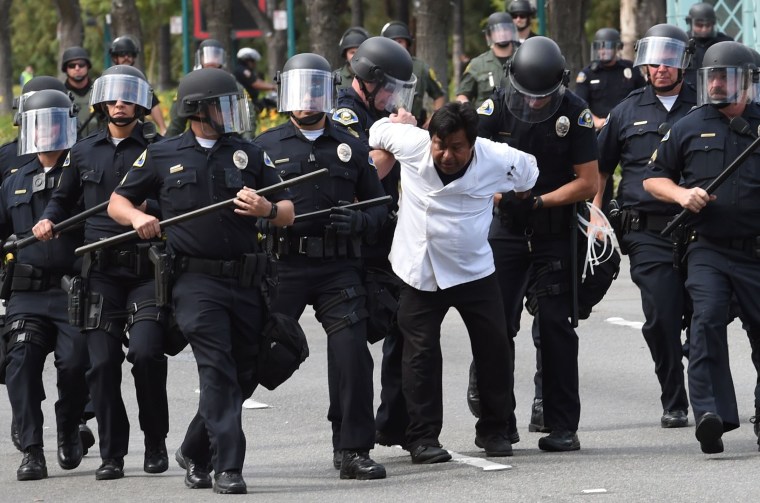 In Albuquerque Tuesday night, six police officers were injured by thrown rocks, a police spokesperson said Wednesday, and crowds were seen throwing barricades at police and lighting fires. Some jumped on top of police vehicles.
In those protests, police wearing riot gear used smoke grenades and what appeared to be pepper spray, and used horses to break up crowds. None of the injured officers were taken to a hospital for treatment, Albuquerque police said Wednesday. Eight windows and a glass door of the convention center where Trump spoke was damaged, with an estimated cost of $10,000, police said.
In Anaheim, police eventually declared one large gathering unlawful and threatened to arrest anyone who remained on the street, and only a small group remained defiant as of 3:30 p.m. local time.
Trump has responded to protests near his rallies by calling some of those involved "thugs."
Anaheim Police Chief Raul Quezada pledged ahead of the event to step in if the protests turned violent.
"While we recognize and respect the First Amendment rights of all individuals to express their viewpoints and protest peacefully, we will not tolerate violence or disobedience of the law," Quezada said in a statement earlier Wednesday.
A total of 14 people were arrested during the day, although three of those arrests occurred earlier, before the protests that resulted in the other arrests, a police spokesperson said. Those earlier arrests involved one man selling T-shirts without a license and two cases of public urination.
Nine of the 14 arrested were adults and five were juveniles, and all of those arrested where male, Anaheim police said.
Aside from Albuquerque, some of the most violent incidents followed or preceded campaign events in Costa Mesa, California, in April and in Chicago in March.
Four people were arrested in Albuquerque Tuesday night — two from inside the venue and two outside it — but more arrests are likely, police spokeswoman Celina Espinoza said. Police were looking for information about anyone seen throwing rocks at officers and horses or setting fires.
"We will work diligently to hold accountable those few individuals who came to perpetrate violence, endanger others and damage property," Albuquerque Mayor Richard Berry said.