House Speaker Paul Ryan made clear Sunday that many of the policy divisions that split the Republican Party with Donald Trump continue post-election, but seemed confident GOP orthodoxy would win out.
Speaking on CNN's "State of the Union," Ryan departed from Trump on two of the president-elect's top priorities: Establishing a "deportation force" to deport millions of undocumented immigrants, and using tariffs to prevent companies from taking their jobs overseas.
On the former, Ryan insisted, "that is not what our focus is" when it comes to immigration reform — rather, securing the border is.
Related: Donald Trump Says Border Wall May Be Part Fence, Hints at Mass Incarcerations
"We think that's first and foremost, before we get into any other immigration issue we gotta know who's coming and going in this country we gotta secure the border. So we believe an enforcement bill, a border security enforcement bill is really the first priority and that's what we're focused on," Ryan said.
Pressed on whether, in year three or four of his administration, Trump would focus on mass deportations, Ryan replied: "We are not planning on erecting a deportation force. Donald Trump's not planning on that."
And on the latter, establishing tariffs to keep jobs in the U.S., Ryan said "I think there's a better way of dealing with that particular issue," later suggesting tariffs could cause "collateral damage on the economy."
He pointed instead to the House GOP policy agenda that he authored — called the "Better Way" — agenda, which includes proposals to cut taxes on businesses that he said would be a better solution.
Related: Republican Battles Won't End With Election Night Victories
"He's trying to make American more competitive. He's trying to make the American worker more competitive, he's trying to make it so American businesses stay in America and we believe the smartest and best way to do that is comprehensive tax reform which actually makes America much more competitive without any adverse effects, without any collateral damage to the economy," he said.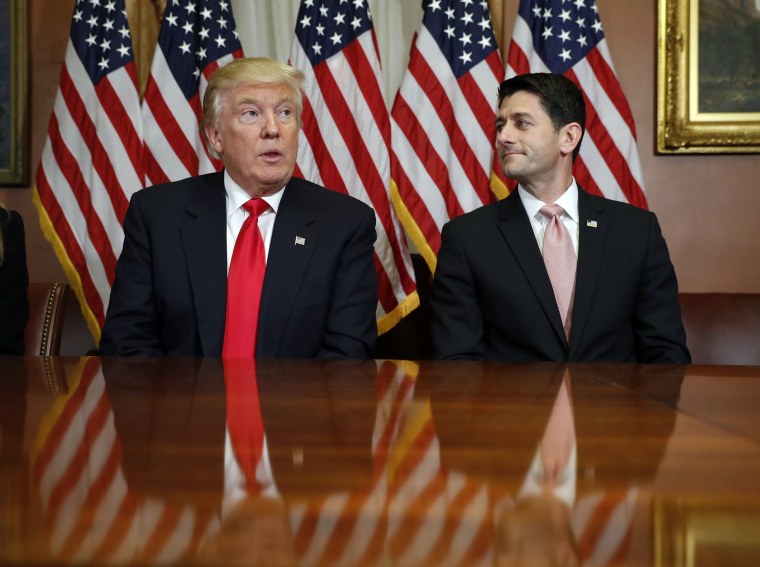 But versions of both of Trump's proposals were included in then-candidate Trump's "Contract With the American Voter," the outline he offered of policy priorities for his first 100 days.
In the contract, he promises on his first day in office to "begin removing the more than 2 million criminal illegal immigrants from the country and cancel visas to foreign countries that won't take them back," and to begin working with Congress to pass a law that would establish tariffs to "discourage companies from laying off their workers in order to relocate in other countries and ship their products back to the U.S. tax-free."
And Trump recommitted to deporting those immigrants during his first post-election interview, on CBS' "60 Minutes," Sunday night — excerpts from which were released early.
Ryan's comments on CNN underscored the fact that the divisions between the two — which led to an at times fierce public conflict between the two, with Trump tweeting criticism at the speaker and Ryan refusing to say Trump's name for much of the final month of the election — remain.
But Ryan seemed confident Trump would fall in line behind his proposals, and refused to acknowledge his past criticism of the president-elect when asked.
"I'm not going to re-litigate the past, I'm looking for the future," said Ryan.