Now that Hillary Clinton is the Democratic Party's presumptive nominee, she finds herself in a very close race with Donald Trump. In this week's NBC News|SurveyMonkey Weekly Election Tracking Poll, Clinton holds a 4-point lead over Trump among registered voters, 48 percent to 44 percent.
Her lead grew 2 points from last week, perhaps as a result of her strong national security speech in San Diego on June 2.
One looming question, however, is whether third-party candidates like Gary Johnson will draw in non-trivial amounts of support in November, and if so, who will it hurt — Clinton or Trump?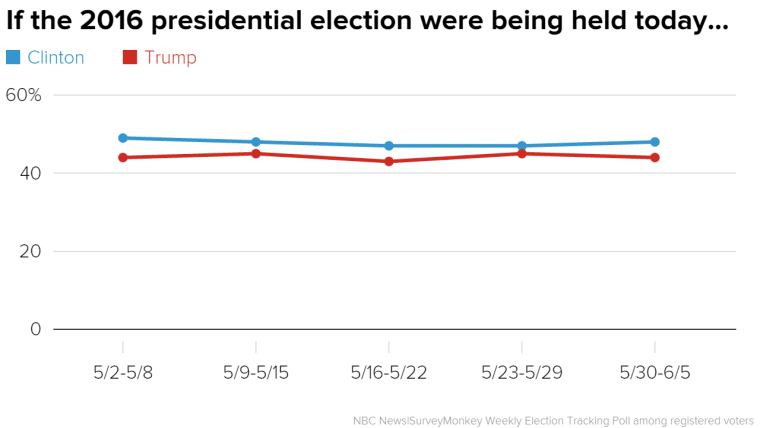 The two-way horse race question noted above currently does not offer third-party candidate response options, as adding non-major party candidates is not entirely straightforward. Research has shown that third-party candidates often receive more support in public opinion polls than they actually receive at the ballot box, and the magnitude of this difference is partially dependent on how the question is asked.
Related: Hillary Clinton Makes History
In this week's Election Tracking Poll, in addition to asking the vote choice question with only Clinton and Trump as options, we also randomly tested two additional vote choice questions from June 2 through June 5 to better understand support for third party candidates.
In the first alternative, we asked about Clinton, Trump, Gary Johnson (the Libertarian) and Jill Stein (the Green Party candidate) as explicit options with their party affiliation. The results from this question among registered voters show Trump at 40 percent, Clinton at 39 percent, Johnson at 9 percent and Stein at 4 percent; 8 percent did not answer the question.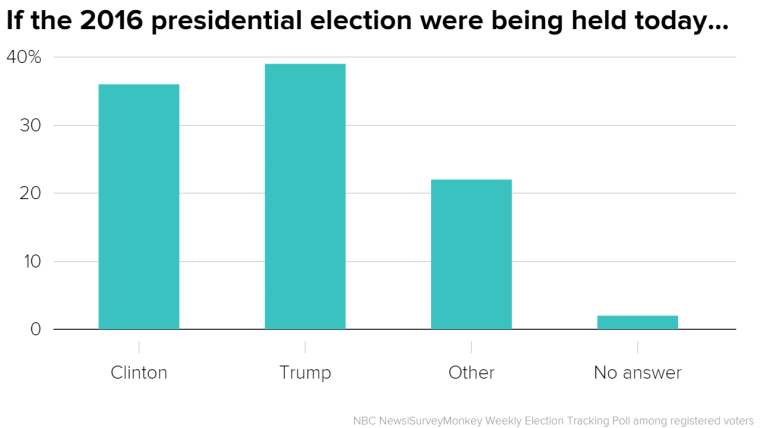 The other alternative vote choice question we asked gave the option of choosing Clinton, Trump or another candidate with an option to specify the candidate name in an open-ended format. In this version of the question, among registered voters, Trumps beats Clinton by 3 percentage points — 39 percent to 36 percent — with responses for "other" pulling in a very large 22 percent.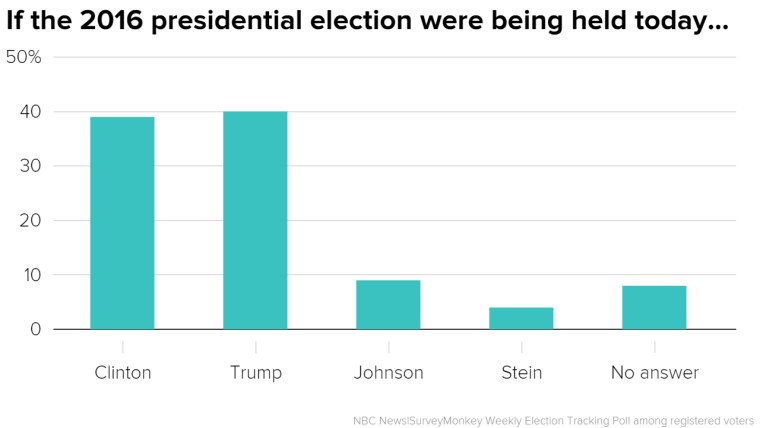 The clear result from the two different questions that offer third-party alternatives is that Clinton performs worse than Trump.
While it is too early to know how much support third-party candidates will receive, the early polling results suggest this may be a good year for non-major party candidates. The open question is whether the supporters of these candidates in public polls will vote at all. It seems likely that in some ways, voicing support for a third party candidate in a poll means that you are less likely to actually vote.
However, in our early test of a scenario where these third-party voters do in fact head to the polls in November, the results are far more damaging for Hillary Clinton than Donald Trump. This cuts against conventional wisdom, at least in the case of the Libertarian candidate, Gary Johnson, where it would be reasonable to expect support would be taken away from the Republican side.
The NBC News|SurveyMonkey Weekly Election Tracking poll was conducted online May 30 through June 5, 2016 among a national sample of 10,520 adults aged 18 and over, including 9,240 who say they are registered to vote. Respondents for this non-probability survey were selected from the nearly three million people who take surveys on the SurveyMonkey platform each day. Results have an error estimate of plus or minus 1.4 percentage points. For full results and methodology for this weekly tracking poll, please click here.