Donald Trump received no significant bounce following the Republican National Convention, according to the latest NBC News|SurveyMonkey Weekly Election Tracking Poll. Hillary Clinton still leads Trump by a single point: 46 percent to 45 percent. These numbers are unchanged from last week.
The Trump-Mike Pence ticket saw a modest boost in favorability among Republicans. Independents — the true persuadable voters — were less than enthusiastic about what they saw or heard about the GOP convention, according to the weekly tracking poll, conducted online from July 18 through July 24 among 12,931 adults who say they are registered to vote.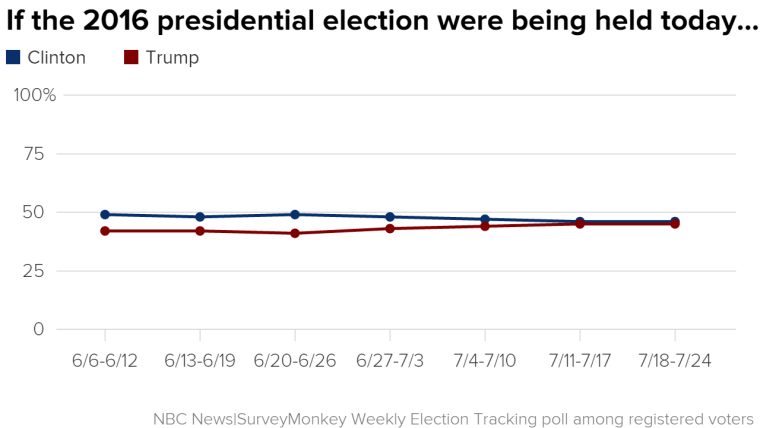 Trump, however, now leads Clinton by 2 points (41 to 39 percent) in a four-way general election matchup with Libertarian Gary Johnson (10 points) and Green Party candidate Jill Stein (5 points). This is up 1 point from last week.
Heading into the GOP convention, there was speculation about whether the notable absences of party elites and the "Stop Trump" movement would cause controversy at the party's formal nominating event. There were also high hopes among Republicans that the convention would provide an opportunity for the normally off-the-cuff candidate to present himself in a more presidential light as well as a champion of conservative ideas and policies — and, hopefully, sway undecided Republicans and Independents in his favor.
Overall, Trump's unprecedented candidacy and convention buzz meant that voters from both sides of the aisle were more focused on this year's Republican convention than in prior years. Overall, 41 percent of voters said that compared to past Republican conventions, this year's convention was of more interest to them. Nearly six in 10 Republicans and Republican-leaners were more interested in this year's convention than previous conventions, and even three in 10 Democrats were more interested as well.

Trump, who was looking at the convention as a way to unify the Republican Party, seemed to get a boost in favorability among Republicans this past week. Overall, Trump's approval rating among all Republicans for the week stood at 79 percent. Among Republicans who followed convention events, an even higher 85 percent said they view Trump favorably. This is up from two weeks ago, when 70 percent of Republicans and Republican-leaners said they view the nominee favorably.
Ted Cruz, who scored a strong round of boos when he declined to endorse Trump in his speech to the RNC, was not viewed kindly by Republicans voters. Though Cruz finished second in the GOP primary race, just 28 percent of members of his own party now view him favorably; 68 percent now view him unfavorably. Clearly, his performance at the GOP convention was not received well by his party.
Though the partisan differences in reactions are largely unsurprising, the reaction of Independents matter a great deal for both parties' abilities to win in the general election in November. Clinton and Trump have remained largely competitive among this non-partisan segment of voters for the past few weeks; however, favor swung toward Clinton by 5 points in this week's horserace numbers. This margin may be attributable to their less-than-enthusiastic reception of the GOP convention last week. Democrats are convening in Philadelphia this week for the party's national convention.
Trump's convention speech, which was received well by Republicans watching the event, did not sit as well with Independents. Just 30 percent of Independents who watched the speech said it was excellent or good, 29 percent said it was "just okay" and a 40 percent plurality said it was poor or terrible.

For most voters, the convention either did not impact their impression of the Republican Party or made them feel less favorable to the GOP as a result (37 percent and 36 percent, respectively). Just a quarter said they now view the GOP more favorably. Among Independent voters, 42 percent now have a less favorable view of the Republican Party following the convention. A plurality, 47 percent, said the convention did not change their opinion.

Though there were several memorable moments in Cleveland last week, Trump did not receive the historic "post-convention" bump that many candidates can generally rely upon following the event. The open question for this week is whether the Democratic convention produces a bump for Clinton.
Related: 1980s: How Trump Created Trump
The NBC News|SurveyMonkey Weekly Election Tracking poll was conducted online July 18 through July 24, 2016 among a national sample of 12,931 adults aged 18 and over who say they are registered to vote. Respondents for this non-probability survey were selected from the nearly three million people who take surveys on the SurveyMonkey platform each day. Results have an error estimate of plus or minus 1.2 percentage points. For full results and methodology, please click here.