There are no hit musicals about the U.S. Secretary of Agriculture, but if someone wanted to make one, Tom Vilsack could be the hero. Really.
An orphan thrust into the spotlight by circumstance and ambition, Vilsack rose to the highest levels of government and is now, suddenly, many Democrats' favorite dark horse pick to be Hillary Clinton's 2016 running mate.
If people know him at all, most recognize Vilsack as the other squeaky-clean former swing-state governor on Clinton's shortlist, the first being Virginia Sen. Tim Kaine, who has long been seen as the odds-on favorite.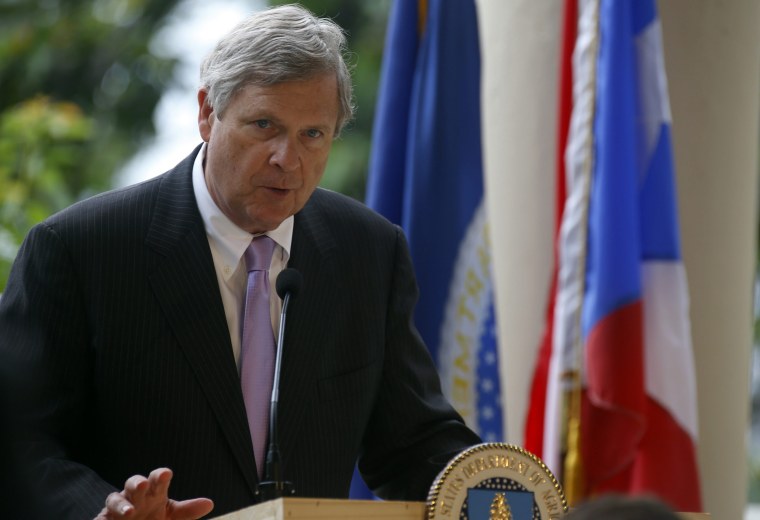 Vilsack, meanwhile, has been hiding in plain sight.
"He is probably the best-kept secret in American politics," said Doug Campbell, Vilsack's best friend from childhood and perhaps his biggest fan.
He's not just saying that. People who know Vilsack see him as the George Harrison of the Obama cabinet — a quiet talent waiting to be discovered.
"Secretary Vilsack stands out in D.C. not just because of his discipline, his smarts and his competence. His decency is what distinguishes him," said White House Press Secretary Josh Earnest, who worked on Vilsack's brief presidential run before joining Obama's campaign in 2007.
Detractors quip that a face-off between Vilsack and Kaine is a battle of the beige, but both are pragmatic choices for a nominee who wants to keep the focus on Donald Trump and reinforce her ticket's seriousness with an experienced governing partner.
Vilsack has one clear advantage over every other potential pick: a personal relationship with Clinton that goes back more than 40 years. He also has more executive experience than the rest of the field as well as the potential to actually deliver a key state. He also might help mitigate Democrat losses with rural whites.
Meanwhile, Vilsack's image as the least interesting man in the world conceals a quiet intensity born of a compelling personal story that includes addiction and violence.
Vilsack started life at an orphanage in Pittsburgh. His adoptive mother struggled with alcohol and prescription drug abuse, disappearing from her family for hours in the attic during benders. In junior high, Vilsack watched her attempt to commit suicide — an experience he has recounted publicly as the head of a White House task force to address opioid abuse in rural America.
He jokes about his upbringing now. "I don't know what my heritage background is. When I speak to a group like this, I say,'Well, maybe I am Latino, who knows?' I would certainly be proud to be if you want me!" Vilsack told the League of United Latin American Citizens this week.
His mother regained control of her life. But the experience was trying for Vilsack and made him serious and determined from a young age, said Campbell, who lived four blocks away and was a classmate from nursery through high school.
Vilsack was always interested in government work, carrying around a paperback of Hubert Humphrey's "The Politics of Joy" during a summer job working for the high school's grounds crew, and serving as student body vice president under Campbell.
When he met his wife, Christie, in the college cafeteria, his pickup line was, "Are you a Humphrey or a Nixon supporter?"
But it took a tragedy to start his political career. In 1986, Vilsack was practicing law in the small town of Mt. Pleasant, Iowa, where his wife's family lived, when a disgruntled resident killed mayor Edd King during a city council meeting.
Vilsack helped raise money for a memorial fund, and one day King's father, Iliff, visited Vilsack in his office. They didn't know each other well, but Iliff, tears in his eyes, asked Vilsack if he would considering running to replace his son. Vilsack agreed and won.
"He's quiet and unassuming. A wonderful mixture of so many good qualities," said Mary Hassenfritz, Edd King's niece. "He was a lot like my uncle Edd in that respect, and I think that's why my grandpa went to him."
RELATED: VP Watch: The Latest in the Veepstakes
In an appropriate coda during what could be his final days of relative obscurity, Vilsack will revisit the place that started his career on Saturday when he rededicates the fountain installed in King's honor.
The shooting was national news and it put Vilsack on a bigger stage than most small-town mayors.
He went on serve in the state Senate, and then served two terms as governor, serving as chairman of the Democratic Governors Association in 2004. In 2008, after a presidential run that lasted only a few months, Vilsack backed Clinton and then Obama when she lost. Obama picked Vilsack for secretary of agriculture, and now he's one of the last remaining members of Obama's original cabinet.
Along the way, Vilsack was vetted to be John Kerry's running mate in 2004 when he chaired the Democratic Governors Association.
If Clinton chooses Vilsack, he'd follow in the footsteps of fellow Iowan Henry Wallace, whom Franklin Roosevelt picked for the Agriculture Department, and then the vice presidency, before replacing him in 1945 with Harry Truman.
The USDA is considered one of the least sexy government departments, but proponents say he's modernized it and risen above it, for instance clearing up decades-old civil rights cases.
"He'd make a great vice president because he does everything well," his potential predecessor Vice President Joe Biden, told the Des Moines Register in 2014. "Look what he's done for agriculture. I mean he is the single best secretary of agriculture. I've been here for eight presidents. There's nobody that has been his equal."
Vice presidential picks usually fail to deliver much on geographic concerns, but allies insist the still-popular Vilsack would win Iowa for Clinton. "If Tom Vilsack were on the ticket, Iowa would be a slam dunk," said former Iowa Sen. Tom Harkin. "Without a doubt, that would be a given."
Obama won Iowa by a larger margin than he did Virginia, which also has more electoral votes, but Clinton might need the boost more in Iowa. The Midwest is Trump's path to victory, and Iowa, with its overwhelmingly white electorate, is at the top of Trump's wish list.
A new NBC News/Wall Street Journal poll shows Clinton just three points ahead of Trump in Iowa — within the margin of error — while she's nine points ahead in more diverse Virginia.
"Polls show she's weakest with white males, well, he's a white male," Harkin said. "He would appeal to white males all over this country. He's a guy who wears his cowboy boots and is down-home kind of guy."
Vilsack has spent the last eight years touring rural areas and doling out government grants while meeting with agricultural leaders, making him an ideal ambassador to parts of the country trending away from the increasingly urbanized Democratic Party.
Meanwhile, sensible but dull may not be so bad in an election year with two candidates who have such high unfavorability ratings as Trump and Clinton.
"In terms of skeletons, there's nothing lurking on this guy," said Craig Varoga, who managed Vilsack's presidential campaign, but is no longer involved.
Even Chuck Grassley, Iowa's long-serving Republican senator, told the Waterloo Courier that Vilsack was "ethically very clean."
Donald Trump opted for a vanilla Midwestern governor in his pick of Mike Pence, which might free up Clinton to do the same.
"He would basically be a safe loyal choice," said Bill Richardson, the former New Mexico governor who succeeded Vilsack as DGA chairman. "Being low key, there's no worry that Hillary Clinton would worry about being eclipsed, but he adds real substance and heft."
Still, friends say Vilsack has a sharp wit that he keeps under wraps. As governor, he liked to dress up for Halloween, going one year as Winnie the Pooh and another as a crocodile.
In a head-to-head with his fellow Catholic white man, Kaine has some distinct advantages — he's young, speaks fluent Spanish and has foreign policy experience.
But Vilsack's ace in the hole is his personal connection with Clinton.
Vilsack first met Hillary Rodham in 1972 when she worked with his brother-in-law on the Senate Watergate Committee.
They kept up, and years later, when Vilsack ran for governor, Clinton was one of the few Democrats to help. "She was a friend when a lot of people didn't think there was much hope," said Sally Pederson, Vilsack's former lieutenant governor.
"We were the underdogs. No one thought we had a chance to win the governorship because it hadn't been in Democratic hands for 30 years," she recalled. "The Democrats in Iowa had given up."
Clinton helped Vilsack raise money and campaigned in Iowa, and he would credit Clinton with helping him and Pederson come from behind to win.
He returned the favor this year. "I believe he helped Clinton win Iowa in the caucuses," said Cynthia Eisenhauer, Vilsack's chief of staff during his second term as governor.
People in Clinton's orbit note Vilsack is one of Clinton's longest-running political relationships independent of her marriage.
Meanwhile, Vilsack's biggest vulnerability in the veepstakes is likely a lack of foreign policy experience, a gap in his resume that he was well aware of when he ran for president, according to a former aide.
The secretary of agriculture oversees a large international trade and food assistance portfolio, and Vilsack has visited 23 countries over 35 international trips as secretary, including to places like Afghanistan, according to his office. But few Americans are likely to view the USDA as sufficient on-the-job training for commander-in-chief.
Politically, while Vilsack may help with whites, he would do little to help Clinton excite the ascendant Democratic coalition of young people, African-Americans, and Latinos, though Trump may do the Democrats' work for them.
Still, Vilsack has some considerable vulnerabilities on his left flank.
He was chairman of the Democratic Leadership Council (between Evan Bayh and Harold Ford), a favorite bugaboo of the left, and is the top VP pick of Will Marshall, who runs the DLC's offshoot think tank. Vilsack is a proponent of the Trans-Pacific Partnership and other trade deals seen as good for farmers. His work at the Agriculture Department has given him plenty of exposure to agribusiness, like Monsanto, another boogeyman of the left.
Early in his tenure, liberals objected to his too-quick firing of former USDA official Shirley Sherrod under pressure from Glenn Beck and Andrew Breitbart, who had released a misleading, edited video of Sherrod. And some liberals think Vilsack gave away too much in fights with Republicans over food stamps, which are part of the farm bill.
That said, he has no Wall Street ties to speak of, has supported abortion rights, and earned an "F" from the National Rifle Association when he last ran for re-election, which puts him ahead of some potential VP rivals on those scores.
Nearly everyone in Vilsack's orbit is also quick to note that he would also bring his wife to the ticket, who works for USAID and ran against Rep. Steve King in 2014.
"They're the Iowa version of the Clintons, but a sanitized one," said Campbell. "They don't come with all the baggage."