The super PAC backing Marco Rubio for president is spending more than $1.1 million on ads targeting Ohio Gov. John Kasich in Florida, the latest sign of trouble for the Florida senator's hopes of winning his home state.
Conservative Solutions PAC reported the media buy to the FEC on Tuesday, and a spokesman for the group said it's going towards airing an ad that frames Kasich as a big-spending, tax-increasing governor and notes he expanded Medicare under Obamacare.
Spokesman Jeff Sadosky said the ad is intended to show Kasich isn't a "conservative alternative" to Trump or Hillary Clinton.
"As voters learn about John Kasich's record, including a long list of tax increases and his love of President Obama's Medicaid expansion, it becomes quite clear that he's far from a conservative alternative to Hillary Clinton or Donald Trump," he said.
It's the group's first television ad targeting Kasich, and comes as Rubio faces a make-or-break moment in the Florida primary, which pundits and Rubio allies alike agree he must win if he hopes to remain viable in the race.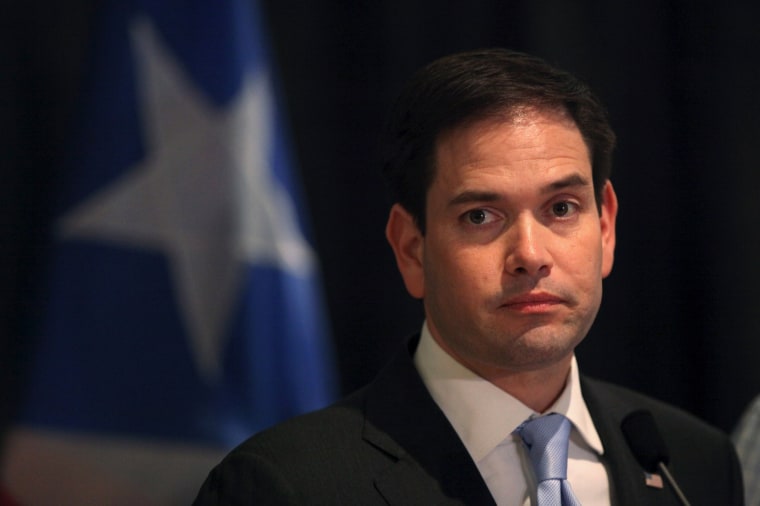 Rubio still lags frontrunner Donald Trump in public polls of the race, and his uphill climb to a win became steeper this week after another round of disappointing primaries for Rubio on Tuesday, where he failed to notch a single delegate. Kasich, meanwhile, has capitalized on Rubio's collapse, showing some strength among moderate Republicans and pulling ahead of him in some recent primaries.
The group's decision to go after Kasich in Florida suggests the Ohio governor's growing momentum over the past week has made him a threat to Rubio's prospects even in his home state, a bad sign for the senator as he enters his final week of campaigning there. The $1,160,000 television buy was coupled with another $181,500 in online advertising.
But the group may see an opportunity for Rubio to play offense in Illinois. Conservative Solutions PAC also filed documents with the FEC indicating it's going up with a buy targeting Kasich in Illinois, albeit much smaller, just under $270,000, along with a digital buy of $86,000.
Kasich spokesman Chris Schrimpf dismissed the ad as "gutter politics" and said it would "backfire" on Rubio.
"After his attacks against Trump failed, it's sad to see the Rubio team now resort to attacking John Kasich, the one candidate who has run a positive campaign. If history is any guide, these negative ads will backfire and Gov. Kasich will only climb higher in the polls. One would assume Senator Rubio has learned his lesson about participating in gutter politics," he told NBC News.