RICHMOND, Calif. — While his wife was making history, former President Bill Clinton found himself in two different heated confrontations with protesters while campaigning on behalf of his wife Hillary Clinton here Monday evening.
Clinton was shouted down by a man who appeared to challenge him on the crime bill that he signed in 1994, while another man appeared to challenge him on his economic record and Wall Street.
Clinton didn't back away but instead welcomed a debate on both topics, telling the first man who shouted about the crime bill, "let's talk about that ... Now if I talk about it will you let me talk instead of interrupting me?"
Clinton took issue with his wife being tied to every criticism of his presidency, saying, "I don't think it's right to go back and cherry pick my record and then try to blame Hillary with everything somebody disagrees with. If you are going to do that, you at least ought to give her credit for the things she agreed with."
Clinton signed the Violent Crime Control and Law Enforcement Act in 1994, legislation that included billions in funding to states for new prisons, trained police officers, added more law enforcement positions, mandated life-sentences for people convicted of a violent felony three times, and much more. Prison populations in the country jumped substantially after the law took effect and the results have been controversial.
The former president looked at his first challenger on Monday and touted the gun control measures included in the bill, and also took the opportunity to knock Bernie Sanders for voting for the House version of the bill, which Clinton said "had stronger incarceration procedures than I originally asked for."
Clinton also noted that he went to the NAACP last year to make a speech where he admitted that these incarceration provisions "made the problem worse."
Still, he remains proud of some of the overall effects of the legislation. "You got community policing. You got after school programs and night programs for people that were in trouble. The lowest crime rate in 25 years, lowest murder rate in 33 years, and the lowest death from illegal gun homicides in 47 years, so I thought that the lives we were saving mattered."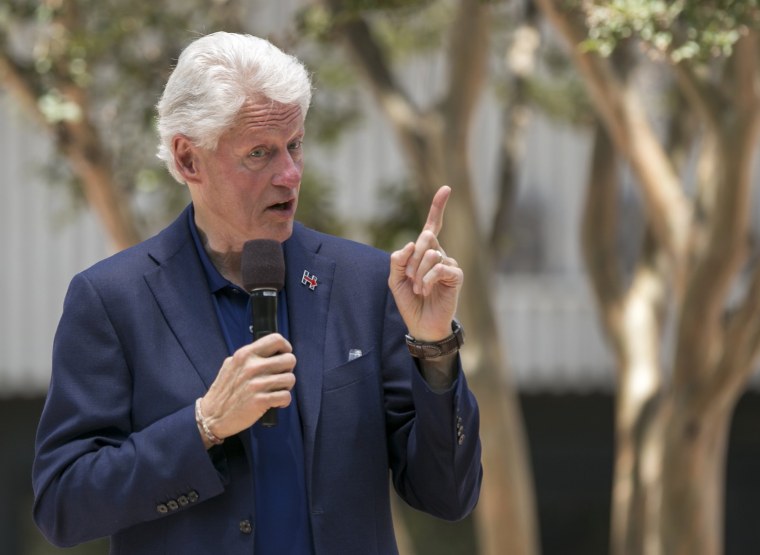 Moments later, Clinton again became defensive when another heckler shouted at him about Wall Street and the economy. "You represent corporations!" the man yelled.
The former president went on a lengthy response detailing how he aimed to raise taxes on corporations and wealthy Americans while he was in office, and then continued, mocking some of the people who have challenged him:
"I've watched this whole campaign when somebody says, 'Oh, can I find one little thing that happened that I will disagree with, and then blame him for it, and then maybe I can make people forget that it's the only time in 50 years where our incomes all rose together,'" Clinton said.
When he was interrupted by the same man again, Clinton told his crowd, "they always change the subject cause they don't want to debate the merits, so, sir, I answered your question."
As the man later continued to try to shout, Clinton told him, "this is not your meeting, sir. This is not your meeting," while the audience broke out into chants of "Hillary! Hillary!"
The exchanges took place at an outdoor rally at the Richmond Art Center, Clinton's fourth public event out of five on Monday, just one day before the California primary polls closed.
These interactions are latest in a series of lengthy, heated exchanges the former president has had in the last few weeks with people who show up at his events and challenge him on his record as president.
There were also about nine protesters gathered outside Clinton's appearance in Richmond on Monday, protesting his work on the crime bill, his support for NAFTA, and more. Many were wearing Bernie Sanders gear, chanting "Bernie! Bernie!" and identified themselves as Sanders supporters — but said that they were not sent by the campaign and came on their own.