Protesters gathered outside of NBC's famed headquarters at 30 Rockefeller Center in New York City on Wednesday for a "Dump Trump" rally ahead of Donald Trump's appearance as the host of "Saturday Night Live" this weekend.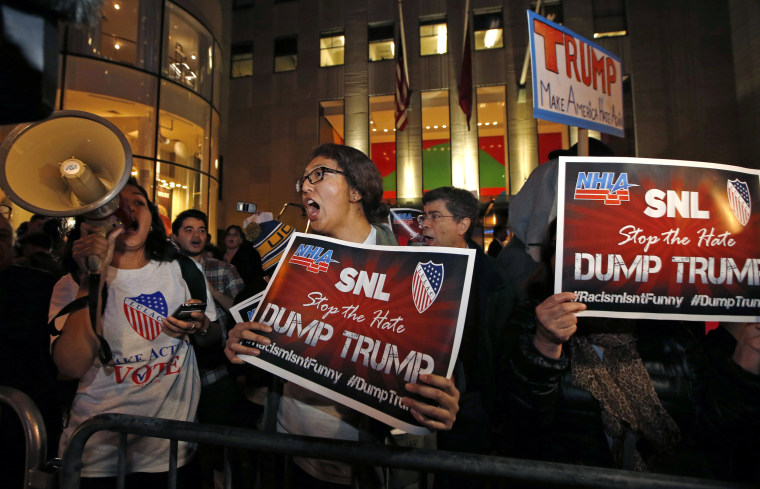 A petition decrying the Republican presidential candidate's upcoming appearance on the comedy show was delivered by the protesters — who gathered outside the building that houses "SNL" studios — to the executives at NBC.
The box containing the signatures read, "522,080 petition signatures demanding that NBC revoke Donald Trump's invitation to host 'Saturday Night Live' on Saturday, November 7th, 2015."
Juan Escalante, a staffer with America's Voice, an immigration reform group, delivered the petition.
Several of the organizations participating in the rally said that NBC's invitation to Trump legitimizes his comments about racism and immigration reform.
"We believe this individual has been very divisive toward the Latino community," said Brent Wilkes, the national executive director for the League of United Latin American Citizens. "He's called us rapists, murderers. He's called us criminals. He's called us drug dealers. And that's extremely offensive to us. And there's no space for someone like that on a comedy show like 'Saturday Night Live'."
"It hurts us," said Alex Nogales, one of the main organizers for the rally and the president and CEO of the National Hispanic Media Coalition. "[SNL] is a cultural program — this is not a news program."
Several protesters waved printed signs that read, "#RacismIsntFunny."
Karina Garcia, 30, whose family is from Mexico, said that Trump's comments earlier this summer about immigrants made his candidacy a "personal" issue.
"This level of racism ... it's like a tumor that if you ignore it, it actually spreads," she said. "It's unconscionable that they would do this — that they would give him this stage."
When asked about the Latino protest and petition, calling on NBC and "SNL" to rescind its invitation to Donald Trump, representatives for NBC and "SNL" declined to comment.