DETROIT — Donald Trump took his campaign to a black church in Detroit on Saturday, telling congregants that "I'm here today to learn" while pledging to help African-Americans in "so many different ways."
But while Trump tried to make inroads by suggesting he wanted to stand up for the black community, dozens of protesters shouted "No Trump!" and held placards reading, "No hate in the White House" — a sign that the GOP presidential nominee has a long way to go as he courts minorities.
Trump's prepared speech touched on traditional conservative themes, such as school choice, and said he wanted to protect the right to worship while lifting America's economic fortunes.
"We're going to bring jobs back," Trump said. "Taking them back from Mexico and everywhere else."
Trump later toured neighborhoods in the majority black city of Detroit, which has historically struggled with high unemployment and poverty. He was joined by Ben Carson, the retired neurosurgeon who grew up there and ran a failed bid for the Republican nomination, and Omarosa Manigault, a former contestant on Trump's reality television show, "The Apprentice."
Related: Trump's Attempts to Woo Black Voters Are Having Opposite Effect
The demonstrators outside the Great Faith International Ministries included ministers and other clergy who gathered on a median across from a back entrance to the house of worship.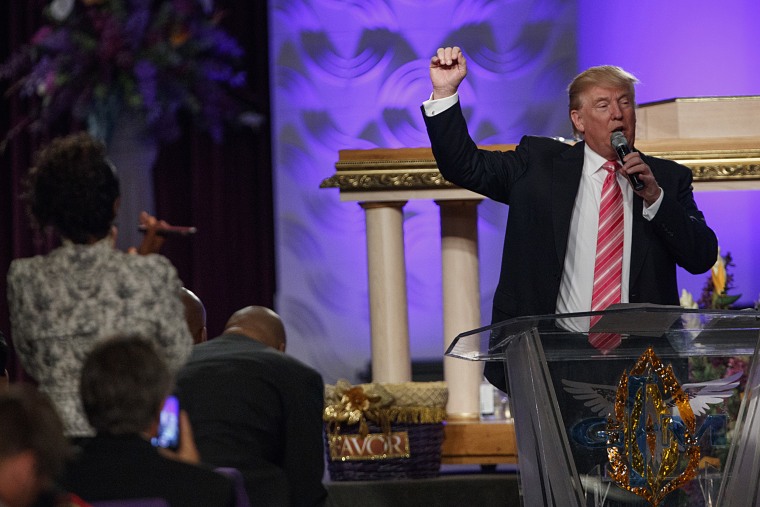 Trump first posed for pictures as he entered behind a procession of church leaders. The church, with a 1,400-seat capacity, wasn't completely packed.
Security was tight, turning away those without tickets. Black, unmarked police cars followed behind a Detroit police Bearcat, a formidable armored vehicle, to survey over the scene.
Secret Service was heavy inside the lobby of the church and ordered people to go through metal detectors.
Trump stood in the front row, swaying to the music as a woman on stage led the church in song. As photographers aimed cameras in Trump's direction, he bobbed to the sounds of gospel.
"We thank God for our guest today, Donald Trump," a man on the mic told the congregation after the music stopped.
"Don't be afraid," he added. "We get a little loose in here!"
But Detroit Mayor Mike Duggan told reporters outside that Trump's visit felt like a "Madison Avenue image makeover," and like he's watching the "next season of 'The Apprentice.'"
Congresswoman Brenda Lawrence added that Trump was only there because he remains down in the polls against Democratic rival Hillary Clinton, and that unlike him, she has been advocating for African Americans since the 1970s.
Trump in recent days has shifted his attention toward minority voters, meeting with black religious and business leaders in Philadelphia on Friday and with black and Latino Republicans in New York the week before.
He has been wooing minorities by countering that Democratic policies have failed them and those "who want to see a better future" should back him in November.
But his hard-line stances on immigration and other social policies have not clicked with a large swath of minority voters who historically cast ballots for Democratic candidates.
The latest tracking polling has shown that only 8 percent of black voters support Trump, compared to 87 percent in favor of Clinton.
Trump in Detroit continually hit on the message that black churches have been the "conscience of our country" during trying times, and that they should be looked at as the moral character that can inspire the nation.
He also invoked "the great Abraham Lincoln" as being a Republican who changed the course of history, and said he was honored to represent Lincoln's party.
"We are all bound together, and I see this today," Trump said. "This has been an amazing day for me."
After Trump spoke, Bishop Wayne T. Jackson gave him a prayer shawl from Israel and placed it around his neck, and then presented him with a Jewish heritage Bible.
Despite the protests outside, some residents welcomed Trump's message and believed it could resonate — if the black community were willing to listen.
"I don't know that Mr. Trump needs to change. I think the African-American community needs to change their lens and perspective," Carletta Griffin, 41, told NBC News. "We've been loyal to the Democratic Party, what has that gotten us? Mr. Trump asked a very poignant question: What do we have to lose?"
Trump made a brief stop at Carson's childhood home in southwest Detroit. Surrounded by security and a swarm of reporters, Trump spoke briefly with the home's current owner, Felicia Reese, wishing her luck.
Thanks to the Carson connection, he told her, "Your house is worth a lot of money."