Rep. Keith Ellison formally announced his candidacy Monday to be the next chairman of the Democratic National Committee, a race that has taken on unusual importance as the party looks for someone to lead its efforts to rebuild after last week's devastating loss to Donald Trump.
Ellison, a progressive who backed Bernie Sanders over Hillary Clinton in the presidential primary, enters the potentially crowded race as the clear favorite thanks to early backing from a number of leading Democrats.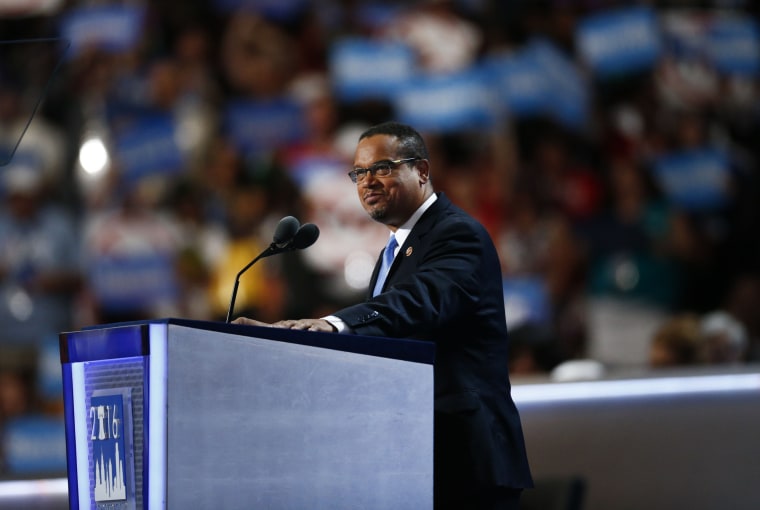 "It is not enough for Democrats to ask for voters' support every two years. We must be with them through every lost paycheck, every tuition hike, and every time they are the victim of a hate crime," Ellison said in a statement announcing his bid. "When voters know what Democrats stand for, we can improve the lives of all Americans, no matter their race, religion or sexual orientation. To do that, we must begin the rebuilding process now."
He continued by offering some criticism. "This election cycle, we did not motivate enough people to the ballot box," Ellison added. "We must invest in and empower our state and local parties by creating effective field operations, an enhanced and advanced voter file, and a culture of collaboration between candidates at every level. Let's put the voters first."
Ellison already has the support of both Sens. Chuck Schumer and Harry Reid, the party's incoming and outgoing leaders in the Senate, respectively, along with the strong backing of Sanders.
And his announcement came with additional statements of support from a number of prominent Democrats, including New York Attorney General Eric Schneiderman, Connecticut Sen. Chris Murphy and Minnesota Sen. Amy Klobuchar, three congressmen, two union presidents, and four state party chairs, who will play a large role in deciding the election.
It also included a statement from DNC Vice Chair R.T. Rybak, a fellow Minnesotan who was seen as potential candidate for the DNC chair himself.
It's the kind of strong show of support for Ellison — who is also Democrats' chief deputy whip in the House — that allies hope will help clear the field and stave off a painful intra-party fight in the months leading up to the DNC election early next year.
Related: Field of Candidates to Head Democratic Party Expands Quickly
But Ellison allies are closely watching Labor Secretary Tom Perez, whose ties to the Obama White House and organized labor would make him a formidable rival if he decides to make a bid as well.
Respected by both the party establishment and its left flank, Perez would meet many of same qualifications as Ellison, while also being able to devote himself full time to the position. In contrast, Ellison would continue to have responsibilities as a member of Congress. Perez would also fullfil a desire to place a Latino in a prominent position in the party.
Perez is out of the country on official business, but sources close to him have confirmed his interest.
The labor secretary has used his clout on the left to validate parts of the Obama administration's agenda that progressives don't like — one example is the Trans Pacific Partnership. That could come back to bite him in a race at a time when many on the left are demanding a voice from their wing of the party.
"Tom Perez was a great Labor Secretary and Deputy Attorney General, and hopefully he will be Attorney General someday. He has a different set of super powers than those needed to be the DNC Chair the party needs, especially at this moment," said Adam Green, the co-founder of the Progressive Change Campaign Committee. "Keith Ellison is a progressive movement partner who has been in the trenches with progressive and Democratic groups across the nation in battle after battle."
And Ellison has more electoral experience than Perez, whose only elective experience was on the county council in Montgomery County, Maryland.
Related: Could The Left Stage a DNC Coup? 'There Has to Be a Complete Restructuring'
Obama said in a press conference Monday that he does not want to "be big-footing" the conversation about the Democratic Party's future, and that "we want to see new voices and new ideas emerge."
But the president remains a powerful figure in the party and is thought to be much closer to Perez than Ellison, who was one of Obama's most vocal critics from the left.
During Obama's first term, Ellison pushed for a bigger stimulus package, opposed the president's decision to send more troops to Afghanistan, and helped lead the charge against the president's so-called "Grand Bargain" with House Republicans to reduce the deficit, which would have reduced Social Security benefits by changing the way they are calculated.
Ellison, whose Minneapolis congressional district is one of the most progressive in the country, was the first Muslim-American elected to Congress and the first African-American elected from Minnesota. Elected in Democrats' 2006 wave, he used a copy of the Quran once owned by Thomas Jefferson during his swearing-in ceremony.
In an era of increased concerns about terrorism, Ellison has been a prominent defender of Muslim civil rights, capturing headlines in 2011 with his emotional testimony before a GOP-lead hearing on Islamic radicalization.
But he's spent most of his time in Congress focused on progressive economic issues, as a co-chairman of the Congressional Progressive Caucus and a member of the Congressional Black Caucus.
Related: Martin O'Malley: 'I'm Taking a Hard Look at DNC Chair'
As the Capitol was consumed with concerns about austerity and the deficit in 2011, he and colleagues tried to create an alternative policy vision by authoring a "People's Budget," which included many items that would later appear in Sanders' platform.
"My friend Keith Ellison is a terrific leader and a strong progressive who knows how to get things done. Now is the time for new thinking and a fresh start at the DNC. Now is the time for Keith," Reid said Sunday.
But many of the party's other leaders have yet to weigh in, including Obama, Hillary Clinton, Vice President Joe Biden, and the heads of most unions.
Former DNC Chair Howard Dean has also expressed interest in the job, but said on MSNBC's Morning Joe Monday that it's "not something I'm going to push people out of the way for."
"I've already done this once. This is not something I have to do," Dean said.
Former Maryland Gov. Martin O'Malley, who is also eyeing the job, spent the weekend reaching out to DNC members and has received positive support, according to a source close to the O'Malley. He has not yet made a decision, though.
And former Minnesota Gov. Jennifer Granholm, who was seen as a favorite to lead the DNC under a Clinton White House, told Politico she's "not interested."
Meanwhile, South Carolina Democratic Party Chair Jaime Harrison and New Hampshire Party Chair Ray Buckley are also considering it.