Donald Trump's first-place finish in South Carolina has revived an ongoing discussion about the possibility of a brokered Republican convention, the prospect of which became a central question as the candidates made the rounds of the post-primary Sunday shows.
The business mogul toppled his rivals in the Palmetto State with 33 percent of the vote. Sen. Marco Rubio of Florida, his nearest competitor, came in 10 percentage points behind him and barely overtook Sen. Ted Cruz of Texas for second place.
Trump's victories in South Carolina and New Hampshire, as well as his second-place finish in Iowa, give him a decisive lead in the delegate count and establish him as the clear front-runner going into Tuesday's Nevada caucus — a scenario that has sent some Republicans into a panic.
When asked by Jake Tapper on CNN's "State of the Union" whether party leaders do not take Trump seriously despite his strong showings, Trump pointed to his status as an outsider.
"All of the establishment sort of said, 'Well, wait a minute. What happened to him? He's not supposed to be doing that. That's not in the cards,'" Trump said of his presidential bid.
"I don't want money. You know, I'm self-funding my campaign, so I don't need donor money and lobbyist money and special interest money. And that bothers them, because the special interests want to control their candidates, and I can't be controlled."
Some on the right have argued that if the GOP field does not consolidate behind one or two alternative candidates in the coming weeks, the chances of Trump winning the nomination or the GOP's having a brokered convention would increase dramatically.
However, Trump dismissed the notion of a brokered convention, which would occur if no candidate has the required amount of delegates to secure the nomination. The Republicans would then take the battle to the convention floor to decide on a nominee in July.
"I don't think we're going to have a convention, a brokered convention. I think it's unlikely. I think I'm doing better than that. And so far, you know, I'm really on my way," Trump told Tapper.
"I thought I actually won Iowa if you look at it really closely. But even if I didn't, I just got one delegate less because I came in a very, very close second. So I have a second and I have two firsts. And New Hampshire was a blowout, and this one was a blowout."
Despite telling reporters earlier this month that his campaign was planning for a race that could go to the convention floor, Rubio on Sunday also dismissed talk of a brokered convention while decrying "party insiders."
"I don't think it's likely. I think the voters are going to decide it," Rubio said in an interview with Tapper.
"I most certainly don't want party insiders deciding this, because if party insiders had been the ones deciding this nomination, I wouldn't be standing. I wouldn't be here right now doing this interview with you. I wouldn't have even been in the Senate, for that matter. They didn't want me in the Senate."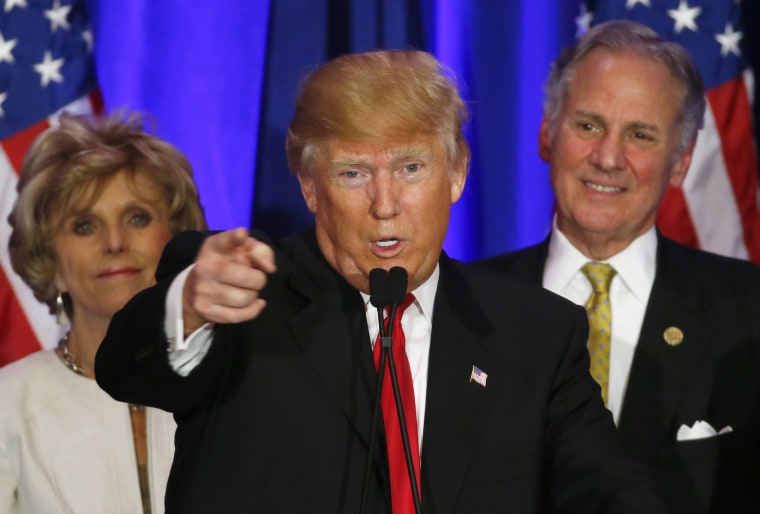 On ABC's "This Week," Republican National Committee Chairman Reince Priebus denied that Trump's rise was an indictment of the party leadership. Priebus also insisted that the RNC would support whoever the eventual nominee is, even as Trump continues to claim that the committee is treating him unfairly.
"I think it's early in the process, but certainly when the time comes and when we're sitting either before Cleveland or at Cleveland or whenever that point may come, and we have a presumptive nominee, what will happen is the RNC will join in with that nominee, and we will put together the biggest, which we've already started doing, the biggest ground game and data operation that we've ever seen," Priebus said.
When asked whether the RNC was planning for a brokered convention, Priebus said he doubted that one would occur but that the party leadership would be ready if necessary.
"Planning can mean a lot of things. We're prepared for anything," Priebus told George Stephanopoulos.
"I was general counsel for two years before I was chairman of this party. I've been chairman for six years. I don't think there are too many people that are more familiar with the procedures of nominating someone at a convention than I am. So I'm prepared, and we will be prepared if that happens, but again, I don't think that's going to be the case. If it did, then of course, obviously, it would be pretty historic. But we'll be ready."